Powerful prose
"Islam is a religion in which God requires you to send your son to die for Him. Christianity is a faith in which God sends his son to die for you." It's a good line, but maybe not when you're the attorney general of the United States during a time of ultrasensitivity about Islam. According to columnist Cal Thomas, Attorney General John Ashcroft said it during an interview. It wasn't just a throwaway line—it was the entire basis of Thomas's December 7 radio commentary. "During the interview, Ashcroft said something so profound, I wanted to share it with you. Listen … this is good. The attorney general of the United States said, 'Islam is a religion in which God requires you to send your son to die for him. Christianity is a faith in which God sends his son to die for you.' I'm going to repeat it." And then he did.
Two months after Thomas's radio commentary aired, it started to make news. On Sunday, the New York Daily News reported the Arab American Institute's anger at the comment. The organization's president, James Zogby, sent a letter to President Bush asking him to "call on Mr. Ashcroft to publicly … clarify the situation and repudiate the comments." Ashcroft should also "make amends" with Arab and Muslim leaders; otherwise Bush should "seek Attorney General Ashcroft's immediate removal or resignation." "Either Cal Thomas is an artful fabricator or John Ashcroft is a prevaricator," Zogby said.
Zogby got his repudiation—in a way. "The reported remarks do not express my views and do not accurately reflect what I believe I said some 12-13 weeks ago," Ashcroft said yesterday. Zogby says it's not enough. "The statement is akin to saying 'I don't recall,'" he tells The Washington Post. "The consequences those remarks have had, and the fact that they've been out there so long, require a far more emphatic response from the attorney general."
How about this for an emphatic response? "[The Sept. 11] hijackers grossly perverted the Islamic faith to justify their terrorist acts. I want to express my appreciation for the efforts of American Muslim leaders to educate the public about their faith, and to stress that the Muslim faith is peaceful and in no way condones these acts of violence. Muslim Americans are patriotic citizens who deserve dignity and respect." That's Ashcroft at a September 28, 2001, news conference. (Thanks to Fox News for noting the quote.)
Cal Thomas still stands by his radio commentary. After Ashcroft said it during a November interview, Thomas recounts, "I said, 'Gee, that's good,' in the sense that that's a good line. I wrote it down, I repeated it to make sure I had it right, and nobody objected."
Every Virginia public school will post "In God We Trust"
The Virginia Senate voted  30-10 Tuesday to require every public school in the state to post "In God We Trust" signs. "The nation has long recognized this motto as very inspirational," the bill's sponsor, Republican Nick Rerras, tells The Washington Times. "The motto gives us hope for the future, and it helps us persevere in difficult times." It's especially important now, he tells The Washington Post: "It gives inspiration and hope, especially in days of terror and attacks. We need this."
The only senator to speak against the bill was Democrat Richard L. Saslaw, who argued that it won't have the inspirational effect Rerras claims. After all, even Republicans believe that the national morality has slid downhill since the mid-1950s, when "In God We Trust" became the national motto. "It is on the back of all of our currency—not the front, the back of our currency," the Associated Press quotes Saslaw saying. "If you think this promotes either some type of good conduct or patriotism or whatever, keep in mind people will pull a gun out of their pocket and kill to get their hands on this piece of paper, so it does no such thing."
Virginia governor Mark R. Warner says he hasn't fully decided to sign the bill and worries about constitutional boundaries. But he supports an amendment added to the bill that tacks "National motto enacted by Congress, 1956," to the end of the signs.
Last week, a similar bill made it through two key panels in the Florida legislature. Other such bills are moving in Indiana and elsewhere.
Are Olympic athletes planning abortions for a competitive edge?
For prolife activists, there's an even bigger scandal at the Olympics than Jamie Sale and David Pelletier's silver medal. "Female Olympic athletes [are] deliberately getting pregnant and having abortions—just to boost their red blood cell count for an edge on the competition," claims Celeste McGovern in The Report, a conservative Canadian magazine. "Early on, pregnancy has the effect of boosting a woman's blood volume tremendously to fuel her unborn baby's growth. Getting pregnant two or three months before an event and having an abortion days prior to it can grant as much as a 10 percent performance enhancement." U.S. rules ban the scheme, and there's no evidence that any North Americans have ever done it, McGovern writes, but at least 14 Russian gymnasts were ordered to do it in the 1970s.
More articles
Church and state:
Politics:
Crime:
Persecution:
War on terrorism:
Evolution:
Advertising:
Sex and marriage:
Life ethics:
Lent:
Church life:
Other stories of interest:
Related Elsewhere
See our past Weblog updates:
February 13 | 12 | 11
February 8 | 7 | 6 | 5 | 4
February 1 | January 31 | 30 | 29 | 28
January 25 | 24 | 23 | 22 | 21
January 18 | 17 | 16 | 15 | 14
January 11 | 10 | 9 | 8 | 7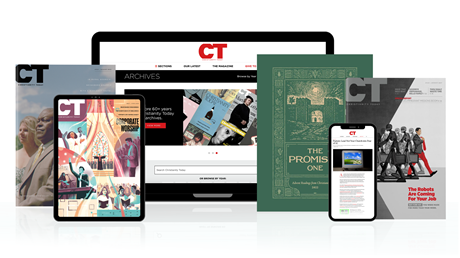 Annual & Monthly subscriptions available.
Print & Digital Issues of CT magazine
Complete access to every article on ChristianityToday.com
Unlimited access to 65+ years of CT's online archives
Member-only special issues
Subscribe
The Difference Between Christianity and Islam in a Controversial Nutshell
The Difference Between Christianity and Islam in a ...