true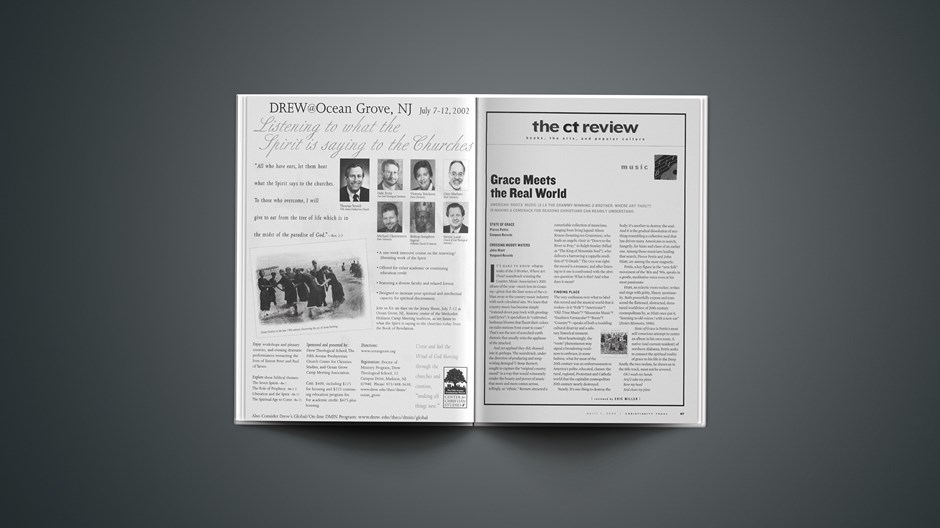 State of Grace
Pierce Pettis
Compass Records
Crossing Muddy Waters
John Hiatt
Vanguard Records
It's hard to know what to make of the O Brother, Where Art Thou? soundtrack winning the Country Music Association's 2001 album of the year—much less its Grammy—given that the liner notes of the CD blast away at the country music industry with such calculated aim. We learn that country music has become simply "watered-down pop/rock with greeting-card lyrics"; it specializes in "cultivated hothouse blooms that flaunt their colors on radio stations from coast to coast." That's not the sort of scorched-earth rhetoric that usually wins the applause of the attacked.
And yet applaud they did, shamed into it, perhaps. The soundtrack, under the direction of producing and songwriting demigod T-Bone Burnett, sought to capture the "original country sound" in a way that would winsomely render the beauty and power of music that more and more comes across, tellingly, as "ethnic." Burnett attracted a remarkable collection of musicians, ranging from living legend Alison Krauss (boasting ten Grammies), who leads an angelic choir in "Down to the River to Pray," to Ralph Stanley (billed as "The King of Mountain Soul"), who delivers a harrowing a cappella rendition of "O Death." The CMA was right: the record is a treasure, and after listening to it one is confronted with the obvious question: What is this? And what does it mean?
Finding Place
The very confusion over what to label this record and the musical world that it evokes—is it "Folk"? "Americana"? "Old-Time Music"? "Mountain Music"? "Southern Vernacular"? "Roots"? "Country"?—speaks of both a troubling cultural disarray and a salutary historical moment.
Most hearteningly, the "roots" phenomenon may signal a broadening readiness to embrace, in some fashion, what for most of the 20th century was an embarrassment to America's polite, educated, classes: the rural, regional, Protestant and Catholic world that the capitalist cosmopolitan 20th century nearly destroyed.
Nearly. It's one thing to destroy the body; it's another to destroy the soul. And it is the gradual dissolution of anything resembling a collective soul that has driven many Americans to search, hungrily, for hints and clues of an earlier one. Among those musicians leading that search, Pierce Pettis and John Hiatt, are among the most magnetic.
Pettis, a key figure in the "new folk" movement of the '80s and '90s, speaks in a gentle, meditative voice even at his most passionate.
Hiatt, an eclectic roots rocker, writes and sings with gritty, bluesy spontaneity. Both powerfully expose and transcend the flattened, abstracted, denatured worldview of 20th century cosmopolitans by, as Hiatt once put it, "listening to old voices/with a new ear" (Stolen Moments, 1990).
State of Grace is Pettis's most self-conscious attempt to center an album in his own roots. A native (and current resident) of northern Alabama, Pettis seeks to connect the spiritual reality of grace to his life in the Deep South; the two realms, he shows us in the title track, must not be severed.
Oh I wash my hands
And I take my place
Bow my head
And clean my plate
I think and act
And I talk this way
For I was raised
In a state of grace.
The song begins with Pettis softly playing the tune of Old One Hundredth (familiar to Christians who sing "Praise God from whom all blessings flow" at church) on an acoustic guitar, and ends with a lyrical fusing of Earth and heaven:
Oh I hear the call
Of the whippoorwill
As the moonlight falls
Over cotton fields
And if I should die
Before I wake
I will lay me down
In a state of grace.
While an honest gratitude for the South and its virtues drives the album, the universal need to live—truly live—in some "place" lies at the heart of Pettis's moral vision. In "Long Way Back Home" he testifies to the hollowness of collective years spent on the road. Later he brings the album to its thematic peak with the anthem "A Mountaineer Is Always Free." Grammy-winner Alison Brown's solid, buoyant banjo accompaniment helps him to deliver the testimony of a fictional early American settler. What might have been hokey in the hands of a less sophisticated songwriter pulses with a powerful vision of freedom. The chorus pounds with the deep excitement and energy of the album's central thrust: "No more a wanderer/No more a refugee/For a mountaineer is always free." It's a home for which we truly long, Pettis is telling us, a place where the concrete, historical experience of true freedom can take root and nourish our souls, generation by generation.
And yet for all of its power and poignancy, State of Grace also illustrates the danger that lurks in a vision centered on the virtues of place: the tendency to dissemble. Pettis's earlier albums featured gripping, honest portraits of the South as a matter of course—including the remarkable song about race and religion, "Legacy" (While the Serpent Lies Sleeping, 1988), and "Appalachian Bloodlines" (Chase the Buffalo, 1993). So it comes as a mild shock that on State of Grace Pettis stays just clear of the darker regions of the soul, leaving us to wish we knew more about that which made grace necessary in the first place. Pettis is unusually skilled at capturing sweetness (as witnessed on this album by "Crying Ground"), but here he allows this strength to dull what needs to remain jagged and broken.
Hiatt's Redemptive Suffering
John Hiatt does not default to sweetness. If anything, his raw, playful machismo has tended to get in his way over the years—but not on Crossing Muddy Waters, his purest experiment in "roots" to date. Released on Vanguard in 2000 and nominated for a Grammy in the "contemporary folk" category, the album portrays a corrupt world filled with broken people, a landscape that charges his songs with a sober, salty quality that nonetheless speaks of hope. The most powerful testament of that hope is the music itself, performed in spare but vibrant fashion by Hiatt on guitar and vocals, Davey Faragher on electric bass, and David ImmerglÜck wielding a mandolin so striking and sympathetic that it sings like another vocalist. In the wild jamboree of the opening cut, "Lincoln Town," Hiatt belts out:
What I feel is like an old freight train
five miles long in the pouring rain
rolling out of Detroit, loaded up with shiny cars
and I'm sitting in a Cadillac
smoking on a big cigar.
In these opening lines we above all hear the swaggering, exuberant, joyful masculinity that sets Hiatt apart from the prettified suburban pathos of mainstream rock. Hiatt loves America, old America, and with every inflection of his impossibly expressive baritone we hear centuries of rural American soul pouring into the very cultural space that has, for the most part, shunned it.
Images of rural America, both musical and visual, fill the album. We hear of the deserted husband who flatly notes the "tobacco standing in the fields/be rotten come November," and the "red tail hawk shooting down the canyon" that leads Hiatt to echo the prophet Isaiah: "I will try, I will stumble/but I will fly, he told me so." Pain is central here, but not as an obstacle to freedom so much as a pathway to it. In Hiatt's world, mature love—always singed by fire—achieves depth and permanence by encountering "God's Golden Eyes." The torment is purposeful, and it passes into a deeper experience of the grace and virtue of which he, with Pettis, is a witness.
These albums only reinforce the consensus that Pettis and Hiatt are masters of their craft. Note the artists who over the past 20-plus years have recorded their songs: Joan Baez, Dar Williams, and Garth Brooks have sung Pettis. Nearly 100 covers of Hiatt tunes have been recorded, by everyone from Bob Dylan to Eric Clapton and B. B. King, who made Hiatt's song "Riding with the King" the title track of their recent collaborative album. With folks like these in the vanguard, roots music will likely continue to enlarge its space and range.
But if the roots phenomenon is to mean anything long term, the music will have to connect itself not just to our listening habits but also to our living habits. For such music is at its heart a weeping for a homeland, for enduring relations with a particular place and people. This longing cannot but express itself in music—whether wailing from the shores of Babylon or shouting on the way up the holy hill. So buy Hiatt, Pettis, and kin—but then grab your guitar, your harmonica, your accordion, round up some neighbors, and belt out your own songs of sin and salvation. Your neighbors might end up staying for a while. And so might you.
Eric Miller is assistant professor of American history at Geneva College in Beaver Falls, Pennsylvania.
Related Elsewhere
Pierce Pettis' State of Grace and John Hiatt's Crossing Muddy Waters are available at Amazon.com.
For more Christianity Today coverage and reviews of Christian music and the industry as a whole, see our music archive and ChristianityToday.com's Music channel.
Eric Miller's "Keeping Up with the Amish" essay won CT's "Faith and Consumerism" contest in 1999. Last year, he reviewed The West Wing for Christianity Today.
Have something to add about this? See something we missed? Share your feedback here.
Browse All Music Reviews By: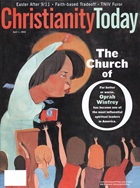 This article is from the April 1 2002 issue.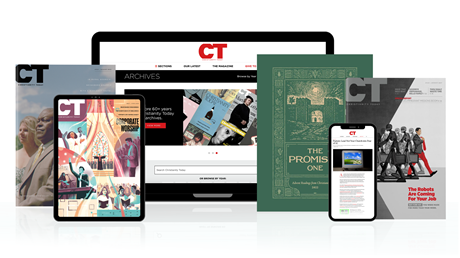 Annual & Monthly subscriptions available.
Print & Digital Issues of CT magazine
Complete access to every article on ChristianityToday.com
Unlimited access to 65+ years of CT's online archives
Member-only special issues
Subscribe
Grace Meets the Real World
Grace Meets the Real World