Christmas means poinsettias and pageants; Easter, masses of snow-white lilies and the grand sounds of the "Hallelujah" chorus. But Ascension Day usually comes and goes without a trace: no special flowers, no bathrobe drama—not even a bare word of recognition. Yet this day commemorates a watershed event.
We pay a lot of attention to Jesus' coming into the world as a baby at Christmas. Then the fanfare was impressive: stars, angels, heavenly hosts. But Jesus left the world, too, and his leaving is cause for celebration.
A cloud took him
Jesus' ascension was witnessed by only his disciples. Three New Testament passages give accounts.
Mark 16:19-20 indicates that after Jesus commissioned his disciples, he was received into heaven and was seated at the "right hand of God." While this phrase may sound jarringly graphic to us, it is best understood as a metaphor for power and authority. In Scripture, to be "seated at the right hand of God" is to be given a supreme place of honor and authority, a role God granted symbolically to Old Testament kings (Ps. 110:1). Mark's gospel proclaims that Jesus journeyed from Earth to heaven and now reigns with the sovereign authority of God (Rom. 8:34; Heb. 8:1-2). Jesus now participates in the glory he shared with God before the world was created (John 17:5).
In Luke 24:50-53, Jesus blessed his disciples, "withdrew from them and was carried up into heaven." Then "they worshiped him, and returned to Jerusalem with great joy" (NRSV). At this Gospel's beginning, angels announced "good news of a great joy" when Jesus was born (2:10). Now the Gospel ends with worship and praise as the disciples realize the joy of Jesus in their own community. The ascension climaxes Jesus' earthly ministry, the goal and destiny toward which he was moving (Luke 9:51).
Acts 1:9-11 is the most detailed ascension account. Luke indicates there was a 40-day interval between the resurrection and the ascension. During this time Jesus appeared to his disciples and spoke to them about the kingdom of God (1:3). Jesus instructed them to wait for the coming of the Holy Spirit (1:4-5). The promised Spirit would bring them power to become Christ's "witnesses in Jerusalem and in all Judea and Samaria, and to the end of the earth" (1:8).
After Jesus promised this, "he was lifted up, and a cloud took him out of their sight" (1:9). The "cloud" refers to the glory and presence of God—just as the cloud over the tabernacle (Exod. 40:34; 1 Kings 8:10-11) and the cloud that led the Jews through the wilderness (Exod. 13:21) represented the glory and presence of God with the people of Israel. Now Jesus is entering that same immediate presence of the Lord. He will be where God is ("heaven").
That the disciples can no longer "see" Jesus indicates the times of Jesus' physical appearances are ended. Now the crucified Christ, risen from the dead, has been "lifted up" and enters into his glory. He will no longer be visibly observed by his gathered community. Now a new relationship between Jesus and the company of believers is established. From now on Jesus will not be physically perceived but will be known through "what my Father has promised," the "power from on high" (Luke 24:49, NRSV)—the promised Holy Spirit (Acts 1:4-5).
In all these biblical accounts, Jesus is physically separated from the disciples. Then they begin their ministries of witnessing to Jesus as the Christ after the Holy Spirit is given to them. The Ascension was the prerequisite for the outpouring of the Spirit (John 7:39; 16:7). Jesus left so the Spirit could come. Now the new people of God receive the Spirit's power to proclaim Jesus as Messiah and carry out their ministries in the church.
But how? We scurry over it so quickly in the Apostles' Creed, confessing that Jesus "ascended into heaven." But what does it mean for us?
A door to heaven
Since the fourth century, the church has celebrated Ascension Day on the sixth Thursday (or fortieth day) after Easter. Some may see the ascension as a tearful event. Jesus bids "farewell" to his disciples, signaling he will no longer be physically present with them. The joy of knowing the resurrected Jesus may have seemed short-lived.
But the disciples were not dabbing at their eyes for long, for the ascension proved a better blessing. Paul says Christ ascended so "that he might fill all things" (Eph. 4:10). John Calvin pointed out that "Christ left us in such a way that his presence might be more useful to us—a presence that had been confined in a humble abode of flesh so long as he sojourned on earth. … As his body was raised up above all the heavens, so his power and energy were diffused and spread beyond all the bounds of heaven and earth." Christ's spiritual presence is with believers wherever they are, whether trauma centers or traffic jams or on troop transports. Now we always have Christ.
Our faith receives many benefits from Christ's ascension. Calvin, the premier theologian of the Reformation, listed three:
First, Christ opens the way to the heavenly kingdom. Christ's ascension inaugurates the kingdom of God. The "age to come" has come to Earth because Jesus has ascended to heaven. Like a fairy-tale Prince Charming, this real-life Prince of Peace has awakened his cursed and sleeping people and brought them into God's happily-ever-after. The way to heaven, blocked since the sin of Adam and blocked in our own lives because of our sin, has been opened—cleared by the work of Jesus Christ, through his obedience to God, death on the cross, resurrection, and ascension to rule with God.
Jesus has "entered heaven in our flesh, as if in our name," writes Calvin. So in a sense, as Paul says, we are seated with God "in the heavenly places in Christ Jesus" (Eph. 2:6). Or, as Calvin again writes, "We do not await heaven with a bare hope, but in our Head [Jesus Christ] already possess it."
Second, Christ has become our Advocate and Intercessor. This is a vital New Testament theme (Heb. 7:25; 9:11-12; Rom. 8:34). The ascended Jesus is our advocate or "defense counsel." More effective than Melvin Belli, he does not rely on procedural tricks or rhetorical eloquence, but still he changes God's whole way of looking at us by standing in our place. Instead of looking on our sin, God looks on Christ's righteousness. We are sinners, to be sure. But we are redeemed sinners. We are received by God's grace in Christ as God's children because of what Jesus did for us on the cross. We have one who acts on our behalf and opens the way for us to approach God without fear. Nothing could make us bolder! Nothing can fill us with complete confidence more than knowing that Jesus supports us and mediates for us in the presence of God.
Third, Christ gives us his power. In his resurrection and ascension, Christ was raised victorious over the evil powers of sin and death. As Paul wrote, "When he ascended on high he made captivity itself a captive" (Eph. 4:8, NRSV). Christ now sits on high, according to Calvin, "transfusing us with his power" while he "daily lavishes spiritual riches" upon his people.
We have power for the present, because he who sits at the "right hand of God" rules the world. The same power that directs the cosmos is now available by the Holy Spirit, who makes Christ real to us in the here and now. Christ's ascension encourages us to look forward to the ultimate triumph of his reign (1 Cor. 15:25). This same power of Christ, the power to love, is ours every day, for every occasion—whether in love for the beggars and homeless, or for bosses and colleagues, or strangers, or even for those who have wronged us. Christ is not limited by time or space. Jesus is our constant companion.
Celebrate!
So celebrate Ascension Day! Sing hymns that lift up Christ's kingship. Picture Jesus as our advocate before God, and pray to him as our only mediator. Focus your personal and congregational worship on Christ's presence with us through the Spirit. Claim the power and exercise the gifts Jesus has promised.
Why celebrate? First, because Christ's ascension means our future destiny is secured in God's kingdom. That is a destiny to dream about! It also means our worship and prayers are heard by God since Christ continually brings us into God's presence. And Christ's ascension guarantees that the powerful love by which he reigns in this world is available to us right now. Salvation is ours and the power for ministry since the Spirit is with us!
This article first appeared in the May 18, 1992, issue of Christianity Today. Donald K. McKim is editor of academic and reference books with Westminster John Knox Press, author of Introducing the Reformed Faith (2001), and editor of the Encyclopedia of Reformed Faith (1992) and other books.
Related Elsewhere
Recent Christianity Today articles on the Ascension include:
Books & Culture Corner: "Taken Up in Glory" | The Ascension has been forgotten in many Protestant churches, jettisoning an essential part of the Christian story. (May 21, 2001)

The Day We Were Left Behind | Hungry as we are for the presence of God, the one thing we do not need is a day to remind us of God's absence. (May 18, 1998)
The Text This Week offers lectionary readings, links to fine art and films with Ascension themes, contemporary and historical sermons on the Ascension, and other resources.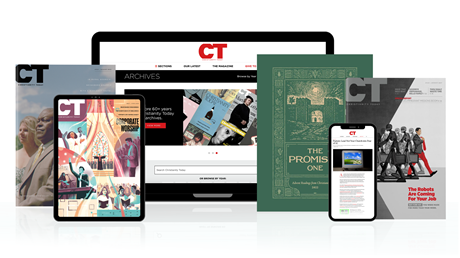 Annual & Monthly subscriptions available.
Print & Digital Issues of CT magazine
Complete access to every article on ChristianityToday.com
Unlimited access to 65+ years of CT's online archives
Member-only special issues
Subscribe
The Grand Farewell
The Grand Farewell