On a sweltering afternoon in the Nigerian city of Lagos last November, amid heavy traffic and polluted air, a large banner hung from an overpass for all to see. It pictured the gleaming face of a white European man. With one hand, he pointed a Bible toward the sky. With the other, he held a microphone to his mouth. come and receive your miracle, the banner proclaimed. The publicity committee had gone to great lengths to make the man's presence known in Lagos—Nigeria's commercial capital and one of Africa's largest cities. Fliers were plastered everywhere—on streets lined with shacks, near humble fruit stands, and on roadsides where open sewers are the norm. Seven degrees above the equator, where children in the brutal African sun forage in fields of rotting garbage, great expectations were building: Reinhard Bonnke, the larger-than-life evangelist from Germany, had come to town again.
That evening, 550,000 people gathered on 80 acres of bare ground to listen to Bonnke, a pastor's son with an unquenchable thirst for Africa's lost souls. Spiritually hungry Nigerians—whose lives are bounded by poverty, violence, and an unforgiving climate—could hardly wait to feast on the good news the preacher promised to bring. Many Nigerians walked hours, traveling through the giant, slum-like city to arrive at the spare crusade site. Neither chairs nor portable toilets were on hand. Some people relieved themselves on the field itself.
As the pulsating drums and opening music subsided, Bonnke looked out into a sea of humanity and began his message, using simple words in a vibrant, heavily accented English: "Jesus is the Savior of Nigeria!" he shouted. "All of Nigeria is going to heaven!"
Bonnke completed his "hot gospel message" (as he calls it) and then prayed for the sick who had come seeking a miracle. In a country where basic healthcare is available only to the very few who can afford it, medical needs are an unending concern. "Paralyzed people are going to walk," he told them. "The blind will see!" Hundreds surged to the central platform, hoping to proclaim publicly that they had been healed.
"Come back tomorrow night," Bonnke told them afterward. "Don't miss your miracle!" The crusade crowd grew larger each subsequent evening. Bonnke, embracing his role as preacher, prophet, and storyteller, held an audience averaging 1 million with his arresting gaze and boundless energy. They listened to him in eager anticipation of a divine deliverance from their poverty-stricken, disease-infested world. This was Bonnke's Great Millennial Crusade.
Desperately seeking healing
In city after city, country after country, the picture is the same. Pentecostal evangelist Bonnke, a figure largely unknown in the West, is sweeping across Africa to become one of the continent's most recognizable religious figures. Often referred to as the Billy Graham of Africa, Bonnke has held crusades in 46 of the continent's 53 countries.
The 60-year-old evangelist receives both criticism and praise for his gospel meetings that attract millions. While some hail him as a spiritual giant, others scoff when he promises miracles and anointing. Critics say the last thing African Christianity needs is more preachers who focus on spiritually shallow events. They say the quality of disciples, not the quantity of the crowd, is the key to reaching Africans. Still, ordinary Africans adore him.
Bonnke himself is as complex as he is controversial. While his crusades are often high in hype and hoopla, the evangelist is a caring pastor, single-minded in purpose and genuine in nature. Both on and off the stage, his goal is simple: to win the heart of Africa for Christ.
Many now view the evangelist's crusade in Lagos three months ago as the pinnacle of his 26-year ministry. Drawing a record-breaking crowd of 1.6 million people in a single night, the crusade stands as one of the largest Christian gatherings in modern times. Total attendance for the six-day crusade reached nearly 6 million, and Bonnke's Christ For All Nations (CFAN) ministry reports that 3.4 million people made salvation decisions for Christ. "I am rejoicing because of a rich, rich harvest of souls," Bonnke told Christianity Today after the crusade.
This meeting's success was due in part to its location in Lagos—a nightmare of a city, where corpses can be found along roadsides. With a population of 13 million people, the community's infrastructure is stressed to the maximum. Many people work at make shift jobs and live in shanties without electricity or running water; for most, their only aim is to survive.
But Abraham Oyeniran, president of the United Gospel Churches Association of Nigeria, believes that because of Bonnke's renown and powerful preaching, his crusade in Lagos will have lasting effects on Nigeria. "Many lives have been transformed from the power of darkness to the power of light," he said. "Apart from that, many people have been healed from incurable diseases, and most of them don't have money, so they can't go to a doctor."
Acting as an agent of healing may be Bonnke's calling card. He is revered as a miracle-worker wherever he travels. Word that he promised miracles spread quickly throughout the Lagos region, on Africa's west coast.
Despite Bonnke's immense popularity among Nigerians, some remain deeply skeptical about the evangelist's promises and crusade techniques. SIM International missionary Elaine Anderson has lived in Lagos for 16 years; she says Bonnke's tactics encourage the belief, shared by many Nigerians, that miracles are visited on those who express their faith most vibrantly. "The mindset here is that if you don't get a miracle, you don't have faith," she said.
Yusufu Turaki, a professor of theology and social ethics who works with the International Bible Society in Nigeria, says that although he has no problem with an evangelist telling people that God has given him the gift of healing, he should not do so to solicit a crowd. "All the evangelist can do is appeal to the power of Jesus Christ to heal," he said. "To tell people to come so they can be healed is putting the cart before the horse."
The majority of those attending the crusades, however, readily embraced Bonnke's promise that "all of Nigeria will be healed." On the outskirts of the crusade grounds, enterprising businessmen sold posters featuring the evangelist that read, MIRACLE TIME. Each night after Bonnke prayed for the sick, the crowd waited eagerly to see who would make it onto the platform to give a testimonial. Few made it onto the stage, many more were questioned and turned away.
"You're going to have a lot of people who are still seeking healing or are in the healing process," said Rodney Thompson, a Florida doctor who volunteered his medical expertise at the crusade. Thompson says CFAN workers question those who say they have experienced a miracle in order to determine who should testify in front of a crowd. But, he said, "It's not like North America, where you would do a lot of tests."
Bonnke does not believe he could be fostering false hope in any Nigerians who come solely looking for a miracle. "I don't think there is any false hope," Bonnke told Christianity Today. "If [praying] is considered false hope, we should shut the Bible and never open it again, because if people read the Bible, 'false hope' will be fostered there. It's not a false hope—it's a living hope."
Although SIM's Anderson questions the strategy, she agrees it is easy to understand why thousands of people have attended Bonnke's crusades in hopes of receiving a miracle. "The occult is very real here," she said. "They want to see God as powerful as one of their witch doctors."
Unwavering focus on Africa
Born a pastor's son, Bonnke says he felt called to the mission field in Africa before he became a teenager. After attending seminary in Wales, he was ordained by the German Pentecostal Church and pastored a congregation in northern Germany for seven years before moving to Africa.
Bonnke says that while he was a young missionary in Lesotho, South Africa, the Holy Spirit gave him a vision that has haunted him: "Night after night, I saw the entire African continent washed in the blood of Jesus."
Eventually Bonnke left his mission work to become an itinerant evangelist. He soon began using tents to host crusades, and as his gatherings grew, so did the tents. In the early 1980s, he set a world record by constructing a tent to seat 34,000 people. Yet after he pitched the tent only twice, it was shredded by a storm during a 1984 crusade in Capetown, South Africa.
"It was like a funeral," Bonnke recalled. "We had built that tent over a period of five years. But then a prophecy came, and the Lord said [that] henceforth, his own glory would be our canopy. I realized the tent was too small. I could see that out of this disaster, faith was born to trust God for greater things."
For Bonnke, greater things meant the expansion of his crusades in numbers that grew from 75,000 to almost 2 million participants per year. And while his fame grew, his focus on Africa never wavered.
Although he holds some crusades in India and Europe, most of his efforts focus on Africa. In Germany, Bonnke's home country, people are cautious of the evangelist. "He's regarded as a bit of an exotic figure here," said Wolfgang Polzer, an editor at Idea, the German Evangelical Alliance's weekly publication. "In the Pentecostal sector of the evangelical community here, he does play a big part. But throughout the community at large, most people remain suspicious or have never heard of him."
Bonnke keeps a grueling schedule, holding nine or ten weeklong crusades each year. Recently he has concentrated on Nigeria, Africa's most densely populated country and, in the eyes of Bonnke and his team, a land ripe for harvest.
On the verge of collapse
While Nigeria might hold the key to Bonnke's goal of reaching 50 million people with the gospel in the next 10 years, the country has so many problems that making a true spiritual impact is no weeklong affair.
With 123 million people, Nigeria is Africa's most populated nation and a breeding ground for turmoil. A British colony until 1960, the country struggled under the leadership of harsh military dictators after gaining its independence. After the 1998 death of the repressive General Sani Abacha, Nigerians elected as their president General Olusegun Obasanjo, who is an open Christian and committed to ending widespread graft and corruption.
But there are other forces pulling at Nigeria's seams. The nation is home to more than 400 different ethnic and tribal groups, many of them chronically at odds. In recent months, clashes between the Hausa-Fulanis of the north and the Yoruba people of the south have left several hundred people dead in Lagos riots. The title of Africa's most acclaimed novel, Things Fall Apart by Nigerian Chinua Achebe, has be come a catch-all phrase for both reporters and historians trying to summarize the unraveling of Nigeria. In deed, to many observers, Nigeria appears as a place where just about everything—religion included—is on the verge of collapse.
Perhaps the most enduringly complex issue that Nigerians must tackle is the nation's conflicted religious identity. Nigeria is divided into a Muslim north and a Christian south. In the past several years, some northern states have implemented Shari'ah law, the strict Islamic social and penal code that regulates Muslim life and calls for segregation between boys and girls in schools, and capital punishment for a wide range of crimes. Tensions have been particularly high lately because both Nigerian Christians and mission workers in the north fear Shari'ah will affect their ministries more than the government is willing to admit.
But even among Christians, religion is no easy matter. The Portuguese first brought Roman Catholicism to Nigeria in the 15th century, and today there are over 4 million Catholics in southeast Nigeria. Wesleyan Methodists arrived in the southwest in 1842, followed by Southern Baptists in 1850 and sim International in 1883. Today, about 50 percent of the population is Christian while 40 percent is Muslim. Less than 20 percent is evangelical. In addition, some Nigerians still practice traditional religions.
Within this diverse religious climate, Bonnke came under a critical media spotlight in 1999. During his massive crusade in the southeastern Nigerian community of Benin City, over a dozen people were accidentally killed. It was the evangelist's first time to hold a crusade in the country since a group of anti-Christian Nigerian leaders blacklisted him a decade earlier.
Because of his prolonged absence, Bonnke says, the local police did not believe him when he warned that tens of thousands of people were likely to attend the crusade. With authorities unprepared to handle the large crowds, 14 people were killed after the first night in what the media reported as a stampede.
CFAN, however, says that no stampede took place. "It was a car that went out of control that ran into the people," said Peter Mariades, who works at the ministry's Orlando office. Bonnke told CT, "It happened on an intersection in the city, and it was due to lack of police regulation. If anything ever shakes me to the bottom of my being, it is when people get hurt or maybe even killed. It makes me sad, but I just continue with my work. What am I to do?"
At the November event in Lagos, Bonnke's mere presence in the city caused an excitement that verged on chaos. After a special meeting with 80,000 church leaders, held at the National Stadium, the crowd grew so unmanageable that Bonnke's security guards had difficulty directing him offstage. Hundreds of people rushed to try to touch the evangelist, hoping he would somehow empower them. "They want to touch him just like the crowds used to touch Jesus," said Paul Landry, a marketing consultant for CFAN. "In modern society, it would be like people trying to touch a rock star."
Later that night on the crusade grounds, Bonnke preached a similar sermon to 1.3 million people. Building momentum with the audience, the evangelist instructed the crowd to begin shouting "Alleluia!" until the Holy Spirit entered their bodies. "You are going to speak in new tongues—a language you have never learned," he told them. "It comes from your heart. Don't be afraid—this is fantastic!"
Although Bonnke's urging the crowd to speak in tongues is not considered unusual by most Nigerians, theologian Turaki again finds reason for concern in the evangelist's instructing a massive crowd to speak all at once without an interpreter. "How am I sure that what people are saying is actually coming from God and not another spirit?" he said. "In our traditional religions, people [also] speak in tongues."
Prosperity theology
Serious problems exist in the Nigerian church that make the work of evangelism and discipleship even more of a challenge. "The sin that's in the world is in the church," said Brian Anderson, a SIM International missionary with his wife, Elaine.
Corruption, for example, is a problem for both church and state. Success Adeshida, pastor of Potter's House Christian Fellowship Ministry in Lagos, says that although there are churches on almost every street corner, the true gospel is not being taught in most places. "They focus upon riches instead of focusing on God," he said. "A church here is a business." The Andersons agree. "The joke here in Lagos is, if you fail at a business, start a church," Elaine said.
Because pastors are put on such a high pedestal here, Adeshida believes that many abuse their power by soliciting grand offerings that they later spend on nice houses or cars. People give money, hoping that they will be blessed in return with bountiful finances. Adeshida thinks most people believe it is a sin to be poor, adding that a number of pastors preach a "blessing and prosperity" gospel.
"The focus is that whatever you want—not what you need—you will get," the pastor said.
Timothy Fabiyi, pastor of Yaba Anglican Church in Lagos, recognizes the same pattern. "We seem to be superimposing prosperity theology over and above the study of salvation," he said. "Yes, the Bible says that we shall prosper, but then we must obey. Everybody is running madly in search [of material things] … this in fact may be contributing to some of the crimes in the society."
The concerns voiced by these pastors seem to reflect a growing trend among other Nigerians who have taken an interest in commercializing the spiritual for one reason or another. During Bonnke's crusade, for example, dozens of booksellers could be found on the streets selling titles such as God's Will Is Prosperity. Joy Ajoku, 30, is one of the many who seems influenced by such a mentality. Ajoku attended Bonnke's Lagos crusade every night. "God is using him mightily," she said of the evangelist. "I have learned that if you have faith in God, anything you want, you will see it."
Even pastors who aim to preach against materialism have a hard time sifting through what the Scriptures teach, especially in the context of the local culture. One recent Sunday, G. O. Oke, a teaching pastor at All Saints Anglican Church in Lagos, expressed how troubled she was by the quest for material gain that had taken over daily life in the city. But then she reminded people that once salvation and repentance occur in their lives, prosperity will surely follow. "We can not have prosperity without salvation," she told the congregation. "We must remove sin and doubt in our lives, and all shall be added to us."
The aim of preaching a blessing and prosperity gospel is often to bring in large numbers, which in turn will result in large offerings. This drive often causes Christians to compete with each other for membership. Southern Baptist missionaries Daniel and Kim Wilson say that al though churches are being built to the left and right in Lagos, there is no depth in the teaching or discipleship taking place. As a result, church is nothing more than entertainment. "I don't see God at work," Daniel said. "Honestly, I see a lot of performance. Church [is] the center of their social life."
All Saints is an example of a large body struggling to cultivate depth within its members. Al though over 2,000 people attend weekly worship services, only a few hundred participate in Bible-study classes. "There is apathy about the Word of God in our society," said Peace Akugbwe, a member. "The Bible says we should study to show ourselves approved unto God. But people run around for what they can gain for the present time, and because of it, you hardly see people taking the time to study the Word of God, to search the Scripture."
God's time
Taking time to study and dig deep into the Scriptures is what Adeshida, with his small congregation of 120 members at Potter's House, believes will make the difference in Nigeria. "We focus on discipleship," he said. "The key to Nigeria is not the crowd, but the quality of disciples."
Genuine discipleship, Adeshida says, comes from time, effort, and conviction of the heart—something he fears is lacking at massive crusades like Bonnke's. "When I read about Wesley's or Spurgeon's revivals, they were cut to the heart," he said. "There was a conviction. Here, people go home feeling good. It's just an emotional power-boost."
Theologian Turaki shares the same concerns, noting that the "popular Christianity" Bonnke and other evangelists promote often promises more than it can deliver. "It turns the attention of people to the spectacular. It is wrong because Christianity is not all about the exciting and wondrous workings. I see the other side, which talks about suffering and real learning," he said. "These crusades have to go deeper. People's lives are not being changed."
While the Andersons admit that circumstances are sobering in Lagos today, their work as missionaries with SIM International has given them reason to believe that God has good things in store for the Nigerian people. Brian manages Challenge Bookshop, a Christian bookstore in Lagos. "Because of the hard times with the military regime, people have turned to the Lord," he said. "They want to know answers apart from Islam. The demand for Bibles is unprecedented. We can't bring in enough—all of us are struggling to meet the demand."
As a result of the country's new democratic status, religion—with an emphasis on both Christianity and Islam—is now being taught as a compulsory subject in schools. "We are working to distribute Bibles as textbooks," Brian Anderson said. "This is a market of 2 to 5 million secondary students.
"I have been guilty of saying there is no hope, but I have to hang on to what the Lord's doing," he said. "This is God's time for this country."
Assembly of God missionaries in Nigeria have also found reason to rejoice in their work. Last November, about 150,000 members from the Pentecostal denomination here gathered in the central city of Jos for Hosanna 2000, a celebration of 10 years of intense mission work in Nigeria. "We started 400 churches here in the past year," Thomas Trask, chairman of the World Assembly of God Fellowship, told CT. "We're very focused on church-planting. For us, the Great Commission is about making disciples."
Trask says that 1.8 million Nigerians belong to an autonomous Assembly of God church. Only six foreign missionaries live in the country. "Our strength has been to train the nationals," he said. Training nationals is the strategy that many denominations have used throughout the past 200 years of mission work in Nigeria. Today, for example, the Evangelical Church of West Africa (ECWA) has 1,400 missionaries who have been raised up in churches. Partly as a result of this, ECWA in Nigeria has grown by 400 percent in the last ten years.
Although many of Bonnke's critics doubt that his crusade will have a lasting effect on Lagos, most agree that if it does happen, it will be because of the strength that local churches exhibit by discipling new believers in their faith. The majority of this responsibility will fall on the 2,000-plus churches that worked with CFAN to host the Lagos crusade last fall.
Meanwhile, Bonnke and his team continue to press forward with additional crusades planned throughout Africa this year. "We're cracking away because we feel the urgency," said Peter van den Berg, vice president of CFAN. A determined Bonnke agrees. "This is harvest time," the evangelist often says. "Africa is my destiny."
While history may judge Bonnke as Nigeria's foremost spiritual guide, Joann Brant, director of advisory services for SIM International, says some of the strongest pillars of faith in this country are those who will probably never be remembered by the masses. "There are a lot of unsung, sacrificial heroes of the faith out there," she said, describing how hundreds of missionaries throughout the years have left behind everything to serve in this difficult land. "They feel called of God to be witnesses of their faith."
Photography by CFAN
Related Elsewhere
Today's related stories on Nigeria include "The Shari'ah Threat" and "Facing the Smiles."
Visit the Christ For All Nations (CFAN) English homepage, or check in at the German homepage for news from Nigeria (in German of course.)
There is a short English bio of Bonnke available, or a more detailed account of his life and ministry for those of you who read French.
Bonnke's plea for more churches to engage in evangelism, "We Must Give Revival to Receive Revival," also talks about how his ministry began.
Pictures and descriptions of how CFAN turned a swamp into an evangelism venue for 1 million people in Lagos are available online.
Christianity Today covered the deaths of 14 people at Bonnke's 1999 Nigerian Revival.
CT's Cutrer also filed a report from the field while she was in Nigeria in November 2000 detailing one of the largest recorded gatherings ever, with more than 6 million in attendance looking for a miracle.
Charisma magazine also has a report on the crusade.
Previous Christianity Today coverage of Nigeria includes:
'Focused, Determined, Deliberate' Destruction | Ecumenical leader calls on Nigeria to deal with religious violence between Muslims and Christians. (Oct. 30, 2000)
Is Nigeria Moving Toward War? | Deadly riots lead to suspension of Islamic law. (March 31, 2000)
Nigeria On the Brink of Religious War | Northern states adopt Islamic law, increasing Christian-Muslim tensions. (Dec. 16, 1999)
Nigeria's Churches Considering Legal Challenge to Islamic Laws | Third state moving toward implementing Koranic laws (Dec. 17, 1999)
Have something to add about this? See something we missed? Share your feedback here.
Our digital archives are a work in progress. Let us know if corrections need to be made.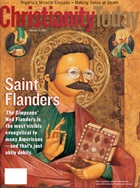 This article is from the February 5 2001 issue.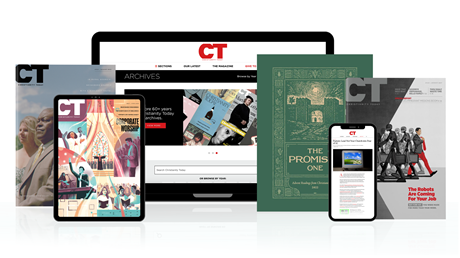 Annual & Monthly subscriptions available.
Print & Digital Issues of CT magazine
Complete access to every article on ChristianityToday.com
Unlimited access to 65+ years of CT's online archives
Member-only special issues
Subscribe
Read These Next
Trending

American Christians Should Stand with Israel under Attack

While we pray for peace, we need moral clarity about this war.

From the Magazine

I Studied Christianity with the Hope of Debunking It

A decade later, I became a Christian.

Editor's Pick

Don't Miss These African Christmas Hits

Jam out this season to highlife, Afrobeats, jazz, a cappella, R & B, rap, dance, and hip-hop artists from Nigeria, South Africa, and more.
'Come and Receive Your Miracle'
'Come and Receive Your Miracle'