A new school curriculum set to go into effect in India in 2002 has drawn protest from churches who see it as an attempt by the pro-Hindu coalition government to "tamper" with history in order to promote Hinduism at the expense of minority religions.
The Catholic Bishops' Conference of India (CBCI) in a statement on December 7 expressed "serious concern over tampering with historical data" and cautioned education policy makers "not to deprive the coming generations of the possibility to know the truth in its integrity, an essential ingredient for any civil society."
Earlier, the executive committee of the National Council of Churches in India (NCCI) decried attempts by the government "to promote Hindutva [Hindu nationalism] through education."
Supporting Hinduism "will only perpetuate religious fundamentalism and further the marginalization of minorities," cautioned the NCCI, which represents 29 Orthodox and Protestant churches in India.
Christian education officials declared that in spite of government claims to the contrary, secular scholars and Christian educators had been left out of the drafting of the new curriculum.
"All five members of the drafting committee belonged to one community, [Hindu]," said Sister Celine Xavier, general secretary of the All India National Association of Catholic Schools (AINACS), which represents 15,000 schools.
So far, the proposals for the new curriculum exist only in a document called the National Curriculum Framework for School Education. But church leaders fear that once the curriculum goes into effect, school textbooks will follow.
"The outcome will be more biased texts than those that are already taught in some of the states," said Valson Thampu, a Church of North India pastor and a professor at the church-run St Stephen's College in New Delhi.
The controversial curriculum document has to be seen as part of the BJP-led government's "determined efforts to put Hindutva [Hindu nationalist] scholars in key positions in educational bodies," Thampu said.
Since the BJP government came into power in 1998, history books authored by prominent secular scholars have been taken off class syllabuses. Leading educational bodies, such as the Indian Council for Historical Research and the University Grants Commission, which controls university education, have been filled with Hindu nationalist scholars, Thampu said.
"There is every reason for Christians and secular-minded people to be concerned about this," said Thampu, who organized a seminar on Hindu influence on education in early November in New Delhi under the banner of the autonomous Minorities Commission of Delhi.
Addressing the seminar, Roman Catholic Archbishop Vincent Concessao of Delhi said: "This is not only a question for the minorities. We have come together because of our concern for the survival of secular democracy in this country."
The archbishop said that there was "an ideology behind the new education policy that is being smuggled in without proper discussion or public scrutiny."
Archbishop Oswald Gracias, CBCI secretary general, said Christian educators had not been consulted before the "drastic changes" were proposed for the curriculum despite the fact that their 20,000 educational institutions cater to nearly 10 million Indian students.
Last month, at a national education conference, AINACS rejected the government's curriculum document. In a statement, the education association claimed that the document's emphasis on national identity and Indian ethos and traditions, which had recently been "equated with Hindu nationalism is a matter of great concern to all minorities."
Mani Jacob, general secretary of the All India Association for Christian Higher Education, said that the curriculum document could lead "to misuse of the educational medium by fundamentalist groups to spread biased presentations or belittle other faiths." The association includes 230 Christian colleges in India.
Christian educators in India, Jacob said, are "very concerned about attempts to 'rewrite' history and other social sciences as it would lead to distortion of facts as we have already witnessed."
In spite of threats by opposition parties and state governments to boycott the curriculum when it is implemented next year, Prime Minister Atal Behari Vajpayee has openly endorsed the plan, saying that if history is biased against Hindus, it should be "corrected."
Related Elsewhere:
A summary or the full text of India's National Curriculum Framework for School Education is available online.
See World Report for more Christianity Today articles on India.
Recent Christianity Today articles on relations between Christians and Hindus in India include:
Christians Encouraged as 50,000 Dalits Leave Hinduism | Low-caste Hindus see conversion as their only escape from oppression. (October 11, 2001)
India's First Dalit Archbishop Holds 'No Grudge' Over Predecessor's Attack | Once "untouchable" Dalits make up bulk of country's Christians. (May, 11, 2001)
Plans to Resolve India's Interfaith Tensions Face Delays and Accusations | Did India's National Commission for Minorities plan a meeting to discredit Christians? (July 20, 2000)
Article continues below
India Election Results Rattle Ruling Nationalists | Hindu BJP "getting irrelevant day by day" say rivals. (June 13, 2001)
Despite Tensions, Indian Churches Agree to Talks With Hindu Groups | Mainline churches will join talks, but other Christians say "partisan" meeting is dangerous. (Apr. 11, 2001)
India Relief Abuses Rampant | Radical Hindus hijack supplies in quake intervention. (Mar. 20, 2001)
In Orissa, You Must Ask the Government If You Want to Change Religion | Christian church leaders say they're trying to ignore the controversial law, but police aren't doing the same. (Mar. 12, 2001)
Churches Angry that Indian Census Ignores 14 Million Christian Dalits | Only Hindu, Sikh, and Buddhist members of "untouchable" caste being counted. (Mar. 2, 2001)
India's Christians Face Continued Threats | We must preach what we believe in spite of Hindu pressure, says Operation Mobilization India leader. (Feb. 15, 2001)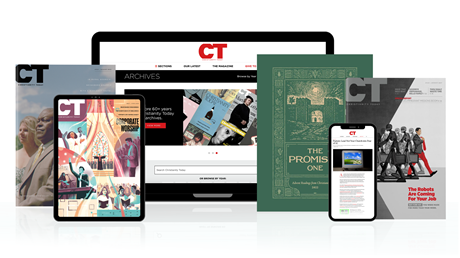 Subscribe to Christianity Today and get access to this article plus 65+ years of archives.
Home delivery of CT magazine
Complete access to articles on ChristianityToday.com
Over 120 years of magazine archives plus full access to all of CT's online archives
Subscribe Now
New Curriculum 'Tampering' with History, Indian Churches Protest
New Curriculum 'Tampering' with History, Indian Churches Protest