AWashington Post article reported on July 25 that approximately 35 African-American clergy have been fired or threatened with dismissal after tagging along with the Rev. Sun Myung Moon on his recent "We Will Stand" U.S. tour.
The article alleges that the ministers, mostly from the South, "have been voted out of office by church boards that object to any affiliation with Moon." The article has been vehemently denied by a group of involved pastors (including Imani Temple archbishop George A. Stallings, who was married at a Moon mass wedding).
This situation may be the boiling point in a mounting unrest over the increasing close ties between Moon's Unification Church and African-American clergy and on on-going mission for Moon.
So what's the fuss over Christian leaders associating with Moon? For starters, he claims Jesus failed his earthly mission, and that Moon was commissioned to finish up. Jesus's real task, Moon maintains, was to form a perfect marriage in order to redeem humanity and reverse the damage that Adam and Eve created. Moon and his wife are held up in his church as the "True Parents" of humanity.
After reportedly seeing Jesus on a mountaintop in 1935, Moon organized his teachings into the Divine Principle ten years later and began his public ministry. The Holy Spirit Association for the Unification of World Christianity was organized in 1954 in Seoul, South Korea, and soon became a worldwide movement.
The San Francisco Chronicle found, in a study of alternative religions (part one | two | three | four), that the Moonies have battled for respect and to be categorized as a "religion" instead of a "cult." The group's image has been tarnished by frightening tales from ex-members, the unusual beliefs of Moon, and a tell-all book by Moon's ex-daughter-in-law, Nansook Hong.
Credibility is critical if Moon hopes to accomplish a major goal of the Unification Church—to unite all of the fragments of Christianity into a single body.
Jailhouse conversion
In this quest, Moon has been reaching out to black Christians as well as members of the Nation of Islam. Last October, he played co-host at the Million Family March led by Nation of Islam leader Louis Farrakhan.
According to the Post, Moon's snuggling up to African-American Christians didn't attract much attention until some ministers and congregations became suspicious of Moon's activity. Some churchgoers, joined by Black Panther members, have protested churches where Moon has had contact with clergy—in some cases even finding spouses for them. The Post reports:
Once, Moon preached the superiority of the Asian race. Then in (1984) he went to jail for tax evasion and found common cause with civil rights leaders who contended that he, like they, had been persecuted because of his minority status.

Now he preaches an interracial message, often marrying female Korean church members with black men. He has donated millions of dollars to black churches and cultivated a network of preachers loyal to him. His latest American tour began in a Bronx church in April and ended 50 days later at the Canaan Baptist Church in Harlem, with Moon surrounded by black preachers testifying to his good works.
Moon has found some pretty alluring ways to attract Christians to his cause. And he apparently has the funds to do it. While no exact numbers could be found on the church's worth, Moon-owned properties are connected to The Washington Times and a laundry list of other businesses. He's a regular travel agency with all the trips he's historically given out. And that's not to mention the free gifts as an April Washington Post article pointed out when Moon invited over 300 black clergy members to attend a recent tour stop at Washington, D.C.
After his speech, Moon called more than 100 pastors to the stage, and each was presented with a gold Christian Bernard watch. "The gold watches are a personal expression from Reverend Moon, and the gold represents his unchanging love," the Rev. Phillip Schanker, a Moon spokesman, said in an interview. Schanker said the watches were provided by a Moon-owned business and cost several thousand dollars apiece.
Moon's also quite the matchmaker. He has married thousands of couples in his infamous mass weddings—some of them Christian clergy. Stallings, who broke away from the Roman Catholic Church in 1989 over issues of race, was recently married to a Japanese woman who worked for Moon.
But the most publicized of the weddings came in the same ceremony as Roman Catholic Archbishop Emmanuel Milingo took the hand of a South Korean woman Moon provided. The Vatican didn't exactly send a toaster oven because-surprise—the Catholic church doesn't really see eye-to-eye with the whole clergy-getting-married thing.
Milingo, the controversial "witch-doctor priest," has been given a deadline to give up his bride or he'll be excommunicated. So far, the archbishop hasn't made any real steps in meeting that ultimatum—such as leaving his new wife or disassociating from Moon. But he has released a public statement and sought an audience with Pope John Paul II. Yesterday, he met with the Pope.
In a letter to the Pope, Milingo wrote, "I know that the action I have taken is both surprising and difficult to understand, but I assure you that I am acting out of my deepest faith in Jesus, and my undying love for the Catholic Church." In addition, Milingo claims not to have joined the Unification Church. According to the Moon-connected UPI news service:
The Vatican has also asked Milingo to disassociate himself from Moon and his Family Federation for World Peace & Unification. But the prelate insisted, "I did not join Reverend Moon's church." He said he was "a Catholic through and through."

But when a journalist asked Milingo about the charge by traditionalist Christians that Moon committed blasphemy by suggesting that Jesus was a failed Messiah, Milingo replied, "Death was forced on Jesus … He was killed before he could finish realizing his plans."
Same Old Moonie Song and Dance
Moon's wooing of Christian church leaders may not seem like a new thing. It isn't. Moon has been using efforts like this in attracting conservatives—including Christian leaders—for years. And voices have spoken against it for just as long. According to a 1984 Washington Post article:
Some conservative leaders warn that the growing relationship between the (Unification) church and the New Right will provoke a fierce public backlash that will damage the conservative cause.

"The Unification Church is trying to buy its way into the conservative movement," charged Neal B. Blair, president of Free the Eagle, a Washington-based conservative lobbying group. "Moon says he's the son of God and the savior of the world. … It's frightening. Seldom have we had a group come into this country before and have this much money to spend."
In 1985, Christianity Today reported on the Unification Church's launch of a $4.5 million to $10 million public-relations campaign while Moon was serving his 18-month prison term for tax evasion. A package of booklets, letters and videotapes was mailed to approximately 300,000 Christian leaders.
His courtship doesn't end with press releases. Moon loves to host conferences through sub-organizations that address various not-so-controversial world concerns. The meetings have been focused on peace, anti-Communism, and pro-religious freedom. While appearing innocuous enough, these entities are funded primarily by business interests with Moon ties thus providing a stage to spread the Unification message while making pastoral connections.
According to the recent Washington Post article on the alleged recent firings, this was the case with the current tour. Rev. Timothy Chambers, an Alabama evangelist claimed Moon's representatives had promised "the black preachers that they would establish an independent group called the American Clergy Leadership Conference so the preachers could control their appearances during Moon's tour. Then, Chambers said, Moon's representatives 'just started taking things over and running things.'"
This sounds similar to the strategy employed in the eighties when Moon's people formed CAUSA, an anti-Communist organization. Unification pastor Chung Hwan Kwak headed up its "ministerial alliance." Christians joined it as an "independent educational organization."
The group proposed to fight Communism with a Moon philosophy called "Godism." According to a 1985 Christianity Today article:
Godism is an intricate "world view" that permeates CAUSA seminar materials and is touted as the sole solution to communism, which is viewed as "God's emergency of all time." In essence, Godism is a formula for ushering in the kingdom of God on earth by human effort. CAUSA has attracted a following among some Christians throughout the country, and it has gained at least a temporary hearing among others.
Some churches and Christians were wary of the concept and the Moon money behind it. The Assemblies of God denominations discouraged pastors from any association. Some evangelicals who did give it a "temporary hearing," saw much more going on than fighting Communism. The article reported:
Cal Thomas, communications vice-president for Moral Majority, attended a CAUSA seminar in San Francisco. At the end of the worldview presentation, he was asked to comment from the floor. Reacting to the unchristian theories put forth, he shocked participants by standing and saying, "I am a follower of Jesus, who said he is the Way, the Truth, and the Life, and no man comes to the Father except by him."
Richard Bello, a Baptist associate pastor, told Christianity Today at the time that he had attended a five-day paid-in-full CAUSA meeting. "The first day was introductory, the second (day) had a little more of Godism and on the third there was no question we were being solicited," Bello said. "On the fourth we were recruited, and by the fifth day we were either financed or wooed into trying to draw the net in our own communities."
This issue came up again in 1998 when a new political coalition was formed called American Freedom Coalition, to "unite conservatives to work toward common goals, such as traditional values, the sanctity of life, and anticommunism." Evangelicals questioned the political alliances and influence of Moon.
"What the American Freedom Coalition is trying to do is sign up evangelical Christians for a wide variety of broadly stated goals which could have unforeseen applications in the years to come," said Robert Dugan, director of the National Association of Evangelicals' Washington Office on Public Affairs. "I'd have no trouble at all cooperating with the American Freedom Coalition, or for that matter the Unification Church, on a specific piece of legislation we supported, but to join a coalition of which they are a major partner, for a future agenda of political input which is unspecified, I think is extremely dangerous and plays into their hands," he said
Many conservative evangelical speakers have attended Moon-connected rallies including a Family Federation for World Peace event in 1986 where Ralph Reed, Beverly LaHaye, Gary Bauer, and Robert H. Schuller spoke. A 1998 Christianity Today article reported:
"Conservatives find Moon attractive because they share many of his moral and political values," says James Beverley, theology and ethics professor at Ontario Theological Seminary. "Those similarities are significant enough that questions of theological differences are put on hold." Beverley, who has studied Moon for two decades, also notes that speakers at such events often have their trips to exotic locales fully financed in addition to receiving generous honorariums.
During Moon's tax-evasion trial, frequent rallies were held for "religious freedom.". Well-respected Christian leaders such as Tim LaHaye spoke at these events. LaHaye told Christianity Today at the time:
"By no stretch of the imagination does my participation in that rally indicate that I support Reverend Moon's doctrine. Frankly, I don't really know what his doctrine is. But in America, Reverend Moon and (Nebraska pastor) Reverend Sileven and every other religious organization ought to have the freedom to communicate their doctrine within the framework of the law."
A Moon employee estimated that half of the several thousand pastors attending such a rally in Washington D.C. in 1984 were in attendance on a free ticket. Darrel Malcolm, at the time was senior pastor of Webber Street Church of Christ in Urbana, Illinois.
"I felt there was a hidden agenda of trying to buy legitimacy (for Moon) within the Christian community," Malcom said in the Christianity Today article. "I am not ready to grant that … I do not consider their group Christian."
Not all of this evangelical-courting is necessarily in the past. It continues. While not many Christian leaders may have realized it at the time, Moon sponsored George W. Bush's Inaugural Prayer Luncheon for Unity and Renewal on Jan. 19. More than 1,400 ministers, civic and political leaders attended the event. Moon spoke to the attendees while church members handed out Unification books and pamphlets. Southern Baptist Executive Committee President and Chief Executive Officer Morris H. Chapman told Baptist Press:
"I was shocked to see that Sun Myung Moon was on the program and in essence, the host. I was even more surprised on the way out of the banquet hall to be given a propaganda book on the Unification Church. (The experience) will serve to remind evangelical Christians that the world increasingly is filled with wolves in sheep's clothing."
And although he is 81-years-old, it seems Moon will continue making headlines with such methods of attracting spiritual leaders to his Unification Movement. In a speech at his 80th birthday celebration he said a union of religions is the only way to prepare for the "last days."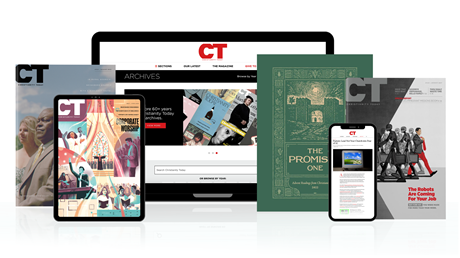 Annual & Monthly subscriptions available.
Print & Digital Issues of CT magazine
Complete access to every article on ChristianityToday.com
Unlimited access to 65+ years of CT's online archives
Member-only special issues
Subscribe
Why Are Pastors Flying to Moon?
Why Are Pastors Flying to Moon?