true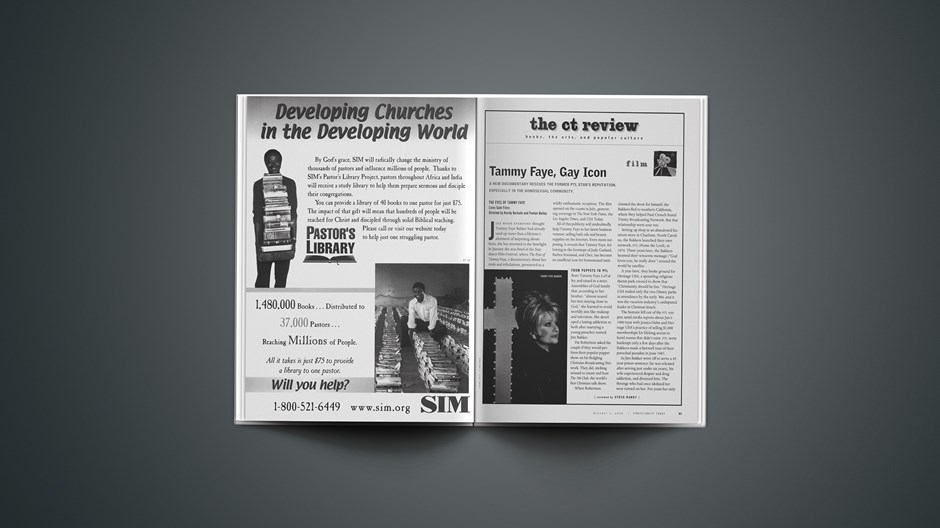 The Eyes of Tammy Faye
Lions Gate Films
Directed by Randy Barbato and Fenton Bailey
Just when everyone thought Tammy Faye Bakker had already used up more than a lifetime's allotment of surprising about-faces, she has returned to the limelight. In January she was feted at the Sundance Film Festival, where The Eyes of Tammy Faye, a documentary about her trials and tribulations, premiered to a wildly enthusiastic reception. The film opened on the coasts in July, generating coverage in The New York Times, the Los Angeles Times, and USA Today.
All of this publicity will undoubtedly help Tammy Faye in her latest business venture: selling bath oils and beauty supplies on the Internet. Even more surprising, it reveals that Tammy Faye, following in the footsteps of Judy Garland, Barbra Streisand, and Cher, has become an unofficial icon for homosexual men.
From puppets to PTL
Born Tammy Faye LaValley and raised in a strict Assemblies of God family that, according to her brother, "almost scared her into staying close to God," she learned to avoid worldly sins like makeup and television. She developed a lasting addiction to both after marrying a young preacher named Jim Bakker. Pat Robertson asked the couple if they would perform their popular puppet show on his fledgling Christian Broadcasting Network. They did, sticking around to create and host The 700 Club, the world's first Christian talk show. When Robertson claimed the show for himself, the Bakkers fled to southern California, where they helped Paul Crouch found Trinity Broadcasting Network. But that relationship went sour too.
Setting up shop in an abandoned furniture store in Charlotte, North Carolina, the Bakkers launched their own network, PTL (Praise the Lord), in 1974. Three years later, the Bakkers beamed their winsome message ("God loves you, he really does") around the world by satellite. A year later, they broke ground for Heritage USA, a sprawling religious theme park created to show that "Christianity should be fun." Heritage USA trailed only the two Disney parks in attendance by the early '80s, and it was the vacation industry's undisputed leader in Christian kitsch.
The bottom fell out of the PTL empire amid media reports about Jim's 1980 tryst with Jessica Hahn and Heritage USA's practice of selling $1,000 memberships for lifelong access to hotel rooms that didn't exist. PTL went bankrupt only a few days after the Bakkers made a farewell tour of their parochial paradise in June 1987.
As Jim Bakker went off to serve a 45-year prison sentence (he was released after serving just under six years), his wife experienced despair and drug addiction, and divorced him. The throngs who had once idolized her now turned on her. For years her only claim to fame was a T-shirt featuring a drawing of her face, a Technicolor glob, and a punchline: I RAN INTO TAMMY FAYE AT THE MALL. After her brief period of wedded bliss with second husband and Heritage USA contractor Roe Messner, things got even worse. Messner was sentenced to prison for his own role in the PTL scandals, and Tammy Faye discovered she had cancer (which is now in remission).
More than garish eyelashes
The documentary's popularity has opened new venues for Tammy Faye. She and her freed husband reunited with Jim and his new wife and the Bakkers' two children (daughter Tammy Sue and son Jamie) for a stunning edition of Larry King Live in May. Cable's A&E featured Tammy Faye in its popular Biography series.
Bakker's vibrant campiness is one reason for her ironic popularity. "Without my eyelashes I wouldn't be Tammy Faye," she says at one point. "I don't know who I would be." But garish makeup alone doesn't explain her newfound celebrity. Openly homosexual filmmakers Randy Barbato and Fenton Bailey have been artistic and domestic partners for 17 years. They are best known for producing a program on the cable music channel VH1 hosted by "drag superstar" RuPaul Charles (who also serves as the narrator of The Eyes of Tammy Faye) and for their 1998 Emmy Award-winning Party Monster: The Michael Alig Story. They also have been honored by the Gay and Lesbian Alliance Against Defamation.
The Eyes of Tammy Faye packs a wealth of material into its 80 fast-paced minutes, affectionately portraying both Tammy Faye's "fabulousness" and her foibles, including her salad days as a Christian celebrity and her long dark years of the soul. The filmmakers interviewed ex-husband Jim and the couple's children, and the cameras even followed Tammy Faye to the offices of cable's USA Networks, where she unsuccessfully pitched some of her ideas for a new show. "I just love the camera," she says. "It's people. It's someone to talk to."
We also see Tammy Faye leading the choir at her new church home in Palm Desert, California, where she plays an organ donated to the congregation by Frank Sinatra. And we watch as she nervously prepares to sing at her first concert in over a decade—a gala at Oral Roberts University. In one of the film's most touching segments, the cameras follow Tammy Faye back to a deserted Heritage USA, where she busily straightens rust-covered deck chairs and cries over what might have been.
"Tammy likes gay people"
The film doesn't dwell on homosexuality, but it does make the point that Tammy Faye has expressed concern and compassion for homosexuals for nearly 20 years. In the '80s she did a televised interview with a homosexual minister who had AIDS. In 1996 she joined Jim J. Bullock, an openly homosexual comedian, as cohost of a short-lived talk program, The Jim J. & Tammy Faye Show.
"I never thought of him as gay," Tammy Faye says. "I thought of him as another human being I loved."
"Her beliefs are not in favor of homosexuality," Bullock says, "but she gave me the freedom to be who I am."
One brief segment of the documentary shows an informal Jim J. and Tammy Faye reunion. She asks him how he is coping with the loss of his lover, who died of AIDS, as well as his own struggles with being HIV-positive. The two talk honestly and openly about the pain and sorrow in their lives, demonstrating that Tammy Faye transcends the "love-the-sinner-but-hate-the sin" approach that sinners typically find so unsatisfactory.
"I don't label people," chirps Tammy Faye. "God didn't make any junk."
Such good-natured grace is a major reason that The Eyes of Tammy Faye has played to enthusiastic audiences at a number of homosexual film festivals. Homosexual activist Mel White, who is featured in the film, offers this explanation: "I think gay people like Tammy because Tammy likes gay people, and she's one of the only Christians in the world who seems to do so these days."
In a recent interview with The Advocate, Tammy Faye discusses how homosexual people have reciprocated her love. "When my husband [Messner] was in prison and I wasn't getting any Christmas presents, it was the gay community that gathered around me and saw that," she says. "They cared about me more than the Christians cared for me."
At times during The Eyes of Tammy Faye it's not clear whether the filmmakers are canonizing or mocking their subject. They asked her to sing the disco classic "I Will Survive," but she elected instead to close the film by singing, "Don't give up on the brink of a miracle."
Tammy Faye didn't give up, and the latest miracle in her life is how she has unintentionally become an ambassador of God's grace to a community that has received too few envoys from evangelicalism.
Steve Rabey is a writer living in Colorado. He and his wife, Lois Mowday Rabey, are the editors of Side by Side: Disciple-Making for a New Century (Cook/NavPress).
Related Elsewhere
Visit the official movie site.
Yahoo offers a broadcast of Tammy Faye Bakker Messner discussing the movie, and commenting on reality TV.Indiewire ran an interesting interview with the directors , Barbato and Bailey.
People magazine did an indepth story on Tammy and the movie.
Previous Christianity Today coverage includes:
Hollow Woman? | What Christian film critics have to say about The Eyes of Tammy Faye, Space Cowboys, Hollow Man, and other current releases.
(Aug. 9, 2000)
The Re-education of Jim Bakker | Back on the streets, this fallen televangelist is preaching good news to the poor and predicting an asteroid-studded Second Coming.
(Dec. 7, 1998)
Jim, Tammy Faye Describe Downfall


(Nov. 11, 1996)
Have something to add about this? See something we missed? Share your feedback here.
Browse All Movie Reviews By: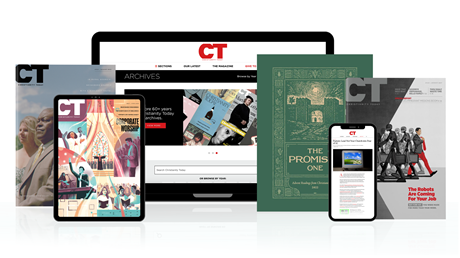 Annual & Monthly subscriptions available.
Print & Digital Issues of CT magazine
Complete access to every article on ChristianityToday.com
Unlimited access to 65+ years of CT's online archives
Member-only special issues
Subscribe
The Eyes of Tammy Faye
The Eyes of Tammy Faye