China's repressive government is stepping up efforts to cripple the organizational structure of the nation's unofficial house churches, which may have as many as 50 million followers.According to a handwritten, hand-carried report just received from Chinese Evangelistic Fellowship, 53 of its Bible-school teachers, students and church-planters were detained in August.Some have been released but an unknown number remain in custody. Frank Lu of the Hong Kong Information Center of Human Rights says that the current campaign against unregistered religious organizations started last year in order "to smash the organizational structures of these groups."Late last year, the government arrested and sentenced Shen Yi-ping, the leader of the fellowship, to a labor camp.
Trade debate proceeds
Previous reports out of China have recently detailed the arrests in August of over 100 members of another house-church movement, the Fangcheng church in Henan. The current report would increase the number of arrests to well over 150. News of the arrests comes just as China's paramount leader, Jiang Zemin, was visiting the United States and as the U.S. Senate considers Permanent Normal Trading Relations with China.In addition, the U.S. State Department also has issued a scathing report on the "marked deterioration of religious freedom" in China. Ambassador Robert Seiple denounced the Chinese government's "inhumane brutal treatment of people on the basis of faith.""Certainly, a lot of people in China itself think that the government's approach is just nuts," says a former U.S. government official with long experience with China. "What puzzles me is that the government isn't taking into account the negative impact of this on foreign opinion just when Jiang is traveling here."But "from a domestic Chinese perspective, what the Chinese are doing makes sense," the former official says. "For the last year they have really focused on shutting down unregistered groups. With the flagging economy, they are meeting with social grievances. They are worried that these groups might be a focal point of aggrieved parties."In 1999, the Chinese police reported that over 100,000 protests were launched against the government, particularly its corruption. At a January national meeting of the Religious Affairs Bureau, which oversees religion in China, leaders expressed alarm that Christianity had attracted as many as 50 million Chinese, including those in the Communist Party and governing and military circles. The wave of arrests of the China Evangelistic Fellowship members started with the August 2 closing and ransacking of their Bible school in Yingshan County in Hubei Province, which is just north of the central Yangtze River.Thirty-five professors and students were carted off, and the school, which was held in a local home, was ransacked, leaving the smoke of crushed white chalk behind, according to a source close to the leadership.In the adjoining province of Henan, police arrested 11 more church-planters in Yutong County, a key hub of transportation and communications.On August 21, government police struck in Shaanxi, the province north of Hubei, arresting 7 people in Yun-cheng City.China Evangelistic Fellowship is known as one of the more balanced Christian denominations in China, according to Lu. A close associate of the group's jailed leader says that fellowship meetings usually feature long sermons on a particular verse, and some healing, but no prophetic words.Two years ago, the group joined with other Christian house-church movements to issue a joint statement of faith that reflects mainstream evangelical Christianity. So, why has the government targeted this group?
Balanced groups threatening?
Lu says that the balanced style of the group makes it influential and therefore threatening to the government. The fellowship shares "completely identical doctrines with mainstream Christian groups overseas," Lu says.The government, he thinks, also is wary of the close contact that the fellowship has with overseas religious and human-rights organizations. Further, the fellowship has urged other house-church groups not to register with the government's Religious Affairs Bureau or to join the official "Three-Self" churches.Fellowship members have criticized the government's policy prohibiting the conversion or teaching of anyone under 18, which means parents cannot talk to their children about Christ.In Communist China labels determine your future. In Mao's time, the label "rightist" was a consignment to a social hell with constant discrimination, harassment, or even death. In 1999 the government changed its labeling system for many house churches from "illegal religious groups" to "cults."The difference is the difference between life and death. Cult leaders can be executed, as have at least three since 1983. Chinese Evangelistic Fellowship was declared a cult last Fall.The current government crackdown followed government policy meetings and a policy speech Jiang Zemin in September 1999. Jiang called for the party to "energetically give guidance to religion" and to maintain vigilance against "cults." Within a month of Jiang's speech the leader of the heterodox Supreme Spirit Sect was executed.The Christian house churches have gone to great lengths to disprove their "cult" label, issuing an orthodox Christian statement of faith and sending out notices of their unprovoked arrests."We really just want to suffer silently," says a China Evangelistic Fellowship source, "but every time we get persecuted the government accuses us of being a cult."On the CBS news program 60 Minutes last Sunday, Mike Wallace asked whether the Chinese government persecutes Christians."No," Jiang said brusquely, looking away.
Related Elsewhere
Read more about China's religious freedom record at uscirf.org, or at human rights sites like Amnesty International, Freedom House, or Human Rights Watch.Read the testimony of USCIRF's Commissioner, Elliot Abrams, to the House International Relations Committee on the state of religious oppression in China last May.The U.S. State Department's Annual Report on International Religious Freedom, released last week, has a reams of information about China's religious freedom record over the last year.Coverage of Jiang Zemin's US visit is available from Reuters, or read a profile of Jiang from CNN.CNN also ran a couple of stories about China and the PNTR debate: the first is about weapons compromise, and the second features Sen. Jesse Helms of North Carolina proclaiming, "We are not going to rubber stamp the President's plan to reward Chinese Communists. We are going to have a debate."Previous Christianity Today stories about China include:House Approves Divisive U.S.-China Trade Pact | But will permanent normal trade relations status help human rights? (May 25, 2000) China Should Improve on Religion to Gain Permanent Trade Status, Commission Says | Religious liberty in Sudan and Russia also criticized. (May 8, 2000) China's Three Self Churches, Seminaries Bursting | Younger Chinese drastically changing congregational demographics. (Dec. 29, 2000) A Tale of China's Two Churches | Eyewitness reports of repression and revival. (July 13, 1998)
Have something to add about this? See something we missed? Share your feedback here.
Our digital archives are a work in progress. Let us know if corrections need to be made.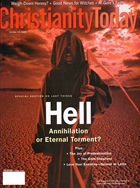 This article is from the October 23 2000 issue.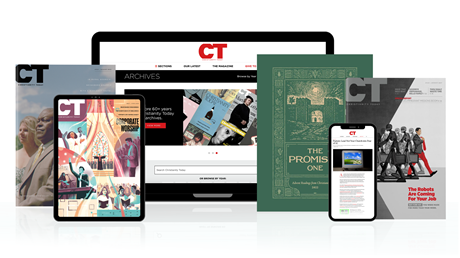 Subscribe to Christianity Today and get access to this article plus 65+ years of archives.
Home delivery of CT magazine
Complete access to articles on ChristianityToday.com
Over 120 years of magazine archives plus full access to all of CT's online archives
Subscribe Now
Smack Down
Smack Down