In 2001, Western and Eastern Christian churches will celebrate Easter on the same date: a rare occurrence, because East and West calculate the equinox and full moon using different points of reference from the Earth. Because of this, report the news services of both the Greek Orthodox Archdiocese and the Evangelical Lutheran Church in America, "there is a renewed effort for all Christians to use the same calculations to determine the date of Easter each year." The suggestion on the table is to use "precise modern astronomical determinations from the meridian of Jerusalem—the place of Christ's death and resurrection—so neither tradition will have to change its policies."
Kudos to Taco Bell for publicly recognizing Lent, one of the oldest observations in the Christian calendar. But its latest ad campaign, "Lent Has Never Tasted So Good," misses the point. "Lent doesn't mean 40 days of fish sticks," reads its current flier. "You can satisfy your craving with a Taco Bell® meatless sensation like our Bean Burrito, 7 Layer Burrito, Tostada, Nachos & Cheese, Pintos & Cheese or side order of Rice. At Taco Bell® Lent doesn't mean giving up on taste." Uh, maybe not at Taco Bell®, but isn't giving up on tasting the foods you crave the definition of fasting?
Bob Jones III is angry that the press, including his local Greenville News and The Associated Press, reported that the school's Web site " no longer equates Catholicism with cultism." "In order to leave no doubt in anyone's mind of the university's integrity and absolute commitment to its biblical principles, the article in question has been reposted," Jones says. "The column will remain as long as this present controversy exists" (see also the related Greenville Newsarticle)
The Catholic University says the flier, which shows the Virgin Mary with the message "How's this for an immaculate concept: Keep Abortion Safe and Legal" to be a "deliberate misuse of a venerated person." The students are suspended for the rest of the semester. Yesterday, fellow students protested the decision.
"A spokesperson for NBC has announced that the network will most likely cancel its controversial prime-time cartoon, 'God, the Devil and Bob' in April," reports Charisma News Service. Is this a scoop? ChristianityToday.com hasn't heard this news anywhere else.
The Serbian Orthodox Church is urging its priests to refuse Holy Communion to medical professionals, including doctors and midwives, who perform abortions
"The 100 or so remaining Christians here [in Hasbaya], like many across southern Lebanon, fear that once Israeli troops leave, Christians will bear the brunt of Lebanese anger against those who cooperated with Israel during its long occupation of the region," reports The Associated Press.
Archbishop of Canterbury George Carey started an 18-month review into his office's "role and responsibilities." The Times of London reports that the review "raised fears that Dr George Carey could become an Anglican version of the Pope, presiding over a mini-Vatican."
Pope John Paul II honored Cardinal Ignatius Kung, who died Sunday at age 98, for "heroic fidelity to Christ amid persecution and imprisonment." Kung's death was an opportunity to "renew my fervent prayer for the intentions of the church in China so close to the late cardinal's heart," he said. In a related story, the Chinese government issued a final statement against Kung, saying, "he did not act in the interests of Chinese people and of the patriotic church, he was used by hostile foreign forces."
Fortingall, Scotland, has a 9,000-year-old yew tree—the oldest living organism in Europe. But that's not enough for residents of the small town: they also claim that Pontius Pilate was born there (yes, Fortingall, Scotland). It's a dubitable claim (is anyone else having a hard time picturing a Scottish Pilate?), but the villagers are eager to make it. Well, most of them. "Would you want your village to be known for Pontius Pilate?" asks one.
"Thou shall not lie with mankind as with womankind: It is abomination." So quoted billboards on Staten Island for five days before they were replaced. The billboard company, which replaced one with a Smokey Bear ad and whitewashed another, says it removed the ads because they violated its requirement that billboards contain the name of the advertiser.
"A show that was always irritating has become unbearable," says Canada's National Post in its negative—very negative—review of the Godspell revival at Toronto's Bathurst Street Theatre. The review can't think of enough bad things to say about the musical, but its biggest problem is with its light treatment of the story of Jesus, whom reviewer Robert Cushman says comes across more like Jim Carrey: "This is a very soft show based on a very tough source. The Biblical parables are terse moral paradoxes whose implications, if people in any number were actually to act on them, would be cataclysmic. In Godspell their meaning, though not actually falsified, is smothered under a blanket of ingratiation: goofy young showfolk acting out all the parts and making nice."
Related Elsewhere
See our past Weblogs: March 16 | 15 | 14 | 13 March 10 | 9 | 8 | 7 February 18 | 17 | 16 | 15 | 14 February 10 | 9 | 8 | 7 February 3 | 2 | 1 | January 31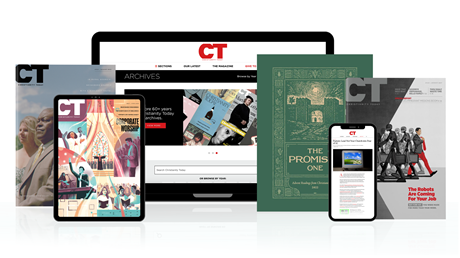 Annual & Monthly subscriptions available.
Print & Digital Issues of CT magazine
Complete access to every article on ChristianityToday.com
Unlimited access to 65+ years of CT's online archives
Member-only special issues
Subscribe
Where East and West Meet
Where East and West Meet