The mysteriously titled journal CCM is celebrating its twentieth year of publication, which began with a gala issue last summer. If those eponymous letters don't ring a bell, they stand for Contemporary Christian Music. That's right, this is the magazine that has become the Christian Billboard—or is it the Christian Rolling Stone? Or the Christian Entertainment Weekly? Or all those rolled into one?
Whatever it is, the magazine is produced by people whose musical tastes (unlike mine) prefer rock to Bach and whose theological predilections fit more comfortably in an evangelical context than in my own, more liberal, one. Still, I love this magazine, and this is how I explain the affection.
The somewhat strange universe of Christian rock offers a near-perfect laboratory for the analysis of issues arising out of the interrelationship of religion and culture—issues of vocation, of witness, of context, of medium and message. Every copy of CCM addresses such concerns, not from the privileged position of sophisticated academia but from the trenches of working-stiff Christianity. We witness the confessions, the arguments, the breakthroughs, and the recantations of persons who are utterly immersed in enacting the priesthood of all believers in this most worldly of contexts, who are struggling to embody what publisher John Styll likes to call "24/7 Christianity" (24 hours, 7 days a week). I know of no other arena in America where the artificial barrier between "sacred" and "secular" has been more effectively transgressed. Styll likes to quote Titus 1:15, "Everything is pure to those who are pure" (NLT).
This is Harvey Cox's "secular city." This is Dietrich Bonhoeffer's "religionless Christianity." It's here. It's been here, and some of us almost missed it because—surprise!—it came from the so-called theological right. Yes, all right; I admit it. Three decades ago, while self-styled liberals like me were musing over martinis about the "worldly Christianity" abirth in Boston, Berkeley, or New Haven, people who knew what "worldly" really meant were cranking up their amplifiers to blow our argyle socks off. And when the blast came, we woke (well, some of us did) to realize that our Niebuhrian commitment to "Christ and culture" was poisoned by a subtle hypocrisy: we find it hard to really get involved in culture. In fact, we find it hard to fulfill our obligation to culture without feeling like we're slumming. We're snobs.
In the 1980s, many smirked at reports of a Christian band called Stryper that tried to copy the antics of the maniacal but highly successful pagan group Kiss. They dressed in black leather, screamed heavy metal anthems like "To Hell with the Devil," and threw Bibles (literally) at their audience. Silly stuff, huh? But today, thousands of CCM readers would testify to the formative effect that Stryper had on their faith and life. They didn't learn confessional theology from them (I hope) but something else: that God was multilingual and multicultural. I was in a Ph.D. program at the time and, to be honest, some Stryper fans learned this before I did.
Christian pop star Amy Grant's 1997 Behind the Eyes was not only musically the best album of her career but also—in my opinion—the most profound theologically. Without ever mentioning God or Jesus in any direct or personal way, she presented a collection of odes and laments that depict the struggle of maintaining faith (or, at least, remaining faithful) when the life that one appears to have been given is not the life that one would choose. File under: Ecclesiastes.
CCM exploited the theological potential for the benefit of Ms. Grant's legion of fans. Alongside an interview with the artist they ran an editorial on "theodicy." The thought that Amy Grant fans now know what theodicy means—well, that is a concept that warms this theologian's heart.
CCM began as something of a business magazine for the Gospel Music Association (GMA), with articles on who was signing whom and what radio formats were proving most successful. It developed rather quickly into more of a fan magazine with an increasing focus on artists. Over the years, it matured into the slick but articulate journal that it is today. Every issue lists three goals as definitive of the magazine's purpose: (1) to promote spiritual growth by using contemporary Christian music as a "window" into issues of life and faith; (2) to provide news and information about Christian artists, concerts, and other related matters; and (3) to encourage Christians to interact redemptively with popular culture.
The staff, under the leadership of publisher Styll (once president of the GMA) and managing editor April Hefner, seem well-equipped to pursue these goals. They have employed some remarkable talent, such as Brian Quincy Newcomb, who has been reviewing albums for a decade or more. His comments are invariably perceptive, incisive, and appropriately critical (neither sincerity nor piety guarantees a favorable reception); I would put him up against Rolling Stone's best critics, Dave Marsh and Greil Marcus, anytime.
But it is Styll himself who sets the standard for journalistic and theological integrity. With varying degrees of passion and restraint, he has guided the journal and the guild it serves with an inspired sense of when to speak out, when to withhold judgment, when to be defensive, and when to give his critics just a little more rope. A time for everything. Ecclesiastes again.
In 1991, he commented on the "dominion over the devil" theme that appeared in no fewer than five out of nine songs on the latest album by the hugely successful Christian artist Carman. This "us-vs.-them-but-we-win" theme may play well with the crowds, Styll noted, but "is ultimately simplistic and tiresome." Indeed, he continued, "it's disheartening that albums like this are so popular in the Christian market. … [A]pparently a large segment of the church is content with what is little more than religious cheerleading." He took a lot of flak for saying this. Apparently, what we Lutherans call a "theology of glory" is, or at least was, pretty popular with the subscription base.
Part of the value of Christianity Today broke the story that superstar singer Sandi Patty's divorce three years previous had been precipitated by an extramarital affair with her current husband. CCM took up the story too, but Styll wrote a separate account of his own struggle with the issues involved in reporting on the private lives of public people. In fact, he revealed that CCM had known of the affair but had chosen not to reveal it. Styll had talked with Patty and with her pastor and had been satisfied with a general policy that "confession, repentance, and discipline should happen on the church level rather than in the media." Was that the right course? The question was not rhetorical but actual, reflective of nondefensive, public meditation on a theme that has only increased in relevance. (We will see how he handles Amy Grant's recent separation from her husband, Gary Chapman.)
Again, with regard to the Carman album, Styll later acknowledged that it may have been unfair to dump on a particular artist concerning what was really a dissatisfaction with the state of Christian music in general. Such winsome humility has marked CCM throughout its 20 years and has helped attract readers whose interests might transcend the journal's stated subject matter.
Indeed, Styll once began an article with the words, "There is no such thing as Christian music." You can probably guess at the reasoning adduced to support this claim (if not, see the June 1991 issue), but for an editor to deny the legitimacy of the very terminology from which his journal takes its name—well, it's a little like James Wall of the Christian Century writing an editorial on why there can never really be any such thing as a Christian century (an editorial which, by the way, some of us would like to see him write).
For 20 years now, Styll, his staff, his readers, and the artists on whom the periodical focuses have been addressing issues of religion and culture with honesty and verve. It is now not only a fan magazine and a business review but a top-notch theological journal to boot. Any Christian library (church or school) that does not carry this magazine is woefully incomplete.
And so, to Styll, Hefner, Newcomb, and the rest of you—congratulations on 20 years!
Mark Allen Powell is Robert and Phyllis Leatherman Professor of New Testament at Trinity Lutheran Seminary (Columbus, Ohio) and author of 14 books on religion and theology.
Have something to add about this? See something we missed? Share your feedback here.
Our digital archives are a work in progress. Let us know if corrections need to be made.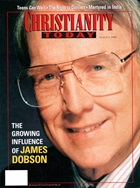 This article is from the March 1 1999 issue.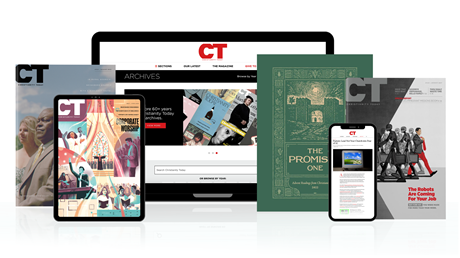 Annual & Monthly subscriptions available.
Print & Digital Issues of CT magazine
Complete access to every article on ChristianityToday.com
Unlimited access to 65+ years of CT's online archives
Member-only special issues
Subscribe
CCM Rocks the Church
CCM Rocks the Church