At the close of every decade, this magazine declares what it believes the future holds, with the caveat that no one really knows what the future holds. It is no trivial exercise: how we see the future determines how we see our duties in the present.
Fortunately there are few laughable moments in Christianity Today's four decades of predicting. Because we have seen ourselves as defenders of a historical faith, our concerns for the future have been remarkably stable. Our agenda for today's tomorrow looks much the same as it did in the past: to win the lost for Christ. "We evangelicals must cast aside our ghetto complex and advance actively into the contemporary battle for the minds of men and women," we argued in 1981.
In fact, Billy Graham's diagnosis of evangelicalism at the founding of this magazine remains relevant: "We seem to be confused, bewildered, divided, and almost defeated in the face of the greatest opportunity and responsibility, possibly in the history of the church." Though the specifics may have shifted since Graham's 1955 speech, evangelicals are still confused about their role in society, divided as a body, and even bewildered about what evangelical means.
These issues will only intensify as evangelicalism moves into a post-Graham era. Though the Christianity Today of 2099 may discuss how best to evangelize a post-post-postmodern society or how Generation Z's grandchildren will "change the face of the church," our concerns for the future of biblical Christianity will likely be the same.
New world order
Tribalism and economic globalism will jeopardize the multinational church. That the future heart of evangelical Christianity lies more in Nairobi and Seoul than Wheaton and Colorado Springs is no prediction; it is a fact. As we reported last November, Asia has 2.4 times as many evangelicals as North America and has experienced a 326 percent growth in that figure since 1970, while North American evangelicalism grew only by 57 percent in the same period.
What comes next? Foreign missions will mean Christians from the Two-Thirds World preaching to the "lost" West. Church leaders from around the world will work more closely together, whether in missions or relief and development. At the same time, various regional churches will accuse each other of having crossed the line from contextualization into syncretism.
All of these are already true. But what is less easy to predict is how the two forces of multicultural interaction—tribalism and globalism—will play out. Political scientist Benjamin Barber most famously labeled these forces Jihad and McWorld: retribalization is pitting culture against culture while economic (and, Barber asserts, ecological) forces "press nations into one commercially homogeneous global network."
Both trends work against democracy, Barber writes. But they work even more against the church. "Imperialism, in a sense, held tribalism in check," Fuller Seminary President Richard Mouw tells CT. But just as we don't want an imperialism that demands the church look exactly the same in Beijing, Baghdad, and Baltimore, neither do we want ten million churches all screaming that everyone else "isn't doing it right."
So far, Two-Thirds World Christians have justifiably united in their criticism of the West's past imperialism. (As we predicted in 1970, "Nationalism may prove to be [the Holy Spirit's] tool in forcing a change in the paternalism of modern evangelical missions.")
But criticism of that kind only unites for so long. What happens when Latin American evangelicals, often at odds with Roman Catholicism, find themselves at odds with Central Asian evangelicals for making few distinctions between Protestants and Catholics?
And while it is easy to argue for the "decontextualization" of Western Christianity, that task will be harder as Western culture spreads to the world's remotest villages.
"The problem of global Christianity once was the struggle between colonialism and nationalism," Wes Granberg-Michaelson, head of the Reformed Church in America, said in a recent CT interview. "Now it is how local identity can be preserved in the midst of a pervasively American view of commericalism and success."
Mission control
Ecumenism will be mission-focused, not unity-focused. Of course, fragmentation has been a problem since one Corinthian Christian said "I follow Paul," another "I follow Apollos," and another "I follow Cephas."
But while we face new fractures, we also face a potential to come together as never before. The top-down, institutionalized ecumenical movement begun at the dawn of the century is barely breathing as the sunsets. With an increasingly secular culture, weakened denominational ties, and an amplified emphasis on community and relationships within the church, the future of ecumenism lies with congregations and their members, and not largely with denominational leaders.
These future alliances will be driven by more than the idealistic desire for unity. They will be driven by common mission. "We already have strategic alliances, but they're too weak," says Ted Haggard, pastor of New Life Church in Colorado Springs. "As the secularization of America continues, we'll move from an attitude of 'let's get together and all love each other' to citywide strategy movements."
More importantly, this ecumenism seems likely to spread across more denominational barriers than past efforts did. In the face of today's "culture of death," we are experiencing an ecumenism of the trenches. "Tomorrow's grassroots ecumenism is not just about mission, but shared concern," says CT's senior editor Timothy George.
The late twentieth century has been the era of healing splits in the church, largely due to efforts of giants like Pope John Paul II and Billy Graham. The walls of distrust between Catholics, Protestants, and Orthodox have not been razed. But there is more conversation and cooperation between Christian groups than has been the case for a millennium. Catholic writer Henri Nouwen's devotionals outsell those of Oswald Chambers in the Christian bookstores typically patronized by evangelicals. The Reformation Day signing of the Lutheran-Catholic Justification Declaration may not solve any theological conundrums, but that it could happen at all testifies to how far we have come this century.
Nevertheless, such formal moves toward unity must be driven by more important reasons than ideals of unity or staving off secularism. True unity will be best served by the continuing retrieval of an orthodox consensus among Christians from all traditions.
Know thyself
Evangelicals will continue to have difficulty defining themselves. Behind the efforts to unite as Christians and as evangelicals lies a forbidding thought: Will a desire to be the body of Christ and to accomplish tasks for the kingdom of God be enough to maintain unity? It has not been enough since the Great Schism of 1054, so why now? As Christianity sees a rise in cultural and ethnic contextualizations, defining our terms and core principles will become of prime importance. We are already seeing a push to define evangelicalism. It may be a precursor to a larger battle over defining Christianity worldwide.
Our agenda for today's tomorrow looks much the same as it did in the past: to win the lost for Christ.
Most of modern evangelicalism's identity issues arise from its deliberate beginnings. We defined ourselves not necessarily by what we were, but by who our leaders were not. We proclaimed that we were neither liberals who destroyed the soul of Christianity nor fundamentalists who destroyed the heart. When asked what an evangelical was, we pointed to our leaders.
So now what? The kinds of fundamentalism and liberalism we once joined against are on life-support systems, and the upcoming leaders of evangelicalism do not seem to have the rallying effect our elder statesmen (Graham, Stott, Packer) have had for half a century. To make things even more confusing, the evangelical movement has seen huge numerical success, so those early definitions over and against liberal Christianity now seem small. The solution, says George, is to see evangelicalism both historically and for the future "as a renewal movement. The 'over and against' may change, but that we're over and against does not change. … We need to keep asking the questions and not rest on our laurels."
One last prediction: There will be a cataclysmic event in the future that will shake all of our predictions. The fall of Communism has made dozens of past CT articles obsolete, for example. The future may hold an event—dare we say the Lord's return?--that could stop today's moves toward both ecumenism and splintering dead in their tracks. In the meantime, let us plan for our future and bring the message of hope to this present world.
Have something to add about this? See something we missed? Share your feedback here.
Our digital archives are a work in progress. Let us know if corrections need to be made.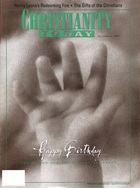 This article is from the December 6 1999 issue.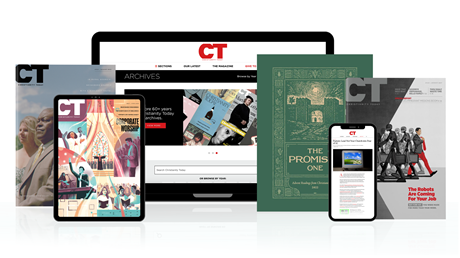 Annual & Monthly subscriptions available.
Print & Digital Issues of CT magazine
Complete access to every article on ChristianityToday.com
Unlimited access to 65+ years of CT's online archives
Member-only special issues
Subscribe
More of the Same
More of the Same