A member of the State Department's Advisory Committee on Religious Freedom Abroad, Don Argue helped marshal evangelical leaders to the frontlines in the international campaign on behalf of persecuted Christians.
In February, Argue, then president of the National Association of Evangelicals (NAE) and now president of Northwest College, Seattle; Catholic Archbishop McCarrick; and Rabbi Schneier traveled to China for three weeks of meetings with top leaders in China's government and Communist party (CT, Apr. 6, 1998, p. 26). While security concerns prevented Argue from meeting with members of China's house churches, Rich Cizik, an NAE policy analyst, and Brent Fulton, managing director of the Institute for Chinese Studies, both of whom traveled with the delegation, met one-on-one with house-church members to hear their views.
David Neff, CT executive editor, conducted the first in-depth interview of Argue following the delegation's return from China.
You have said your trip to China was not a fact-finding mission, because persecution is already well documented. But did you find out anything that surprised you? Did your perceptions change?
As far as we know, our trip was the first time the government officials at that level have been willing to sit down and talk about religious persecution and religious-freedom issues in China. I was surprised by that.
During your meetings, did you sense any resistance from Chinese officials?
The resistance from Chinese officials was the feeling that we'd come there to inspect, and they made it very clear on the first day, "We're here to talk about the issues."
We got to ask whatever we wanted to ask within certain constraints that they imposed on us. On one occasion with the vice chair of Jiangsu Province, after we had raised the question of religious freedom, he said abruptly, "It's time for dinner." And we all knew it was going to be time for dinner.
It was a subtle contest of wills to ascertain who was going to control a meeting. You are given high-level access if you are forthcoming with favorable comments about China. But we didn't give them what they wanted in order to get the access.
Why has the National Association of Evangelicals resisted efforts for the U.S. government to end most-favored-nation (MFN) trade status for China?
Part of the church says that the way to get to China is on MFN. But we did not feel that we should just proceed without checking with the people who are in ministry in China.
Across the board their message was unanimous: "Don't politicize MFN." The moment you make that a bargaining chip on religious persecution, you've politicized it, and that is the last thing we want to have done.
So we followed the logic of the people who are doing the most effective ministry in China. We took a neutral position.
When the church in China says, "Don't touch it," and those on this side of the water who are having very effective ministry in China say, "Don't touch it," I don't understand why some people would rather blatantly say we should use MFN as a bargaining tool.
What was accomplished in your meeting with the president of China?
The attention of the Chinese government has been focused. If they're going to continue in dialogue with American leaders, they have to address human-rights issues. That, to me, was a very important part of what we were doing.
President Jiang Zemin clearly stated that these issues are on the agenda for Sino-American talks.
The wheels in China move very slowly. We look at something and say, "What do we do to fix it?" The Chinese look at a situation and say, "What relationships do we need to develop to deal with this situation?"
So we were building bridges, explaining the importance of separation of church and state, a concept that is foreign to them, dealing with the practice of faith and the fact that Christians are good citizens. Christians pay their bills, they show up for work on Monday morning, they put in an honest day's work, they have good families, and they will be productive people in China. Christians are not to be feared; they're to be encouraged.
In our main meeting with President Jiang, the subjects discussed included the value of religion to society, the positive role of religion in the United States, and the genuine concern of American religious believers about the status of religion in China. Questions were raised about human rights, abuses, and torture, and how the proper agencies can improve conditions.
We also stressed the need for China's religious believers, particularly Christians, to relate more fully with international church bodies. We explored the possibility of expanded exchanges of religious leaders, scholars, and others. We discussed the possibility of opening dialogue with the Holy See.
President Jiang observed that the reality of religious practice has not always fulfilled the founders' ideals. Foreign powers had bullied China during the nineteenth century, he noted, and many improper acts were carried out in the name of religion. Nevertheless, working from the "basis of a clear understanding of history," Mr. Jiang said, "Differences can be gradually narrowed, and common ground can be broadened."
The meeting, in fact, the whole mission, was unprecedented. Never before have three American religious leaders been invited to discuss religious issues at China's highest level.
At one point, President Jiang changed the subject and looked at me. He said, "Dr. Argue, some don't think I know much about religion. I know about your coreligionists."
He said, "I was a youth in a Shanghai hospital. I watched an older single lady in one of your hospitals work with the patients and take care of the patients," including him. He emphasized she was old and single. He said, "She never cared for herself. But from early, early morning till late at night until she was extremely tired, she gave of herself to us."
He said, "I know who you are." And then he went back to his dialogue. One plants. Another waters. And God gives the increase.
Second, he stopped in the discussion and turned and looked at me again and said, "You know, I've been having trouble understanding the Bible." It's interesting that he would admit in that forum that he was reading the Bible.
Before I left the hotel, I felt prompted to go back up to my room and get a Bible. That was a little risky. But I was obedient to the inner prompting, and I had a Bible with me (of course, it was one printed in China), and I felt this was the opportunity.
So after our formal discussions, I said, "Mr. President, you said you were having trouble reading the Bible."
He said, "Yes."
I said, "May I give you a Bible?"
He said, "Please."
I said, "Let me recommend that you read the Book of John."
A high-level U.S. embassy official was in the meeting. I turned and shook his hand and said, "Thank you for your good work. This is a result of your good work." The official said, "Oh no. This is the Lord's doing." And then he became very serious and said, "God is at work in China."
What specific measures did you take on behalf of imprisoned religious leaders?
I saw the sovereign hand of God in this trip again and again, orchestrated in ways that showed a divine plan at work. We presented a list of 30 names of specific people. We were expecting to have some results back. Some of these are people in prison. Some are people who have been persecuted enough to be on the list. Arriving at that list was not easy. How do you isolate just 30 people? They have answered 8 so far. But they are inadequate in their details and scope. We're not satisfied.

What about discussions concerning the house-church movement? Did you meet with any of them?
We had multiple contacts with unregistered people. We did not want to put anybody in the church—registered or unregistered—in harm's way. There are those in the United States ready to skin us and send us up a flagpole because we did not spend our entire time with the unregistered church. But that was not the purpose, and the criticism was part of the risk of what we were doing.
While the underground church does not want persecution, they are not afraid. It is a way of life for them.
Are house-church members penalized for their Christian activities?
We had a unique situation where we were given a certificate with the stamp of the village committee, telling about the restrictions put on a particular group of Christians. We were able to hand that to one of the officials.
It said, "If you don't stop going to the Christian church, your work team will not be included in the distribution." Which I took to mean distribution of funds. "Your electricity will be cut off, and your kids will not be able to go to school."
We presented a document in English in one meeting. And a woman official, said, "Oh yes, I've been given a copy of that in English. We're looking into it."
Then we asked about it in another meeting, and there was confusion. They said, "We've seen it in English, but we're not really sure if it's authentic. We'd like to see it in Chinese." So we presented a copy of the original Chinese certificate. At least four times we presented it but did not get an adequate reply.
What messages do you want to convey after this historic trip to China?
We often talked about the Ping-Pong diplomacy that took place in the seventies: the result of a full, open relationship with China. This was certainly much more significant than Ping-Pong diplomacy. This was diplomacy at the highest level, where the case was made for America's concern with religious freedom.
Americans do not understand that at any time the Chinese government can come in and require a church to register. That is foreign to Americans. If China's leaders are going to understand the American Congress, they've got to understand the meaning of religious liberty.
Second, I feel it was the opening of the door for the beginning of continuing and further dialogue. Once I was specifically addressed: "Until you die, any time you come into these offices, you will be our guest." We now have a degree of stewardship and responsibility—as God leads—to provide for further dialogue and further opportunity for continued development and diplomacy along this line.
Also, in the case of the 30 people, it was very clearly articulated, these are only 30 out of a large body of individuals. We want to hear an answer. We want action on these.
Was one of your goals to understand more deeply the push and pull over religious issues within Chinese society?
That's right. The religion issue has to be understood in light of a changing China. China couldn't feed their population when they had the collective farms. The basic profile of the Chinese psyche is that they are not collective-farm people.
They are entrepreneurs, the business people of the Far East. They're hard workers. They're creative. They're bright. The Chinese government gave farmers the opportunity to develop some of their own land and sell the excess. It worked so well that most collective farms are history in China today.
Has the evangelical movement appropriately engaged itself on the issue of religious persecution?
We have a tendency to polarize and to make it black and white. And I'm very concerned about the whole move of American evangelicals speaking out against religious persecution be focused on the facts and not undocumented stories. NAE provided the catalyst document in our statement of conscience [www.nae.net]. It's the benchmark, but so many have gone beyond that statement.
I'm also concerned about how much of the public's concern is being used now to raise money to perpetuate ministries.
Tremendous things are happening on this issue. The silence about religious persecution worldwide is being broken. We are getting the attention of the right people.
Have something to add about this? See something we missed? Share your feedback here.
Our digital archives are a work in progress. Let us know if corrections need to be made.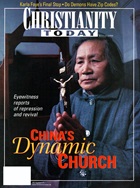 This article is from the July 13 1998 issue.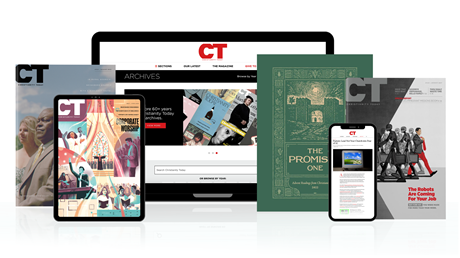 Annual & Monthly subscriptions available.
Print & Digital Issues of CT magazine
Complete access to every article on ChristianityToday.com
Unlimited access to 65+ years of CT's online archives
Member-only special issues
Subscribe
China Mission: More than 'Ping-Pong Diplomacy'
China Mission: More than 'Ping-Pong Diplomacy'