Part two of three parts; click here to read part one.
Leadership, renewal, and missions
A number of renewal movements have formed to try to reconstruct mainline denominations to reflect their own more conservative, grassroots beliefs. Do you see the renewal movements taking over, pulling out, or coming together and forming another entity?
Hestenes:The renewal movements within the Presbyterian church are nonseparatist in intention. They seriously love their church. I see them as correctives to the denomination's headquarters and to extremes in the church. They see themselves in the center. They are threatening to those who would want to truncate or start off on a new direction contrary to the historic orthodoxy of the church.
Willimon:I'm troubled by the denial in my denomination to face some facts and by the ineffective leadership. There is a relentless determination on the part of our leadership to make sure nobody puts anything on the table to say, "We've lost 2 million members in 20 years. Are we doing anything wrong?" So I'm in favor of ferment. Out of that, leadership bubbles up, new ideas come forward. I've got to say, God bless you for agitating and complaining. That becomes a gift to an organization that is terrified of dealing with the issues.
Frey:What people call renewal movements are not "movements out of" so much as a rediscovery of the riches of the tradition. In my experience, people are not attracted to them because they see them as correctives for a national trend. They're attracted to them because they've discovered the power of the gospel in them to do something in their own personal lives.
Willimon:There is a deep nonchalance about bodily, institutional form. I worry about that. In my denomination, it's almost like we passed a law that, if you're under 35, you cannot be a United Methodist. It is one factor we haven't mentioned: our woeful inability as mainline Protestants to retain our young. I saw a statistic that if you grow up in the Episcopal Church the chance you'll be an Episcopalian by the time you're 28 is one in five (The Future of Liberal Protestantism, by Roof and McKinney). Methodists were almost like that.
To what extent is the decline of the old mainline churches due to attracting managerial, maintenance-type leadership instead of entrepreneurs?
Hestenes:We have gone to a managerial bureaucratic mindset. Seminary often becomes a socialization into that mindset, with a discouragement of leaders who come with sharp edges and particular passions. We're in a culture that does not value leadership.
Willimon:You really put your finger on a symptom of our malaise. I'm told by people in business that declining businesses attract declining leaders. I talk to a lot of frustrated congregations in my denomination that are hungry for somebody to come in who wants anything to happen. This grieves me, this peace we've made with death and decline. There's a sociological determinism at work here that says, "Let's keep the people comfortable while we're going down," rather than says, "Jesus is busy. Where? Let's find him and join him."
Mainline churches are often given a bum rap for not sending out missionaries. In reality, they send out huge numbers of missionaries, not with their denomination, but with evangelical mission organizations. What does this say about mainline denominations? How does this have an impact on the local church?
Frey:Our national structure has diminished its understanding of global mission. So if you're an Episcopalian and you want to be a missionary, you have to go through one of the independent missionary organizations, which have mushroomed—God be praised. I'm astounded sometimes when I meet people in these parachurch organizations to find out how many mainline people are in leadership.
Hestenes:The fact that our mission structures have become nonresponsive is a source of great personal sadness. It has a theological connection to doctrines like universalism. But there is a symbiotic relationship between the mainline and the vital worldwide church. And that ought to be acknowledged and celebrated. Sometimes I hear suggestions that if mainline denominations would disappear we would all be better off. I believe every movement for Christ in the world would be seriously decimated—that the parachurch and missions universe needs the teaching ministries and the strengthening of families done in mainline congregations, which then gets these people hungry to go out and serve Christ.
Willimon:I'm haunted by what a layperson said when our church talked about the need for a national tv presence: "If we have 60 seconds on national television, what would we say? 'Hi, we're Methodists. Please be nice.' "
Would you agree that 25 years ago the mainline churches saw Youth for Christ and Young Life as the enemies taking our young people away, and now they are seen as agents of bringing people into the church?
Frey:When Young Life was first founded, Jim Rayburn was somewhat antichurch and antidenominational. Then, as Young Life grew, it became responsible and accountable to the denominational churches. They discovered if they didn't get people into a living congregation within five years, all their work went down the tubes. You had to have the ongoing life.
Hestenes:It's legitimate to say that the parachurch organizations have matured in terms of the church. Conversely, there's a new book out [Vital Signs: The Promise of Mainstream Protestantism (Eerdmans, 1996)] by the presidents of two Presbyterian seminaries, Louis Weeks and John Mulder, which, for the first time in the history of Presbyterian literature, affirms World Vision, InterVarsity, and Young Life. This is revolutionary to have denominational leaders actually saying that these organizations were not the Devil incarnate.
The American Baptists, my own denomination, no longer produce their own Sunday-school material but are using David C. Cook, the parachurch publisher, conceding that Cook can do the job ten times better. Do you see this as a sign of hope for denominationalism?
Hestenes:What I worry about when everybody uses David C. Cook is the danger of getting a bland faith that has no church history in it. Denominations are gifts to the larger Christian community. Each brings its heritage. Something is lost if you don't have Wesleyanism and the Holiness tradition, the Pentecostal tradition, the sacramental tradition, or the doctrinal tradition. New denominations are being born all the time. I watched the Vineyard, a new, worldwide denomination, being born. Denominationalism is a living phenomenon. American Christianity is highly diverse, always has been; and I think it will continue to be.
Willimon:It is easy to say, "Denominationalism is a sin." But there are many times when I say, "Thank you, Lord, for Presbyterians." Am I right to be worried about this—that something is going to be tragically lost when you don't have Episcopalians worried about the beauty of the Eucharist or Presbyterians concerned about doctrine?
Seminary education
Some say that mainline denominational seminaries tend to produce people who are politically and theologically the polar opposite of many of their congregations. Is this an accurate analysis?
Frey:I just retired as dean of an Episcopal seminary founded a little over 20 years ago as an attempt to recover the center of theological education. It has always astounded me that many of the signers of the Barmen Declaration in Nazi Germany decided that to change the course of history in their own country they needed to found a seminary, and they got Dietrich Bonhoeffer to run it. They began at the grassroots to train pastors to recover an evangelical understanding of the gospel.
Hestenes:You have to connect the question to who's going to seminary today. The best and the brightest are seldom encouraged to consider theological education, because the role of the pastor as a significant leader in the culture is gone. You have an enormous number of second-career persons, many of whom are sharp and have had fresh experiences of Christ, but lots more are at sea as to what to do with their lives and are going into theological education as a way of finding faith or sorting out life issues.
Willimon:Seminaries live off what the church says it needs. And lacking any clear signals from the church about the kind of leadership it needs, seminaries go their merry way and get infatuated with this theology or that theology or crank out people to fit into the status quo. So we need some signals from the church.
Hestenes:In my own denomination, theological education has become a part of a bureaucratic system that does not allow the emergence of indigenous leadership from the congregations. We deliberately break that pattern. You can't be ordained in the congregation where you grew up, discovered your gifts, and move into ministry. This is one of the biggest differences compared to the megachurches and the independent growing churches, which are seedbeds of leadership development.
Frey:Absolutely. I think the church needs to recruit the brightest and the best, rather than just passively receive those people who volunteer for ministry—challenge pastors and youth group leaders to mentor people who look like future ceos. Jesus didn't sit dangling his feet in the Jordan River hoping a few people would come along. He recruited.
Willimon:Leadership recruitment is an aspect of our mainline malaise. We don't respect ourselves; we're not excited enough about what we're doing to say to our best and brightest, "God wants you to lead this church. Go to seminary." Instead, what we have in too many mainline seminaries are people who say, "Well, after my third divorce I thought, 'Why not seminary?' "
It is not a positive trend in my denomination that the age of seminarians is rising. There is something that the youthful upstart brings us that the mature, able person at 40 cannot. For one thing, the youthful upstart is 26, a Gen Xer. They really do live in a different world than the one in which I live. And we desperately need that world in my church.
Mainline contributions to evangelicals
We have been talking a great deal about issues that are driving people out of mainline churches. There are things going on in evangelical churches that are driving people into mainline churches. It's not a one-way street. Given these realities, in what ways can evangelicals benefit from what mainline churches have to offer?
Hestenes:I want to belabor the language a bit. Evangelical is a label that applies to millions of Presbyterians, Methodists, Episcopalians, Lutherans.
I don't want to use the word for those outside of mainline churches.
Agreed. I would dare say in most mainline denominations evangelicals represent either a significant minority or the majority of people in the pews.
Frey:The Episcopal Church would be even smaller than it is today if it hadn't been for a rather sizable influx of evangelical Christians in the past 20 or 30 years, symbolized by people like Bob Webber. Some of these people today, given the current situation, are beginning to have second thoughts about this group that embraced them. But they were searching for a tradition—a rootedness, a connectedness, a self-correcting mechanism that was broader than a narrow sectarian view of the gospel, which could widen the scope of legitimate Christian inquiry and also set people free in a number of areas.
Willimon:Methodists have a high percentage of people who got wounded in other churches, and they've come in. I'm thinking of a Methodist minister who has a former nun on his staff. He says, "We're not trying to get Roman Catholics in our church; however, there are people who have been wounded in the Roman Catholic church, and for them our church has been a blessing because we're sacramental, but we're not hierarchical in the way the Catholic church is."
Hestenes:When my husband and I moved to a new town, we went looking for a church. Although we were from an independent tradition, we found ourselves finally making the decision for a church based on where we had the most opportunity to share the gospel with people. And it turned out to be the Presbyterian church. The other churches, from our perspective, were full of highly committed people with real high walls all around them—pure and faithful—but without the permeability that said to searching and struggling people: You can come to this place; if you're really hungry for Jesus, you will be able to find him here.
Part two of three parts; click here to read part three.
Have something to add about this? See something we missed? Share your feedback here.
Our digital archives are a work in progress. Let us know if corrections need to be made.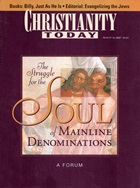 This article is from the August 11 1997 issue.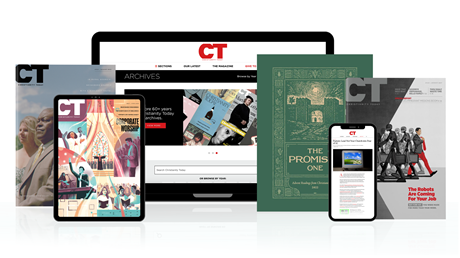 Annual & Monthly subscriptions available.
Print & Digital Issues of CT magazine
Complete access to every article on ChristianityToday.com
Unlimited access to 65+ years of CT's online archives
Member-only special issues
Subscribe
The Spirit Hasn't Left the Mainline Part 2
The Spirit Hasn't Left the Mainline Part 2