true
Peggy Wehmeyer Pioneers Religion on ABC's World News Tonight.
(Despite the fact that significant numbers of Americans attend church or read the Bible, a recent study reveals that only 1 percent of news programming reflects religion's importance in Americans' lives.
ABC News has taken steps to correct the bias. Early this year, at the prompting of anchor Peter Jennings, ABC hired Peggy Wehmeyer to become the first religion correspondent on any major network news team.
The opportunity came without warning, but Wehmeyer is a woman accustomed to surprises. She is a Christian by faith, who discovered in her late teens that she is also Jewish by heritage. Wehmeyer took time to talk with CT executive editor David Neff about her spiritual journey—and her new role in the world of television journalism.)
CHRISTIANITY TODAY:
Your spiritual development makes a unique story. How did you become a Christian, and when did you discover your Jewish heritage?
PEGGY WEHMEYER:
When I was 12, I had a salvation experience at a Youth for Christ summer camp. But I had nowhere to follow up on it; I never went to church. I remember praying and trying to find God after that, but not knowing how.
Then, in college, I began going to Bible studies sponsored by Campus Crusade for Christ. The more I learned and studied, the more I realized Christianity was true. Also, I discovered that it required a radical commitment—so I was pretty radical. I decided to do a missionary beach project with Campus Crusade one summer, and happened to be talking to my German grandmother about it. When I told her I was going to be a missionary, she said, "How can you be a missionary? You're a Jew!"
I thought she was joking. But then it all dawned on me: "My mother is from Germany, but she and her relatives all left Germany." So I asked my mother about it. She said, "Well, you knew we were Jewish," to which I replied, "How could I have known? No one's ever told me!" It was shocking, but I saw it as an incredible adventure. I thought, "There's another whole part of me that I need to find out about."
CHRISTIANITY TODAY:
How did you do that?
PEGGY WEHMEYER:
I got on a plane and went to Europe to meet my mother's family members. But my aunt told me, "Nobody talks about the past now. You can come over and meet the relatives, but don't bring it up." Then I met my mother's cousin Ludwig. We were out driving when he suddenly pulled over to the side of the road and said, "So you've found God and I've lost him." He had heard I'd become a Christian and decided that he probably ought to tell me his story of his time in a concentration camp. It changed me forever.
But Jewish history didn't feel like my history until, for my first story for ABC, I talked to a very hateful skinhead about what he'd like to do to Jews. And I realized he'd do that to me. I felt both bad and good, because I finally felt connected to that history. I was sitting there talking with somebody who wanted to kill me, when I've done nothing but have a mother who's a Jew.
CHRISTIANITY TODAY:
What is it like balancing your faith with your Jewish identity?
PEGGY WEHMEYER:
It's been difficult as an adult. I don't tell other Christians much about being Jewish, because many get excited about fitting me into their prophecy. This makes me uncomfortable, because I feel like I'm the token Messianic Jew. It trivializes what it meant to my family, who went through the Holocaust. And I'm also reluctant to tell Jews about my Christianity, because some are concerned that I have not fully embraced Judaism.
My Christianity is very important to me, yet I'm a Jew by Jewish law, and it's hard to negotiate those two things. But because I am both, it works well for me, as a religion correspondent, to have more in common with people of other faiths.
CHRISTIANITY TODAY:
How did you break into television?
PEGGY WEHMEYER:
It was a miracle of sorts. I had prayed at length about where I could use my gifts, and I thought television was the obvious place. So I started working at the assignment desk of Dallas's Channel 8 on weekends while working full-time at Dallas Theological Seminary. My vision was to eventually cover the kind of stories that were not being covered by the station.
Within several months, I'd given the news director a whole list of story ideas that I thought they were missing. And he said, "These are great story ideas. Who can we get to cover them?" He asked different reporters to do them, but they would say, "I don't understand this!"
Finally, I went to him and asked, "Which would be harder, to give a reporter four years of involvement at a seminary like I have had or to teach me how to talk in front of a camera?" He took a big risk and let me do it. The audience response was so incredible that a religion beat was launched.
Then, more recently, Peter Jennings called, just out of the blue. I've never wanted to go to the networks. I've had my nice, comfortable life here in the suburbs, working part-time, raising my kids, and it was really fun. I thought, "It's a nice gift to be asked, but I'll never do this." But they kept pursuing it, so I thought, "Well, maybe I could do it." I told them I would accept on the conditions that I could raise my children here in Texas and work freelance or part-time. And they agreed.
CHRISTIANITY TODAY:
How often will you do a religion segment on World News Tonight?
PEGGY WEHMEYER:
I'm supposed to be working mostly with the American Agenda, as opposed to doing knee-jerk reporting, jumping on a plane whenever something happens. This means I will cover fewer stories. American Agenda segments are more in-depth "think" pieces, which take longer to produce. Most correspondents do a piece every three to four weeks.
CHRISTIANITY TODAY:
Why is it important for major network television to cover religion?
PEGGY WEHMEYER:
Religion is probably one of the most significant forces in our society. It shapes, molds, and makes us who we are as a culture. It motivates people at the deepest level of their being to do the things they do and make the decisions they make. To ignore the religious dimension of culture and society is to leave a huge hole in the picture.
ABC has recognized this. They're saying, "We've got to find a way to grapple with this dimension of life, even if it is personal, even if it is sometimes abstract and hard for journalists to visualize. We can no longer ignore it." Look at Bosnia, look at Northern Ireland. How can you ignore religion in those situations?
CHRISTIANITY TODAY:
What kind of religion stories work on television, what kind don't?
PEGGY WEHMEYER:
Television is primarily visual. If you show a bunch of people sitting in a meeting, you lose viewers immediately. People just don't watch talking heads. It has to be visual.
If I were going to do a story on the meeting of liberal Bible scholars at the Jesus Seminar, for example, how would I visualize that? How does one visualize inerrancy? How does one visualize faith? The challenge is to take the important spiritual issues and find visual vehicles through which to tell them.
CHRISTIANITY TODAY:
What portion of story ideas that come your way actually gets produced?
PEGGY WEHMEYER:
Maybe less than 1 percent. Christians, in particular, have some contempt for the media, and I think rightly so. They have been misunderstood, underrepresented, and there has been a bias against them. But sometimes Christians don't understand what makes a story. Many people say to me, "The media are so biased—they didn't cover our new church dedication; they just hate Christians." Well, that's taking it too far.
Christians have got to learn how to work with the media and to understand how television works. They need to learn why you must have visuals, how to say things in a minute and a half, and what is significant to a secular audience. If you can't learn to play this game, you may be left out of the game.
Have something to add about this? See something we missed? Share your feedback here.
Our digital archives are a work in progress. Let us know if corrections need to be made.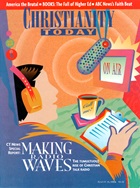 This article is from the August 15 1994 issue.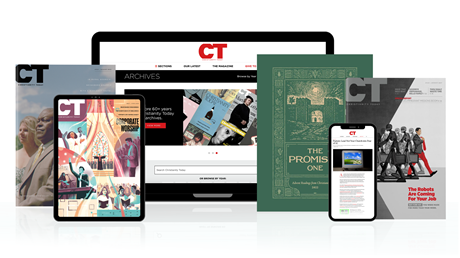 Subscribe to Christianity Today and get access to this article plus 65+ years of archives.
Home delivery of CT magazine
Complete access to articles on ChristianityToday.com
Over 120 years of magazine archives plus full access to all of CT's online archives
Subscribe Now
ABC's Peggy Wehmeyer: On the Faith Beat
ABC's Peggy Wehmeyer: On the Faith Beat