Conservative delegates oust one president and restore another to office.
Voters at the Lutheran Church-Missouri Synod's (LCMS) triennial conference in Pittsburgh July 10–17 elected a new conservative president and called for the restoration of the former president of a denominational seminary. Delegates also created a new justice system and generally displayed voting patterns indicative of a denomination split down the middle on most issues. Much of the conflict swirled around Robert Preus, a conservative Lutheran theologian.
The denomination's latest round of problems started in July 1989 when the board of regents at Concordia Theological Seminary in Fort Wayne, Indiana, the smaller of the denomination's two official seminaries, "honorably retired" Preus, who for 15 years had been president. They blamed him, in part, for alleged turmoil on campus.
Three years and several lawsuits later, with the church's conservative faction rallied around Preus, the turmoil traveled to Pittsburgh.
What About Bob?
"The Preus case" made conservative and liberal icons, respectively, out of Preus and synod presidential incumbent Ralph Bohlmann, whom conservatives consider moderate for seeking ecumenical ties outside the denomination and for allegedly declining to discipline a few liberal-leaning LCMS pastors. Ultimately, Preus's case may have been the factor that cost Bohlmann his headship of the 2.6 million-member denomination. He lost his convention bid for re-election by only 12 votes out of nearly 1,200 cast.
The controversy also is likely to have spurred passage of a new synodal method of handling conflicts, termed by its designers as "thoroughly Biblical, encouraging a win-win rather than a win-lose resolution." The new system replaces a secular court-based method with trained reconcilers, four from each of the synod's 35 districts. This setup is supposed to streamline paperwork, eliminate attorney involvement, and encourage face-to-face meetings between opponents.
But the vote on the new justice system was a narrow 66 to 44, as were many other votes on hot issues at the convention. For instance, it took four ballots to elect conservative Alvin Barry president; he won over the much-maligned Bohlmann by a 580-to-568 decision—a margin of only 1 percent. Barry is president of the synod's Iowa District East and has many years of experience as a pastor and missions executive. Because of Barry's ties to the church's aggressive conservative wing, Bohlmann expressed doubts that Barry can preside without prejudice. In similar fashion, conservatives in the past have accused Bohlmann of prejudice in his direction of the denomination.
Ardent Preus backers have said Bohlmann was behind Preus's being stripped of his clergy status for "conduct unbecoming a Christian" and for a "continuous pattern of untruthfulness" after Preus sued in civil court to be reinstated at Concordia, claiming he could not get a fair hearing in the church court system.
But the synod's highest court, the commission on appeals, last February ruled Preus was unfairly dismissed and should be reinstated as president. The same court ruled on May 31 to give Preus back his clergy status. Still, the seminary board balked at accepting Preus back, claiming that two commission-on-appeals members had been involved in a group that supported Preus financially during his appeals process.
But after rounds of debate, and with this summer's convention drawing to an end, synod delegates voted overwhelmingly to ratify an eleventh-hour agreement between the board of regents and Preus. That agreement says that Preus will return as president at Fort Wayne's Concordia until May 1993, or until a new president is installed, whichever comes first. He will devote his time to recruitment and organizing a special anniversary offering.
Said Preus of the vote, "When I came to this convention, I hoped for something which has just happened, namely, that I could be president of the seminary, and to get back to teaching and to inaugurate something we need drastically at our school—a fund drive, a thank offering, because our students need help so badly."
What About Ralph?
The storm of controversy crystalized conservative fears that Bohlmann was planning to purge conservatives like Preus from high offices. Unofficial Lutheran publications such as Christian News alleged Bohlmann and his administrative boards were seizing power and leading the tight-knit denomination down the path taken by more mainstream Lutheran churches in recent years.
Some said Bohlmann's friendship with leaders from other denominations constituted "unionism," a Lutheran term for ecumenism. Atlanta businessman Edwin Hinnefeld told a committee on finance that the church's fiscal records are closed to all but a few. Spending on missions and education has dropped drastically during Bohlmann's term, he said, while the church's funding of bureaucracy grew unchecked.
At the convention, Bohlmann countered softly, saying the conservative attacks on him are motivated by politics, not concern for doctrinal purity. The church's fiscal-disclosure policies predate his presidency, he said. Bohlmann maintained he had nothing to do with Preus's forced retirement. Some conservatives have claimed Bohlmann worked behind the scenes to convince Concordia board members to release Preus.
"I was aware of the action, but I didn't mastermind it," Bohlmann declared. "This controversy isn't a moderate/conservative conflict. Calling someone 'too moderate' is what you say in LCMS when you want to change the church. [The Preus party] can't show one area where I am [too moderate]. They're saying I'm not against the ordination of women, or that I'm not against initiating friendship ties with other Christian bodies. That's just another one of their inaccurate, unfortunate complaints."
Bohlmann was installed along with Jack Preus to a new honorary position of president emeritus. He asked delegates to forgive him "for anything I may have done amiss, for any failure," and received a standing ovation.
Bohlmann's portrayal as a moderate is ironic. For years he was the darling of those in the church favoring the ouster of another perceived moderate.
During the mid-1970s, LCMS split over questions of women's ordination and forging close ties with other denominations. Orthodox denominational leaders like Bohlmann and Jacob "Jack" Preus, Robert's brother, purged perceived liberals such as seminary president John Tietjen from LCMS.
In 1974, Tietjen followers walked out at the LCMS St. Louis convention. They took with them about 100,000 members and most of a seminary. The "exiles" eventually merged with the Evangelical Lutheran Church in America, the country's largest Lutheran group.
Robert Preus told CHRISTIANITY TODAY in February that even during the earlier purges, Bohlmann "really had the Tietjen agenda," but was less overt about it.
Now that politicking is past, Barry will take the denomination's reins in September. He acknowledged that the razor-close election revealed divisions in the church, but he said he intends to serve the whole church, working as a healer in the process.
"When we have concerns about districts or congregations that are not fully responsive to the theological or confessional nature of our church," Barry said, "we will sit down and talk with them about it. Concerns will be addressed, not ignored. A hatchet approach will not be used." Barry promised to open the church's financial records for all to see.
By Rebekah Schreffler in Pittsburgh.
Have something to add about this? See something we missed? Share your feedback here.
Our digital archives are a work in progress. Let us know if corrections need to be made.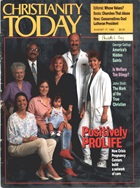 This article is from the August 17 1992 issue.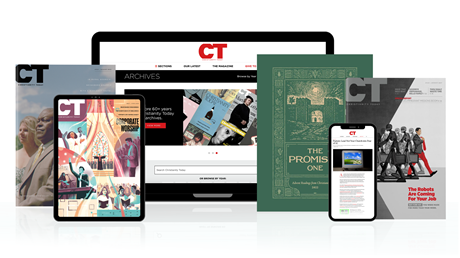 Annual & Monthly subscriptions available.
Print & Digital Issues of CT magazine
Complete access to every article on ChristianityToday.com
Unlimited access to 65+ years of CT's online archives
Member-only special issues
Subscribe
Triennial Conference: Missouri Synod Lutherans Divide over Rival Leaders
Triennial Conference: Missouri Synod Lutherans ...