British author and social critic Malcolm Muggeridge, who once said he "never greatly cared for the world or felt particularly at home in it," died November 14 at age 87, three years after suffering a stroke from which he never fully recovered.
The witty, enigmatic Muggeridge spent much of his life criticizing virtually all of his society's institutions. The church was also high on Muggeridge's list of targets for satire, making all the more surprising his conversion to Christianity when he was approaching 70 years of age. According to Wheaton College communications professor Myrna Grant, a friend of Muggeridge's, Nobel Peace Prize-winner Mother Teresa was "a profound influence on [Muggeridge's] spiritual life."
Muggeridge encountered Mother Teresa while producing a documentary on her for the British Broadcasting Corporation. He became a well-known television personality in Britain after years in a multidimensional career that included stints as a news correspondent, book reviewer, playwright, novelist, biographer, and essayist.
Said Grant, who made Muggeridge the topic of her doctoral dissertation, "His real contribution was his ability to get right to the heart of anything, to dispense immediately with all cant."
To the joy of those who were inspired by his Christian conversion, Muggeridge was equally direct when he wrote about his faith, as illustrated by the following excerpt from The Practical Christianity of Malcolm Muggeridge (InterVarsity Press):
I may, I suppose, regard myself or pass for being a relatively successful man. People occasionally stare at me in the streets—that's fame. I can fairly easily earn enough to qualify for admission to the higher slopes of the Internal Revenue—that's success. Furnished with money and a little fame even the elderly, if they care to, may partake of trendy diversions—that's pleasure. It might happen once in a while that something I said or wrote was sufficiently heeded for me to persuade myself that it represented a serious impact on our time—that's fulfillment. Yet I say to you—and I beg you to believe me—multiply these tiny triumphs by a million, add them all together, and they are nothing—less than nothing, a positive impediment—measured against one draught of that living water Christ offers to the spiritually thirsty, irrespective of who or what they are.
CAPITAL CURRENTS
Getting frank with George
The Bush administration is "on the ropes" with evangelicals. That was the message a coalition of 18 evangelical leaders had for the President during a face-to-face meeting at the White House last month. The meeting, granted in response to a request from the National Association of Evangelicals (NAE) and the Southern Baptist Christian Life Commission (CLC), was an opportunity for conservative Christian leaders to express directly their mounting frustrations with the administration in three areas: perceived political overtures to gay-rights groups, lack of prolife leadership, and refusal to support obscenity restrictions on the National Endowment for the Arts (CT, Sept. 9, 1990, p. 60).
Participants characterized the meeting as "cordial, but candid." The NAE's Robert Dugan said it was "probably the most blunt discussion between evangelicals and a President" in his 12 years in Washington. Indeed, others described a "sharp" exchange between Dugan and Bush over the difference between "censorship" and "public sponsorship" of objectionable art.
The group asked the President for specific action, including federal restrictions on public funding of art; an executive order or other document declaring that "traditional family values" will be the norm in federal policy; and a televised address against abortion.
The President made no commitments. However, according to CLC executive director Richard Land, "We were given assurances that he would consider our requests." Land said he is particularly hopeful the President will agree to make a public statement for Sanctity of Human Life Sunday in January.
Religion comes to class
Teachers interested in finding constitutional ways to teach about religion in public schools have two new resources: a religious-liberty curriculum and a center dedicated to training educators in the proper ways to use the curriculum. Both were announced at a Washington news conference last month by the Williamsburg Charter Foundation, a broad-based coalition formed to commemorate the First Amendment's religion clauses. The curriculum, "Living With Our Deepest Differences: Religious Liberty in a Pluralistic Society," was tested last fall in five states. It teaches upper-elementary, junior-high, and high-school students about American religious liberty and the role it has played in the development of the nation. Authors stress the curriculum does not promote any particular religion, but rather teaches about all religions, with sensitivity to each. The curriculum marks the final project of the Williamsburg Charter Foundation, which will now officially close down (CT, Feb. 5, 1990, p. 52).
Promoting the curriculum will be the First Liberty Institute, which has headquarters at George Mason University in Fairfax, Virginia. The new center's goal is "to foster a constructive understanding of the principles of religious liberty and civic responsibilities" through the educational process.
Abortion polls
Two new public-opinion polls show that U.S. society harbors much confusion about the abortion issue. A poll done for the nation's Roman Catholic bishops by the Wirthlin Group found that most Americans are poorly informed about the realities of the nation's abortion policy. Half of those surveyed assumed that fewer than 500,000 abortions are performed annually, although the actual number is about 1.6 million. Similarly, a majority of respondents believed on the average that 20.8 percent of all abortions are done because of rape or incest and 15.6 percent to save the life of the mother. In reality, only about 1 percent is done for all three categories combined.
Meanwhile, a survey by Tarrance & Associates, a subsidiary of the Gallup Organization, found that Americans are divided on abortion into three nearly equal groups. About 33 percent described themselves as "prolife," 27 percent as "proabortion," and 39 percent as "in the middle." The poll was commissioned by the Family Research Council, Right to Life of Michigan, and Ohio Right to Life.
New life
During the 1988 presidential campaign, Pat Robertson accused the Bush campaign—managed by Lee Atwater—of "dirty tricks" reminiscent of Watergate. But Atwater now has joined the ranks of Chuck Colson, Jeb Stuart Magruder, and Harry Dent as politicians who have turned their lives over to Jesus Christ.
Atwater confirmed rumors of his religious conversion last month in an interview with reporter Lee Bandy that was published in The State newspaper of Columbia, South Carolina, and distributed by Knight-Ridder newspapers. "I have found Jesus Christ. It's that simple," Atwater said. "He's made a difference, and I'm glad I've found him while there's still time."
Atwater, the Republican National Committee chairman, was diagnosed earlier this year with two inoperable brain tumors. Colson and Dent, both active in evangelical work, are named in the article as being instrumental in leading Atwater to his newfound faith, although both men declined to be quoted by CT about it. Bandy reported that Atwater has begun sending "letters of repentance" to former political enemies, asking for forgiveness.
Around town
The spiritual condition of another politician has Washington buzzing as well. Michael Deaver, former Reagan administration official convicted of perjury charges, told an Episcopal congregation in November he has made a "spiritual recovery" that has become "the most fundamental event of my life."
William Bennett, director of the National Drug Control Policy Office, resigned to become chairman-designate of the Republican National Committee. Bennett has stressed the importance of family and values in the drug war.
Activists and scholars gathered at a meeting sponsored by the Ethics and Public Policy Center to "assess the past and scout the future of evangelical political involvement and the Religious Right." All agreed the Religious Right is not dead, but differed on what impact conservative Christian political efforts had in the eighties and on the potential there is for success in the nineties.
Operation Rescue proved that going "underground" won't stop its self-styled brand of abortion activism. The group brought hundreds of volunteers to Washington last month for its two-day DC Project II rescues.
Have something to add about this? See something we missed? Share your feedback here.
Our digital archives are a work in progress. Let us know if corrections need to be made.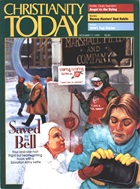 This article is from the December 17 1990 issue.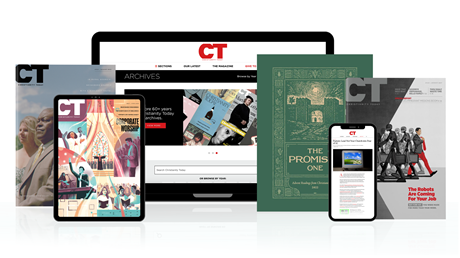 Annual & Monthly subscriptions available.
Print & Digital Issues of CT magazine
Complete access to every article on ChristianityToday.com
Unlimited access to 65+ years of CT's online archives
Member-only special issues
Subscribe
Obituary: Writer Malcolm Muggeridge
Obituary: Writer Malcolm Muggeridge