Eighty pickets, many carrying the red and black flag of Cesar Chavez's United Farm Workers Union, walked outside the four entrances to a vineyard in central California owned by the mammoth E. and J. Gallo winery of Modesto. The picketing, one of the calmer confrontations in California's fertile farm lands in the past few weeks, was in response to Gallo's plan to switch negotiations to the rival Teamsters' Union.
The two unions have been vying for control of harvest hands, particularly table-grape and lettuce workers.
Farther south, in the hot, dusty, strife-torn Coachella Valley grape fields, 580 persons clashed on the picket lines June 23 in the worst violence since the strike began last April 16. Fifteen were injured and eleven arrested.
Next day, ninety-five United Church of Christ delegates chartered a jet from St. Louis, where the church was holding its ninth biennial synod, and flew to the scene to show solidarity with Cesar. They walked the line, sometimes only "inches away" from the Teamsters' "burly, horrible goons," according to David A. Tillyer of the UCC Office of Communications. The "Coachella 95," as they came to be known, were given a rousing send-off from 1,000 persons at the St. Louis convention, who sang the civil-rights national anthem: "We Shall Overcome." After braving 115-degree heat for six hours, they jetted back to report. They said they did not speak to Teamsters (no officials were there, Tillyer said), but they praised Chavez for the "intense calm he showed in the face of Teamsters' jeers and taunts."
In a further gesture of support, the Coachella 95 (among whom was National Council of Churches president W. Sterling Cary) returned with two huge crates of UFWU-picked grapes that were passed around at General Synod. Tillyer called it "a symbolic communion with the farm workers and with the cause."
In the face of the Teamsters' success in spiriting away major lettuce and grape contracts from Chavez, the AFL-CIO last May bolstered the UFWU for a showdown with a $1.6 million transfusion and "substantial" manpower in an attempt to break the Teamsters-growers alliance. The $1.6 million was for a three-month period only and marked a departure in strategy—an effort to keep the grapes from being picked rather than keeping them off the market. Chavez is using the money to pay striking workers, but the grapes are being harvested by non-UFWU hands.
Rich Freeland, a spokesman for the Council of California Growers, says that Chavez, a champion of Chicanos, needs all the help he can get because growers like Gallo who signed UFWU contracts several years ago are now dissatisfied. "The Teamsters, showing the promise of higher wages and fringe benefits, have detected the dissatisfaction," he said in an interview with CHRISTIANITY TODAY.
Growers are claiming that the field workers themselves are disenchanted with Chavez's unfulfilled promises and prefer Teamster contracts, a point sharply disputed by Chavez and virtually all organized clergy groups. The U. S. Catholic Bishops Committee on Farm Labor has been on the scene frequently since 1970 to attempt deviation. Bishop Joseph Donnelly of Hartford, Connecticut, who toured Mexican-American picket lines in Coachella last spring, played a major role in the signing of the first grower-UFWU contracts in 1970. California's Catholic bishop, the northern California Ecumenical Council (Protestant church brass), and the Board of Rabbis of Southern California all have aligned themselves with Chavez in recent weeks.
Amid charges and counter-charges, a few solid facts emerge. The Teamsters have negotiated or renegotiated about 180 contracts with California vegetable producers. These include all but one Iceberg lettuce grower, Inter-Harvest, the largest conglomerate and a subsidiary of Chiquita brand, which still is under UFWU contract. D'Arrigo Brothers, another major Salinas Valley lettuce producer, signed with the Teamsters rather than renewing with Chavez, citing inability to maintain product quality control under UFWU labor. D'Arrigo spokesmen said a neutral third party (unnamed) counted union cards, two-thirds of which were for the Teamsters.
The central issue in the simmering feud is election for the rival union—or the option for the workers to join no union. "Most everyone seems to agree now some kind of union is necessary," declared the Council of Growers' Freeland. But how impartial elections can be set up is something no one—from the National Labor Relations Board on down—seems to be able to determine.
Monsignor George Higgins of Washington, D. C., vocal spokesman for the Bishops' committee, has said, "It could be settled tomorrow by secret ballot." To the growers, Teamsters, and many workers, this is a gross oversimplification. "Who is a disinterested third party acceptable to both sides?" asked a grower. "Certainly not a Roman Catholic priest who already thinks he knows what the workers want. Such elections are not secret and they are not impartial."
Extending coverage of the National Labor Relations Act to farm operations would provide federal machinery for supervised elections to determine workers' preferences. But it would also prohibit secondary boycott and refer grower-labor disputes to the NLRB, two conditions unacceptable to Chavez (his most effective weapon so far has been the boycott).
California farmers are far from delighted with the Teamsters' unionizing, grower groups affirm. But, in the words of Caryl Saunders of Western Iceberg Lettuce Incorporated, in San Francisco, they feel the UFWU is an attempt to promote the Chicano, "a social crusade.… At least they're going to be able to stay in business with the Teamsters."
Although as late as December, 1971, the National Catholic Information Office stated that the bishops "attempt to be impartial," the role of mediator—to seek justice without taking sides—appears forfeited with their endorsement of the UFWU and their scathing criticism of the Teamsters. The National Conference of Catholic Charities has followed suit with UFWU backing by its 1,600 affiliates. United Presbyterians were urged, through their General Assembly, to support the UFWU, particularly by participating in head-lettuce table-grape boycotts.A West Coast group, InterFaith Committee For Justice For Farm Workers, has stoked up a series of "harassment" suits against Safeway stores because the supermarket chain handles non-UFWU grapes and lettuce. Meanwhile, Safeway has slapped a $451 million libel suit on Chavez and his union. Last month, on the recommendation of a fact-finding task force, the Executive Committee of the National Council of Churches supported Chavez.
No organized clergy opposition to the national boycotts has surfaced, though many ministers apparently are steering clear of the whole issue. But Monsignor Thomas Earley, vicar-general for California's Catholic diocese of Monterey, sent a letter to all U. S. bishops and pastors urging them to get informed and not simply involved. He wrote:
"I hope my confreres across the nation will try a little harder to understand the produce picture and with knowledge and conviction follow the ideal of St. Francis in being an instrument of peace."
Peace Talk In Ulster?
Representatives of the Roman Catholic hierarchy in Ireland, the Irish Council of Churches, and the Presbyterian Church in Ireland will meet in September in talks that some hope may ease tensions in strife-torn Ulster. The Presbyterian General Assembly, meeting last month in Belfast, declined a Catholic invitation to survey "the whole field of ecumenism in Ireland," but indicated willingness to discuss church and community relations, reported CHRISTIANITY TODAY correspondent S. W. Murray. The Presbyterian General Assembly also approved an overture to ordain women to the ministry. A report on merger with the Church of Ireland (Episcopal) and the Methodist Church was transmitted to presbyteries and local congregations for further comments and study.
Religion In Transit
A $5,000 grant to a 35-year-old woman who is organizing a group of prostitutes in San Francisco came from a foundation housed in controversial Glide Memorial Church, but spokesmen for the church and foundation say they are separate entities. Earlier reports connected the grant with the church directly.
Union Seminary in New York City raised $500,000 to establish the Paul Tillich Chair, whose occupant is to link Christian faith and contemporary culture.
A sixty-acre tract of land has been donated as a campus site to Dag Hammarskjold College, a new liberal arts college that had its genesis within the ecumenical Church of the Saviour in Washington, D. C. The land, located midway between Washington and Baltimore, was given by developers of the new city of Columbia, Maryland.
Stanford University will begin an undergraduate major in religious studies this fall. The school has had a master's and doctoral program in religion since 1969. UCLA has also announced inauguration of an undergraduate religion program.
Right after the big flood hit the east last year, someone put up a sign, "God Still Loves Us—We Guess." Since then, United Methodists, hardest hit of all denominations, have raised more than a million dollars for restoration of churches and parsonages, aided by the motto, "God Still Loves Us—We Know."
The Pax World Fund, a no-load mutual fund investing only in companies producing "life-supportive goods and services," has declared a twenty-cents-per-share September dividend, bringing 1973 dividends to sixty-three cents per share (par value $10). Many church groups, under pressure to drop investments in arms industries, are said to be making heavy investments in the Pax Fund.
Personalia
Methodist Bishop Yap Kim Hao of Malaysia and Singapore was elected general secretary of the Christian Conference of Asia (formerly known as the East Asia Christian Conference). The 44-year-old church leader has also been a vice-chairman of the World Methodist Council's Executive Committee.
Earl N. O. Kulbeck, one of Canada's best-known church journalists, is giving up the editor's post of Pentecostal Testimony, official organ of the Pentecostal Assemblies of Canada, to devote full time to public-relations work for the denomination. He will be succeeded at the magazine by Roy E. Upton on November 1.
Robert Bater, 45, was appointed principal of Queen's University Theological College, a United Church of Canada seminary in Kingston, Ontario. Bater, now pastor of a church in Toronto, will take up his new post next spring.
DEATHS
JAMES V. SMITH, 46, former congressman and head of the Farmers Home Administration and a Churches of Christ minister; in a fire accident on his farm near Chickasha, Oklahoma.
EDWARD LAWRENCE BARHAM, 72, Anglican bishop of Rwanda and Burundi from 1964 to 1966 and former head of an Evangelical Alliance agency in Britain; in London.
Dr. Bernard H. Phaup is resigning as general superintendent of The Wesleyan Church to accept the pastorate of the Central Wesleyan Church in Thomasville, North Carolina.
The Reverend J. Bryan Hehir, 32, was named director of the Division for Justice and Peace of the United States Catholic Conference. He is a candidate for a doctorate at Harvard Divinity School.
Rabbi Robert I. Kahn of Houston was named to a two-year term as president of the Central Conference of American Rabbis. The organization consists of 1,100 Reform rabbis serving 1.1 million congregants.
World Scene
The government of Uganda reportedly declared a ban last month on twelve religious groups, including Campus Crusade for Christ, Navigators, and Child Evangelism. The Sunday Nation, a newspaper published in Nairobi, Kenya, said the groups had been found "dangerous to peace and order." Pentecostal churches and Jehovah's Witnesses also were reported banished.
Vandals damaged a nearly completed statue of Christ on the road between Jerusalem and Bethlehem last month. The head of the fifteen-foot statue was smashed with what appeared to be heavy hammer blows. The sculptor, a Christian Arab, had been working on the statue for about a year. It is situated near the Ecumenical Institute for Advanced Theological Studies.
The demolition last month of the only Protestant church in Afghanistan prompted a joint statement of concern from a number of top American religious leaders, including evangelist Billy Graham, General Secretary R. H. Edwin Espy of the National Council of Churches, and President W. Stanley Mooneyham of World Vision. Dr. Clyde W. Taylor, top executive of both the World Evangelical Fellowship and the National Association of Evangelicals, also signed the statement.
Bans on religious literature in Zaire reportedly have been replaced by "reasonable" controls, according to Dr. Robert G. Nelson, executive secretary of the Africa department of the Christian Church (Disciples of Christ). Thirty-one religious periodicals had been suspended in February.
Have something to add about this? See something we missed? Share your feedback here.
Our digital archives are a work in progress. Let us know if corrections need to be made.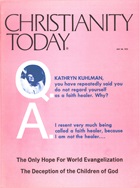 This article is from the July 20 1973 issue.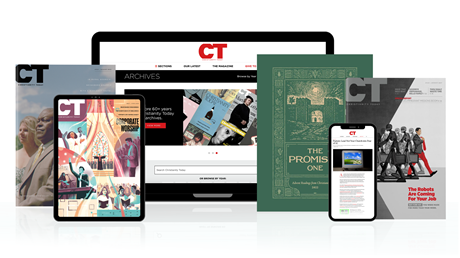 Annual & Monthly subscriptions available.
Print & Digital Issues of CT magazine
Complete access to every article on ChristianityToday.com
Unlimited access to 65+ years of CT's online archives
Member-only special issues
Subscribe
Solidarity with Cesar
Solidarity with Cesar