A new cult is making its appearance across North America. The rationale, if it is to be taken seriously, is the bizarre theory of what its proponents call "expanding consciousness." Principal promotion comes from the attention currently being given to lysergic acid diethylamide, better known as LSD, and other drugs that, taken internally, produce outlandish mental images.
High priest of the LSD cult is ex-Roman Catholic Timothy Leary, 45-year-old psychologist who in 1963 was fired from Harvard University for using students in LSD experiments. He then went on to become the world's leading exponent of "mind-opening substances."
"We regard him with the same special love and respect as was reserved by the early Christians for Jesus, by the Moslems for Mohammed, or the Buddhists for Gautama," said Arthur Kleps in testimony last month before a United States Senate subcommittee. Kleps is identified as director of the "Neo-American Church," which is supposed to have 500 members and churches in the Northeast, Florida, and California and is spreading.
Kleps, 38, says his title is sometimes given as "Chief Boo Hoo," which leads observers to wonder whether the whole thing is a joke. In his testimony on Leary, however, Kleps was not funny. He issued a warning on what might happen if the movement's leader were ever jailed (Leary is appealing a thirty-year prison sentence on a conviction of possession of narcotics).
"On the day prison doors close behind Tim Leary," Kleps declared, "if these ill-considered laws of religious suppression are upheld by the courts, this country will face religious war."
"Open conflict will most certainly result if the courts uphold these laws against us … and I would certainly advise my people to use LSD to fight back, to flood the prisons with LSD, and make life impossible for the prison administrators rather than resort to actual violence."
Leary and Kleps say they believe human beings are capable of levels of consciousness beyond and superior to normality. LSD and other drugs and foods are said to be a means to achieve those higher levels, though not the only means.
"It is our belief that the sacred bio-chemicals such as peyote, mescaline, LSD, and cannobis are the true host of God and not drugs at all as that term is commonly understood," says Kleps. "We do not feel that the government has the right to interfere in our religious practice and that the present persecution of our co-religionists is not only constitutionally illegal but a crude and savage repression of our basic and inalienable rights as human beings."
In a speech during a brief return visit to Harvard recently, Leary contended that "drugs don't necessarily mean doctors and disease, but beauty, art, music, revelation, enhanced learning." He said that nearly every American uses some sort of a drug—pep pills, sedatives, or alcohol—to help him move from "sleep or stupor to what he calls normal consciousness." He charged that "middle-aged, whiskey-drinking people are making it a crime for the young, creative and racial minorities to want to improve their lives and open their minds."
LSD was discovered accidentally in a laboratory about twenty-five or thirty years ago. Not until recently, however, has it been claimed to have any wide usage. It is now becoming popular among college students—especially beatnik types—who take it in sugar cubes, and states are beginning to enact laws restricting its sale and use. Leary recently called for a moratorium on LSD use during the current uproar.
Proponents insist LSD is not habit-forming or hazardous to health, even in large doses. But reports are increasing of LSD-takers who have gone berserk, endangering their own lives and those of others. The chemical is colorless, odorless, and tasteless when dissolved in water.
Among religious scholars who are impressed with the potential of LSD-like substances is Dr. Walter H. Clark, professor of the psychology of religion at Andover Newton Theological School. Clark, an Episcopalian, has been a subject in Leary's experiments along with a number of other faculty members and students from various seminaries.
On Campus
Samuel J. Wylie, 47, who was raised in the Christian and Missionary Alliance, became a Presbyterian clergyman, then entered the Episcopal ministry, will be new dean of that denomination's General Theological Seminary in New York.
Harold Haas, executive secretary of the Lutheran Church in America's Board of Social Ministry, on August 31 becomes dean of Wagner College, Staten Island, New York, where he graduated in 1939 and later taught sociology.
Boston's Richard Cardinal Cushing is worried about Catholic seminary dropouts. Years ago, his archdiocese ordained seventy graduates a year; this year, St. John's Seminary has only thirty-one graduates.
Urban problems are the special focus for the new missions-evangelism professor at California's Golden Gate Theological Seminary (Southern Baptist); Francis M. DuBose has been Detroit missions superintendent for the denomination. James W. McClendon, Jr., of the Golden Gate faculty, has been named a joint professor of Protestant theology by Stanford University and the University of San Francisco (Jesuit).
Arthur K. Tyson is switching Southern Baptist college presidencies—from Mary Hardin-Baylor College in Texas to Grand Canyon College in Arizona.
Grayson L. Tucker, new professor of church administration at Louisville Presbyterian Theological Seminary, will co-direct the school's field education.
Frederick Borsch of Queen's College, Birmingham, England, will teach New Testament at Seabury-Western Theological Seminary (Episcopal).
J. Allen Fleece will leave the presidency of Columbia (South Carolina) Bible College in September to become a freelance Bible teacher.
On a motion by John R. Rice, the board of Bob Jones University unanimously backed the administration in its fight against Billy Graham's evangelistic strategy in Greenville, South Carolina, and in general.
Personalia
Father Charles Coughlin of Detroit—whose years of radio campaigning against the New Deal and Communism caused a sensation until Edward Cardinal Mooney stopped the broadcasts in 1940—resigned his pastorate on the fiftieth anniversary of his ordination last month. He is 74.
George H. Muedeking, professor at Pacific Lutheran Theological Seminary, was chosen editor-in-chief of the Lutheran Standard, official newsmagazine of The American Lutheran Church.
Jarrell McCracken, president of gospel music-oriented Word Records, America's biggest religious record producer, is the new vice-president of Record Industry Association of America, whose officers usually come from the major secular firms.
Alfred F. Larson was named general director of the Unevangelized Fields Mission for North America.
Dr. Robert V. Moss, Jr., head of Lancaster (Pennsylvania) Theological Seminary of the United Church of Christ, was elected president of the American Association of Theological Schools.
Religious Heritage in America gives awards this month to Francis Cardinal Spellman (churchman of the year), Dr. Walter H. Judd (layman of the year), and Marian Anderson (church woman of the year).
Leonidas C. Contos on August 1 will become the first American-born priest to be dean of Holy Cross Orthodox Theological School, Brookline, Massachusetts. Last fall, Contos became director of communications and interchurch relations for the Greek Orthodox Archdiocese.
United States Senator Robert F. Kennedy, in South Africa, met with three Christian foes of the nation's apartheid policy—Roman Catholic Archbishop Denis Hurley, Anglican Bishop Clarence Crowther, and Chief Albert Luthuli, political leader and Nobel prizewinner who is now under house arrest. Kennedy reports Luthuli has no "hatred or bitterness toward whites; he reads the Bible and believes in the compassion of man toward man."
Protestant Panorama
By a 6 per cent margin, the Canada Conference of the Evangelical United Brethren voted to merge with the United Church •of Canada if the EUBs in the United States unite with The Methodist Church. The United Church of Canada biennial this fall will consider the EUB merger as well as its major negotiations with the Anglican Church of Canada.
Presiding Bishop John E. Hines of the Episcopal Church announced that a majority of bishops has consented to the resignation of Bishop James A. Pike as bishop of California (see May 27 issue, page 49). A twenty-three-member committee will nominate at least four candidates to succeed Pike at a special diocesan convention September 13.
The Reformed Presbyterian Church, Evangelical Synod, formed from two conservative bodies last year, voted to explore possible union with the Orthodox Presbyterian Church, which is similar in size (12,500 members) and shares support of the Westminster Confession and separation from church councils. RPCES now has eighty-four foreign missionaries.
The Associate Reformed Presbyterian Church, after a seven-hour debate, beat down moves to censure Erskine College, Due West, South Carolina, for signing compliance with the 1964 Civil Rights Act and taking a $150,100 federal building grant. It suggested, however, that Erskine cut federal ties if theological standards are threatened.
Miscellany
The American Association of Theological Schools decided last month to allow a Master of Divinity degree in place of the Bachelor of Divinity after three years' work, and to set standards for a four-year professional doctorate.
Chancellor Murray O. Reed of Little Rock, Arkansas, ruled that the state law against teaching evolution is unconstitutional (see April 29 issue, p. 45). But Attorney General Bruce Bennet will appeal the decision to the state Supreme Court.
Four more denominations are applying for membership in the National Council of Churches: the Progressive National Baptist Convention, which claims 500,000 members; the Antiochian Orthodox Catholic Archdiocese of Toledo and Dependencies, 35,000; the Russian Orthodox Church in the Americas, 24,000; and the Church of the New Jerusalem (Swedenborgian), 4,538.
Lutheran theologian Carl Braaten is calling on Protestants to return to Roman Catholicism, which he regards as their "ecclesiastical homeland." He expresses hope for early reunion in the quarterly Una Sancta.
Deaths
FRANCIS DAVID NICHOL, 69, Australia-born editor of the Seventh-day Adventist weekly Review and Herald since 1945 and noted Adventist author-scholar; in Takoma Park, Maryland, after a heart attack.
CYRIL. M. ARMITAGE, 66, Anglican chaplain to four British monarchs; in Dymchurch, England.
Have something to add about this? See something we missed? Share your feedback here.
Our digital archives are a work in progress. Let us know if corrections need to be made.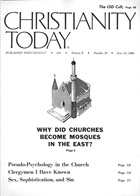 This article is from the June 24 1966 issue.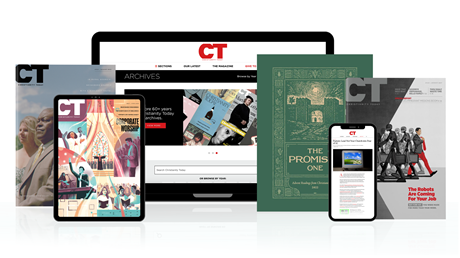 Annual & Monthly subscriptions available.
Print & Digital Issues of CT magazine
Complete access to every article on ChristianityToday.com
Unlimited access to 65+ years of CT's online archives
Member-only special issues
Subscribe
The LSD Cult
The LSD Cult