Big jazz names assembled in the sanctuary while TV technicians fretted, workmen hammered on a temporary stage squeezed in front of the altar, the assistant minister toted a walkie-talkie, and a Pinkerton guard yawned.
Thus 'twas the night after Christmas at New York's fashionable Fifth Avenue Presbyterian Church, as Duke Ellington and friends prepared for two run-throughs of a religious musicale.
Protestants have tinkered with jazz in worship for years. Now some see it as an evangelistic wedge. Something like the suburban church that recently stuck an evangelistic message in the middle of a rock 'n' roll dance and called it Revival-A-Go-Go.
Host pastor Bryant Kirkland said the Ellington concerts were "an attempt to establish contact with people normally outside the church" and "churchgoers who are not ministered to by the usual presentations."
Ellington hoped his concerts would "help to bring people into the fold." One of his favorite words is "communication," and he contends that informal words and jazz music can put across spiritual truths to many people when "good English would fly by them like a kite."
So in New York he permitted publicity, an RCA recording, and a CBS-TV taping for broadcast January 16. A previous, less elaborate concert at San Francisco's Grace Cathedral had been kept "cool," as Duke put it.
The idea of reaching the special jazz public was also involved. With a similar rationale, the Lutheran Church in America turned the Rev. John Gensel loose last May as a free-lance chaplain to New York jazz musicians. He runs weekly worship with small combos providing the music.
The Fifth Avenue church meant to symbolize its openness to the throngs that bustle by when it put glass doors at the rear of its sanctuary in 1964. Through those doors, the Ellington concert pulled a young, hip, racially mixed audience in marked contrast to the middle-aging, respectable group that turns out on Sunday mornings.
In publicity and sermon plugs, Kirkland called the concert "a Christmas offering" by the musicians and an "experiment" for his church. The experiment originated with Ellington, who sounded out Kirkland on the plan through a third party. The church session discussed it at three meetings and eventually said yes, and the Protestant Council of New York came in as official sponsor.
Kirkland, who is a square when it comes to music and had to do some jazz homework, said opponents within the church amounted to "one per cent." Some just expressed personal taste, he said, while others imposed a "Puritan interpretation" because of Ellington's life in night clubs and dance halls. The minister said he opposes a "rigid distinction between the sacred and the profane" since the Bible teaches that nothing is profane in itself.
Here's what the 3,600 outsiders and insiders lucky enough to get tickets saw for their $2:
Kirkland began things with an invocation that included John 3:16. Then he introduced the Duke, wearing a baby blue suit and white tie, as "one of God's gentlemen and a man of faith."
The program itself was a grab-bag. There were two standard anthems by two church choirs that reflected the tone of the ornate oval sanctuary and its 1875 respectability. The church organist contributed a brassy contemporary prelude. Luscious thrush Lena Horne made what publicists acknowledged as her first church gig and sang a hastily learned new Christmas carol.
Most of Ellington's own compositions were first heard in a review, My People, that played in Chicago during the centennial of the Emancipation Proclamation. There were several versions of the moving spiritual "Come Sunday" with its prayer motif, "Please, dear Lord, look down and see my people through." The same melody was converted to swing in the program finale, "David Danced Before the Lord with All His Might" as nimble tap dancer Bunny Briggs soloed.
Other items from My People, sung by the Herman McCoy Choir from California with band accompaniment, pushed a strong brand of salvation by works: "Make 100 per cent your goal, and make it to save your soul.… Get yourself a little straighter; it pays a million to one later.…"
The longest number was Ellington's latest, a loosely connected series of episodes on the theme "In the Beginning God." Movie actor Brock Peters (To Kill A Mockingbird, The Pawnbroker) sang the slow introduction, "no heaven, no earth, no nothing," and the witty, upbeat recitation of other things that weren't: "no bodyguards, no credit cards … no symphony, no jive, no Gemini 5."
As the potpourri continued, the choirs chanted the books of the Old Testament (nearly inaudible to concert-goers) while tenor sax man Paul Gonsalves screwed up his face with a hard rock solo in his famous Newport Jazz Festival idiom. After a screech solo by trumpeter "Cat" Anderson, Ellington quipped, "That's as high as we go."
The final solo belonged to drummer Louie Bellson, and Ellington and his bass player left the stage (common practice during drum solos in jazz concerts). It takes unusual taste and talent to make a jazz drum solo even remotely fitting for a sanctuary. Despite two bass drums and two floor toms, Bellson's banging was far from the mark.
In refreshing contrast was a melancholy, yet hopeful piano solo by Ellington, "New World A'Coming." In program notes he said that this free rhapsody is "the anticipation of a very distant future place on land, at sea or in the sky where there will be no war, no greed, no non-believer and no categorization.…"]
The most concrete result of the concert was the SI.000 it raised for Gensel's fund to help needy musicians. For the rest, good box office is not necessarily meaningful worship or effective evangelism, and the whole bit was more of a maybe than a yes.
The Faith Of The Duke
Jazz giant Duke Ellington relaxed at a Beverly Hills hotel and took time off from the score for Frank Sinatra's new film to read a telegram from New York: "Thousands join me to pay tribute to a wonderful person. We are enriched …" The Rev. Dr. Bryant Kirkland told Ellington his Fifth Avenue religious concert (see above) was a "significant and historical spiritual event."
Ellington's rich face with the heavily rimmed eyes, his songs, and his band are familiar to the multitude, but highbrows also revere him as one of America's great folk geniuses. Now 66, he calls his recent foray into religious music "the most important thing I've ever done."
His Washington, D. C., boyhood was filled with sermons and Sunday school, but Ellington has rarely attended services during his career and never joined a church. At 23, with a jazz career beginning to bloom, "I began to read the Bible for myself, to see what there was. I have my own idea, and I think it makes sense." This idea strays from the orthodox belief on the Trinity, but he is conservative about the Bible itself. "I believe the whole story," he said. "I am always in a position to have it out with people who say the Bible contradicts itself. I'm not a formal Bible student, but I can correct people on things like that."
Ellington said he prays regularly and is serious about performing religious music. He declared:
"There is no greater hazard than not to be a true believer. If I didn't go into it with the right spirit, then those beautiful colored windows in the sanctuary would come crashing down on my head!"
Some of the other performers weren't believers, Ellington admitted, but "I never got to the point of saying 'if you don't believe, we don't want to have you perform.' I just let it go along."
The New York concert has led to bookings of the religious concert in other churches, and Ellington also plans to write more religious music. His next theme will be, "Don't you dare get down on your knees until you have forgiven everybody."
There'S No Accounting For Church Statistics
How many members are in the Christian Churches (Disciples)? In last November's official contributions data there were 1.181,265, but this month's membership report for the same year lists 1,920,760.
Both figures were for 1964 and were compiled by the National Council of Churches, which dutifully prints what the churches send in. The Disciples' increasingly modest head-counting on contributions has enabled them to zoom from thirty-seventh to twenty-fourth place in per-capita giving in two years.
In the new figures (to be released in book form as the authoritative Yearbook of American Churches), the Disciples are the twelfith-largest denomination. Using the smaller figure—based on how many people give to national agencies—the Disciples would be passed by American Baptists, Greek Orthodox, and Latter-Day Saints, and would just barely nose out the African Methodist Episcopal Church.
Since the National Baptists Inc., National Baptists, and Churches of Christ reported the same figures this time as last, the meaning and freshness of the data are also questionable. Of the top ten, only the Lutheran Church in America lost members in the year.
On religion in general, the Yearbook reports 123,307,449 members in America (a record 64.4 per cent of the population) with these major groupings:
All represent slight gains. The most startling surge was a doubling in the number of Buddhists, to 109,965, but this was the first time those in Hawaii had been counted.
The American Institute of Public Opinion contributes figures on church attendance, which has declined slowly since 1958. But 1964's 45 per cent is a far cry from the 16 per cent estimate for 1850.
Life With A Converted Sideman
Pentecostalists usually take a dim view of modern entertainment, but one preacher, the Rev. D. LeRoy Sanders, has been rethinking things since actress Betty Hutton and her jazz star husband joined his church.
Trumpeter Pete Candoli, a nominal Roman Catholic, was famed as an accomplished soloist and sideman with many top West Coast bands, and as Miss Hutton's fourth husband. Last spring, both Mr. and Mrs. accepted Sanders's invitation to accept Christ in a Sunday service at North Hollywood's First Assembly of God Church. Since then, they have told of their conversions at several Los Angeles area churches.
Sanders finds "there is no hard and fast rule" on what a show business convert should do. Some feel they must "make the break," he said, since "a born-again Christian can't love the world, and there are many un-Christlike things in show business."
But he reports Candoli has stayed in the jazz world and survived: "He really testifies among fellow musicians, keeps his life clean, and loves the Lord."
Have something to add about this? See something we missed? Share your feedback here.
Our digital archives are a work in progress. Let us know if corrections need to be made.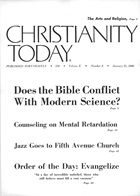 This article is from the January 21 1966 issue.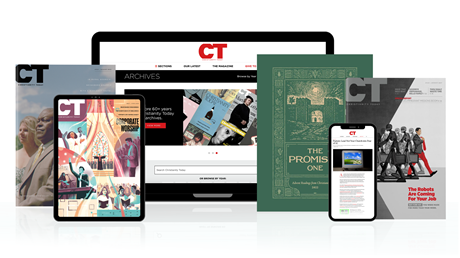 Annual & Monthly subscriptions available.
Print & Digital Issues of CT magazine
Complete access to every article on ChristianityToday.com
Unlimited access to 65+ years of CT's online archives
Member-only special issues
Subscribe
Jazz Goes to Fifth Avenue Church
Jazz Goes to Fifth Avenue Church