Current student disturbances at the University of California's Berkeley campus seem commonplace, but more ominous ferment is under way on a small, eleven-building campus nearby.
Berkeley Baptist Divinity School has survived since 1871. One saddened official of its parent American Baptist Convention says, "I helped nurse that school through the Depression, but now, for the first time, I fear for its future."
The controversy is hydra-headed, and involves liberal theological trends, personalities, and administrative dealings. Factionalism simmers in all strata—faculty, alumni, ABC officialdom, and the bill-paying constituency.
Despite grass-roots opposition, the BBDS administration won a victory of sorts in a showdown meeting with the Board of Trustees on November 18 and 19. Amid demands for dismissal of President Robert J. Arnott on the one hand, and threats of wholesale faculty and student walkouts on the other, trustees voted to maintain the status quo at least until June.
At that time, they will vote on a five-year development plan now being drawn up by a new committee, which will seek "principal alternatives" to the seminary's current educational "mission," program, finances, organization, and faculty. The board appealed to the seminary's ABC backers for continued, "united" support.
Financial cutoffs by ABC churches have been considerable since May. This year BBDS leased out the two upper floors of its two-year-old academic building, and last year it sold a thirty-two-unit student apartment building.
When President Ralph Johnson quit under pressure in 1964, the board told replacement Arnott to boost academic quality and pursue other "progressive" policies. Veteran teachers were chagrined when new professors were hired with tenure and higher salaries. Some were also disturbed over the newcomers' left-wing theology, a reflection of Arnott's own position. Openly expressing disgust, comparative religions Professor Leonard Gittings quit last year and New Testament Professor Taylor C. Smith left this year.
Last month, E. P. Y. Simpson, professor of church history, also resigned, under pressure stemming from a fifteen-page document he wrote analyzing BBDS problems and criticizing the administration. It was intended for the eyes of certain board members, but a copy was leaked. Arnott's camp published a fifty-four-page rebuttal and handed it out to the trustees at last month's meeting. But Arnott declined to discuss the controversy with the press.
The most controversial newcomer among the permanent faculty of ten is Bernard Loomer, imported from the University of Chicago Divinity School in August, 1965. His theological naturalism is a focal point for the doctrinal part of the controversy. With Loomer came Arnott's administrative whip, Arthur Foster, who was a classmate of Arnott at Ontario's McMaster University.
The newest faculty acquisition, Norman K. Gottwald, kept the pot boiling in his installation speech this fall ("to be fully human" is to be "thus fully Christian.") Gottwald acknowledged that theological "ferment and realignment that is cutting across existing denominational lines" is "one of the meanings of the unrest" at BBDS.
Another issue for some is campus freedom and the conduct of the hundred-plus students. They are now allowed to smoke on campus, but a few weeks ago Professor Robert Hannen decided freedom has its limits and posted a "No Smoking" sign in the library he runs. Another professor found the new freedom "utterly revolting" earlier this year when a student leader, just back from ABC orientation in Wisconsin, lit a pipe at the Communion table.
Other critics think the Baptist seminarians are immersed too deeply in the ecumenical waters of the Graduate Theological Union, a voluntary cooperative plan among nine Bay Area schools centered on Berkeley's "Holy Hill." The union includes not only three Roman Catholic institutions, but the Unitarians' Starr King School. But BBDS's official purpose remains to produce "leaders capable of bringing others into a saving knowledge of God in Christ."
BBDS students have many of their classes on other campuses under the Graduate Theological Union's pooling of faculty and curriculum. A semi-secret report last year used BBDS as an illustration in suggesting increased efficiency and economy by greater GTU involvement. To assuage suspicions, the BBDS board reaffirmed earlier instructions that Baptist-related courses be maintained on the BBDS campus.
All of these issues have produced a lot of agitation during 1966. Dismayed alumni—many of them liberals—have called for a return to the "mainstream." From ABC headquarters, theological education chief Lynn Leavenworth implied that the school's new look was too narrow to serve the denomination and that its ability to attract revenue and students was in jeopardy. Extraordinary alumni caucuses were held during the ABC's national meeting last May, with Arnott on the receiving end of hostile questions. Tempers also flared during an all-day summer meeting of BBDS administrators with executives of the ABC's northern California staff.
Despite the outcries, Arnott refused to swerve from his course and injected an issue of his own: academic freedom. In August, while heading a five-member fact-finding mission, Board Chairman Herman Childress discussed with Arnott what the advantages would be if he resigned before the trustees' annual meeting in September.
Arnott served notice he would not resign and enlisted faculty and student support for the academic-freedom issue. Eight staffers and a majority of the students joined him in a petition upholding current policies. Large walkouts were threatened if the board were to fire anyone. Letters of support were solicited from across the nation.
Warned layman Childress, "If anyone is forced to resign it will mean the death of the school." The board, he said, must "buy enough time to explore fully all possible avenues of settlement while keeping the school intact." Faced with Arnott's show of power in September, the trustees decided on further study, with "definitive action" in November.
The November results are considered by some as more "delaying" than "definitive." Others see a clear-cut victory for Arnott and his friends. In reaction, a group of leading ABC laymen has been formed to press for "a complete theological overhaul." Cecil Cooper, normally soft-spoken president of American Baptist Men of Northern California, said, "We represent the view of 99 per cent of the lay people of our churches and many of our pastors, in our call for correction of a bad situation." Another leader of the group, former BBDS board member Everett Carlson, said that "this is one case where we simply cannot allow an organized minority to have its way. There is too much at stake."
On December 6, after an evangelism conference, about half the ABC pastors in northern California met with leaders of the lay group. In a secret ballot, 81 voted for a "change of administration" at BBDS, with 18 against.
At the meeting, Gittings broke a year of silence with a harsh warning that "we are witnessing a wholesale abandonment of Christian faith" at the seminary. He said 1965 seniors showed "arrogance and condescension toward Jesus Christ."
Over the long haul, the major issue is the school's theological drift as it relates to educational preparation of men for ABC pulpits. Student President Bruce Morgan attested in an interview, "Most of us students are with Dr. Arnott on theology." But another student body officer said, "I think that most of us are confused as to what to believe theologically. Each one must find his own way to faith. We want the freedom to do this."
Have something to add about this? See something we missed? Share your feedback here.
Our digital archives are a work in progress. Let us know if corrections need to be made.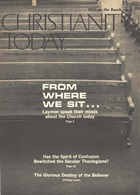 This article is from the December 23 1966 issue.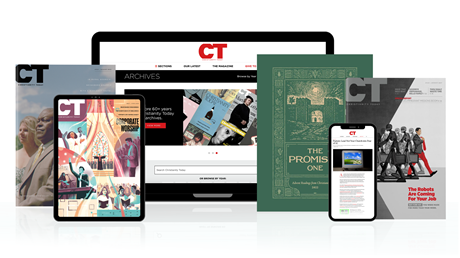 Annual & Monthly subscriptions available.
Print & Digital Issues of CT magazine
Complete access to every article on ChristianityToday.com
Unlimited access to 65+ years of CT's online archives
Member-only special issues
Subscribe
Ferment at Berkeley's Baptist Seminary
Ferment at Berkeley's Baptist Seminary