'I'LL SEE YOU IN THE MORNING'
"And … it is appointed unto men once to die, but after this the judgment" (Heb. 9:27).
Before us there unfolds the drama of death. Men in history meet their death, whether they be great or small, and become names memorialized in art and literature perhaps but no longer in flesh and blood.
New drugs and techniques in surgery, improved diets, and higher living conditions are of course contributing to lengthened life expectancy; but the added years are nothing in comparison with the eternity that lies ahead and in which all of us should be concerned. Death may be postponed, but it is still unavoidable.
A Christian, in the words of the Apostle Paul, can know, however, that it is better to be "absent from the body, and present with the Lord."
Not that many of us really want to die. But, we can face the certainty of the event with the absolute assurance in our hearts that we belong to Christ, and he has done for us the thing which makes death a transition from faith to reality.
There are some who look on Christianity as a movement designed to make the world a better place in which to live. But such is not the case, although the more real Christians there are the better the world will be, for it will have more "salt" to preserve the social structure and more "light" to show men the way of eternal life.
Our Lord makes perfectly plain in his words, "should not perish" the reason God sent his Son, and the transition from death to life that is conditioned on one thing alone—faith in him.
The central thought in the story of the Prodigal Son is not the betterment of the "far country" but the return of the son to his father. This is the central theme of the gospel message. The question, after death what? is answered when we know him whom to know aright is life everlasting.
Is it morbid? Not the least bit. It is with privilege of every Christian to live with assurance, hope, and peace.
Is it realistic? Yes, for internal collapse or external violence is possible to any of us at any time; and if it is not disaster, then the slow, inexorable process of physical deterioration will lead to the same end.
Some of us have lived part of our lives with the knowledge that any moment could be the last. Is the thought frightening? No, not if one knows he is ready to meet God because he personally trusts in the finished work of Christ and thereby belongs to him.
Death is going to happen to everyone of us. Those who are Christian will pass immediately into the presence of the ever-living Christ who has redeemed us unto himself. The cocoon of earthly existence will be transformed into the butterfly of eternity; the body of our worldly existence will be changed into the likeness of his glorious resurrection body, and we will see him as he is.
With the Apostle Paul every child of God can say, "For I know whom I have trusted, and am persuaded that he is able to keep that which I have committed unto him against that day."
Whom shall we meet at death? Few of us stop to realize that in meeting Christ we shall meet our Creator and Redeemer. All things were made by him, and it is the same Christ who is our Saviour. The unbeliever will meet him, but he will be his Judge. The Christian's judgment has been met on the Cross, and he is thereby safe and free.
We so often complicate the gospel truth by unbelief or foolish imaginings.
But why do we need a Redeemer? The nature of sin, its universality and fatal consequences, can never be overstated. "For all have sinned, and come short of the glory of God" is the statement of fact in Holy Scripture. We are also told, "For the wages of sin is death; but the gift of God is eternal life through Jesus Christ our Lord."
What does this have to do with death? The unrepentant and therefore unforgiven sinner will meet the Christ whom he has rejected as Saviour and is to be his Judge.
Faith in Jesus Christ as Saviour from sin and Lord of life makes all the difference in this world—and in the world to come. To a believer, there accrue blessings which are possible to no one else.
For one thing, there is security—eternal security.
We live in a day when security is almost a fetish. Men want it more than freedom itself. We have social security which lasts until death—with some $200 additional to assist in burial expenses. Men may amass fortunes, but the security of money is only for this life.
The security we have in Christ is eternal and nothing can take it from us. Jesus said: "My sheep hear my voice, and I know them, and they follow me; and I give them eternal life; and they shall never perish, neither shall any (man) pluck them out of my hand. My Father, which gave them me, is greater than all; and no man is able to pluck them out of my Father's hand. I and my Father are one."
Another blessing which the Christian has is peace. We live in a world of turmoil. All about us there is unrest and uncertainty. No one knows even the immediate future. But in the midst of darkness the Christian can have absolute peace, for he knows who he is and where he is going. He knows that nothing can happen to him which is outside the will of Cod. He lives in the certainty that: "All things work together for good to them that love God," and there is infinite peace in that assurance.
Not only does the believer have security and peace, but also has righteousness. Such righteousness is not of his own endeavor or achievement, for human goodness is as filthy rags. Rather, it is the imputed righteousness of Christ which, for the Christian, becomes a spiritual garment. Only then can he come into the presence of God, the Holy One. Knowing that God the Father accepts us for his Son's sake, we have assurance to the fullest extent.
A third blessing of the Christian is hope—the hope of heaven itself.
The Bible tells us: "Eye hath not seen, nor ear heard, neither have entered into the heart of man, the things which God hath prepared for them that love him." Neither our present experience nor that of others—not even our wildest imagination can picture the glory which will be ours in heaven. We do know that heaven will be a place where there is no sickness, sorrow, or death; and we know we shall be in the presence of God himself forever.
One final blessing which is ours is freedom from fear.
"Yea, though I walk through the valley of the shadow of death, I will fear no evil; for thou art with me" was David's assurance and one which is ours through faith in the living Christ.
Like Peter Marshall we can contemplate death and say to all who are Christ's: "I'll see you in the morning."
L. NELSON BELL
Have something to add about this? See something we missed? Share your feedback here.
Our digital archives are a work in progress. Let us know if corrections need to be made.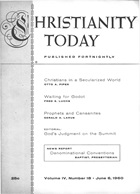 This article is from the June 6 1960 issue.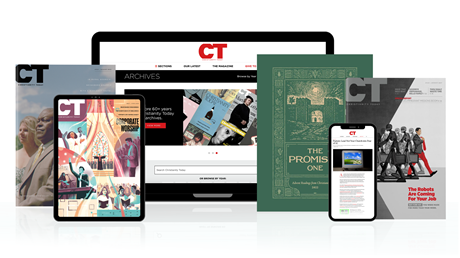 Annual & Monthly subscriptions available.
Print & Digital Issues of CT magazine
Complete access to every article on ChristianityToday.com
Unlimited access to 65+ years of CT's online archives
Member-only special issues
Subscribe
I'll See You In the Morning'
I'll See You In the Morning'