Two facts stand out in a modern appraisal of the world missionary situation. The first is the demographic explosion—in simple terms, the expected multiplication of the earth's population to more than 6 billion by the year 2000 A.D. The second is the decision of a large segment of the Christian Church to downgrade the foreign mission enterprise as such, and through agonizing reappraisal to redefine "mission" either as inter-church aid or as just about everything a church does through its total program.
THE BULGING MULTITUDES
The sudden astronomical leap in human population, particularly in under-developed areas of the earth, is due mainly to international control of disease. Antibiotics and other new and relatively inexpensive preventive health measures have lowered the traditional death rates. By 2000 A.D. quite conceivably 2 billion persons will be living in China, and another billion in India.
There are two ways in which Christians can interpret these figures. They can say that Christianity is going to be crowded into insignificance by the shape of things to come. Or they can say that the population increase presents a priceless new opportunity for spreading the Gospel, and call forthwith for new missionary strategy.
For a century and a half the Protestant missionary momentum has come almost entirely from Western Europe and North America. In one of the most heroic sagas of world history, thousands of young men and women left their homes and sailed the seven seas seeking to reach a lost world for God. On the fever-ridden shores of Africa their average life span a century ago was just four months; yet on they came, wave after wave, to build the Church of Jesus Christ.
THE MISSIONARY IMAGE
Today in some ecclesiastical councils the word is being passed that the missionary movement as such is finished. The missionary, we are told, is now regarded as a symbol of religious and cultural superiority, and as part of a sinister political scheme for re-establishing Western supremacy in erstwhile colonial areas. Therefore the Church has no choice but to destroy the missionary image. She proposes to do so by training the modern worker in technical and pedagogical skills, by making him an attaché to the indigenous church, and by ceasing to call him a missionary. No longer is he, by definition, a man sent from God with a message of salvation; instead, he is a "fraternal worker." So the Great Commission is put in storage while the Church adopts the "buddy" system. Today the overseas "heroes" are not those who strive first and foremost to bring nationals into the Kingdom of Christ's love, but social workers who teach contour farming. Not that contour farming is undesirable. But the Church of Christ seems not to have discovered a divine mandate for it until our century.
The World Missionary Index in this issue speaks for itself. Certain areas are already sealed off to the missionary impact, such as China and Eastern Europe. Others are threatening to close, such as Egypt, Sudan, Iran, and India. Others are opening, such as Nepal and the Amazon region of South America. In many countries the door is open, but no one knows for how long.
If population growth were the only criterion on which to base future missionary activity, the strategic areas could be easily pinpointed. According to the United Nations Department of Social Affairs, the burgeoning areas in the decades ahead will be the Caribbean, Central America, tropical South America, Africa, the Pacific Islands, Southeast Asia, Central South Asia, Southwest Asia, and East Asia (except for Japan). These areas, however, present quite different problems and opportunities.
Our survey establishes one fact clearly: now is no time for retrenchment in foreign missions. Any change in the mission situation, such as deeding properties to the indigenous churches, should be merely incidental to a great thrusting movement of evangelism into the very heart of the world's uncommitted areas. We cannot afford ecclesiastical fiddling while the fires of superstition threaten to engulf tomorrow's billions. Bishop Lesslie Newbigin reminds us that while the geographical dimension of the missionary task is changed, it is far from eliminated. Africa does not look nearly as dark from a jet airplane as it does from a dugout canoe. But as long as human beings exist on earth, just so long will the foreign missionary be needed. In one sense no country on earth stands in greater need of foreign missionaries than our own. We have much to absorb from the Christians of Africa and Asia. And they need us: not to run their compounds and hospitals or to dictate church policy, but to preach the truth as it is in Christ!
The world missionary situation then does call for a new missionary strategy: back to fundamentals! Every resource of the Church must be geared to meet the challenge of these next years. Missionaries are needed on six continents—not by the thousands, but by the tens of thousands; and from every race and color. The stakes are the highest ever in our expanding universe. Christ is calling still, and who will answer? Foreign missionaries are as necessary as in apostolic days. Ours is no time to be concerned merely about the tender feelings of the younger churches. They are in this too! They need to recruit foreign missionaries as much as we do. We have a world to win! And "if the trumpet give an uncertain sound, who shall prepare himself for battle?"
Jacob J. Vellenga served on the National Board of Administration of the United Presbyterian Church from 1948–54. Since 1958 he has served the United Presbyterian Church in the U.S.A. as Associate Executive. He holds the A.B. degree from Monmouth College, the B.D. from Pittsburgh-Xenia Seminary, Th.D. from Southern Baptist Theological Seminary, and D.D. from Monmouth College, Illinois.
Have something to add about this? See something we missed? Share your feedback here.
Our digital archives are a work in progress. Let us know if corrections need to be made.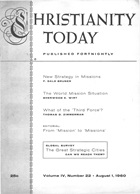 This article is from the August 1 1960 issue.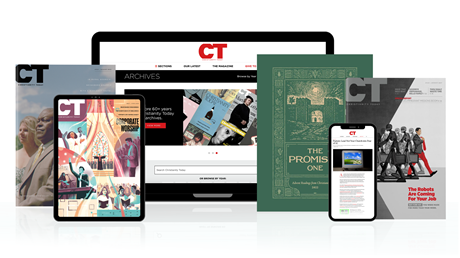 Annual & Monthly subscriptions available.
Print & Digital Issues of CT magazine
Complete access to every article on ChristianityToday.com
Unlimited access to 65+ years of CT's online archives
Member-only special issues
Subscribe
The World Mission Situation
The World Mission Situation