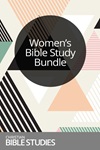 Women's Bible Study Bundle
Embrace your identity in Christ and live out your calling.
19 Session Bible Study
When life gets busy and we feel overwhelmed, our connection to God is often the first thing we forget to tend. We may try to muscle through our weak times, but we quickly discover it's impossible to succeed this way. The best thing we can do is find our rest and our identity in God. He will provide us with strength, balance, support, and peace. This collection of Bible studies explores each of these gifts from God.
In this special pack, you'll receive four studies that cover a total of 19 sessions:
Ephesians: You Are God's Masterpiece (6-session study)
Sometimes it's difficult to understand our identity as God's masterpiece through the confusion of sin, fear, or doubt. We wonder if his promises might be too good to be true. In Ephesians, Paul describes a God who loves us too much to let us stay as we are.
This six-session study will challenge you to accept your identity as a member of God's family, and allow him to mold you into the masterpiece he designed. When we accept God's refining work in us, as Paul did, we will receive the power and faith to complete God's kingdom work.
Becoming a Balanced Woman (6-session study)
The demands of life pull us in different directions every day. In the midst of trying to keep up, it can be easy to believe lies about our identity and become unhealthy physically, emotionally, and spiritually. This six-session study guides you to grow in your relationship with God and get practical, biblical perspectives on self-worth, stress, confidence, and contentment.
Fostering Faith-Shaping Friendships (6-session study)
Our friendships can have a deep impact on our faith. This study explores the friendships of people in the Bible: Ruth and Naomi, David and Jonathan, Paul and Philemon, and more. Discover what it takes to form and strengthen spiritual friendships, what spiritual friendship looks like, how friendships can transform our lives, and how they witness to others.
Biblical Ways to Overcome Stress (Single session study)
Everyone wants peace of mind. We look for it in a lot of different ways-from pills to pillows, from mantras to mediation. But true peace comes only from Christ. Discover how the Bible gives us clear ways to find peace in the midst of stress.
Total number of pages - 206
You have permission to make up to 1,000 copies of this resource within your local church.
Women's Bible Study Bundle