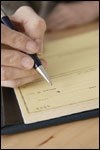 Why Should We Give?
Giving isn't just something we do on Sunday morning—it's a lifestyle.
Single Session Bible Study
Overview
We know we are supposed to give to the church. But when it comes down to it, Americans just aren't giving much compared with how much we have been given. Alarming new numbers show that the more we have, the less we give. But giving in the church is not just a financial problem—it is a spiritual concern. When planning our budgets, it is important to understand not only how we should give but also why.
Table of Contents
SCRIPTURE: 1 Chronicles 29:1-20, Luke 18:18-30, Luke 21:1-4, 2 Corinthians 8-9, Genesis 1:26-31
LEADER'S GUIDE
• Identify the Current Issue
• Discover the Eternal Principles
—Teaching point one: Regular, sacrificial giving humbly acknowledges that everything we have belongs to God.
—Teaching point two: Regular, sacrificial giving becomes part of our lives.
—Teaching point three: Cheerful giving returns thanks to God for what he gave us.
—Teaching point four: Wise giving supports the work to which the church has been called.
• Apply Your Findings
• Recommended Resources
ARTICLE FROM CHRISTIANITY TODAY
• "Scrooge Lives!" by Rob Moll
Total number of pages—
Why Should We Give?