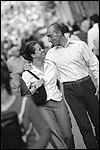 Trying Love Again
Dating again requires thought, courage, and a sense of adventure.
Single Session Bible Study
Overview
Your heart beats a little faster as you look in the mirror. You dab on a little extra cologne. You're getting ready for a date. You've been through the toughest years of your life, and this feels like a new beginning. But are you ready to walk into a new relationship?
What if this person turns out to be no better than your first spouse? Are you repeating the mistakes of the past? Have you learned enough, grieved enough, grown strong enough? Is it worth the risk?
Perhaps the answer is in Deuteronomy 33:26–27: "There is no one like the God of Jeshurun, who rides on the heavens to help you and on the clouds in his majesty. The eternal God is your refuge and underneath are the everlasting arms … ."
In this study, we'll look at questions surrounding the issue of dating and discover some everlasting promises.
Table of Contents
SCRIPTURE: Deuteronomy 33:26–27; Psalm 37; 63; Isaiah 54; Luke 14:28–32
LEADER'S GUIDE
• Identify the Current Issue
• Discover the Eternal Principles
—Teaching point one: First, we heal.
—Teaching point two: Staying single is okay.
—Teaching point three: Let God decide.
• Apply Your Findings
• Additional Resources
ARTICLE FROM CHRISTIAN PARENTING TODAY
• Walking the Tightrope, by Barbara Schiller (2 printed pages)
Total number of pages—11
Trying Love Again