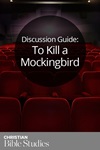 To Kill a Mockingbird
A father and his children take a stand against bigotry in the depression-era South.
Single Session Bible Study
Overview
To Kill a Mockingbird is the moving story of a lawyer who defends a black man unjustly charged with rape. The lawyer's two children come of age in the depression-era South and learn from their father what it means to take a stand against prejudice. The subplot of this story is the children's relationship with a mysterious neighbor, who is shut-in and suspected to be insane. However, he leaves the children "treasures" in the knothole of a tree near his house, making them curious about him.
Use this discussion guide to explore the themes of the movie. How should we respond to injustice? What does it mean to not repay evil with evil? What does it look like to honor someone? How does a father's love impact his children?
Discussion Guide
• Movie Summary
• Discussing the Scenes
—Injustice
(Genesis 39:1–20)
—Not Repaying Evil with Evil
(Ephesians 4:32; 1 Thessalonians 5:15; 1 Peter 3:9)
—Honor
(Romans 12:10; 1 Corinthians 12:14–26)
—A Father's Love
(Matthew 7:7–11; Psalm 68:5)
• As the Credits Roll
Based On
To Kill a Mockingbird (Universal Studios, 1962), written by Horton Foote, based on the Pulitzer Prize-winning novel by Harper Lee, directed by Robert Mulligan. Not rated.
Photo © Copyright Universal Studios
Total number of pages—
To Kill a Mockingbird