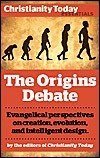 The Origins Debate
Evangelical perspectives on creation, evolution, and intelligent design.
10 Session Bible Study
Overview
For centuries, Christians have argued exactly what God did "in the beginning." If this were only a question of science, it would not be so contentious. But theology and science shape one another, and there are few easy answers.
This key collection of essays presents the current state of the debate, showing how faithful evangelicals have come to their respective views, and what is at stake for the church.
Table of Contents
• Chapter 1: The Search for the Historical Adam Richard N. Ostling
• Chapter 2: A Tale of Two Scientists: A Young-Earth Creationist and an Evolutionary Creationist Tim Stafford
• Chapter 3: Augustine's Origin of Species: How the Great Theologian Might Weigh In on the Darwin Debate Alister McGrath
• Chapter 4: We're Not in Kansas Anymore: The Furor Over Intelligent DesignNancy Pearcey
• Chapter 5: God by the Numbers: Math and the Theology of Origins Charles Edward White
• Chapter 6: What Good is Stardust?: The Remarkably Equipped UniverseHoward J. Van Till
• Chapter 7: Your Darwin Is Too Large: Evolution's Exaggerated Significance for Theology John Wilson
• Chapter 8: Living with the Darwin Fish: Another 'Missing Link' Won't Destroy My Faith Stan Guthrie
• Chapter 9: The Evolution of Darwin: The Scientist's Problem with God Dinesh D'Souza
• Chapter 10: Science in Wonderland: Perspective (250 Million Years' Worth) on the Evolution Controversy John Wilson
The Origins Debate