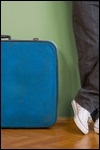 The New Apostates
Young people are leaving the church in record numbers. Here's why, and what to do about it.
Single Session Bible Study
Overview
Young people are leaving our churches in droves. However, Drew Dyck, author of the book Generation Ex-Christian: Why Young Adults Are Leaving the Faith . . . and How to Bring Them Back (Moody, 2010), has done more than simply write off this generation or wring his hands over them. Instead, he talked with them to find out what went wrong, why they're leaving, and what might bring them back.
Scripture has much to say about people who start the faith journey but don't finish it—and how we can encourage them to return to the road. God's Word tells us how to mature in our faith, how to center on Jesus Christ, how to love God with our minds, and how to gently and mercifully walk with those who doubt.
Table of Contents
SCRIPTURE: SCRIPTURE: Matthew 22:34–40; Luke 18:18–30; 24:13–35; Ephesians 4:1–16; Jude 20–23
LEADER'S GUIDE
• Identify the Current Issue
• Discover the Eternal Principles
—Teaching point one: The body of Christ is integral to the walk of faith.
—Teaching point two: Christian faith is more than doctrinal assent; it is following Jesus.
—Teaching point three: We must love God with all our minds.
—Teaching point four: We must walk gently with those who doubt.
—Teaching point five: We must do whatever we can to help people stay on the path.
• Apply Your Findings
• Additional Resources
ARTICLE FROM CHRISTIANITY TODAY
• "The Leavers," by Drew Dyck (November 2010)
Total number of pages—14
The New Apostates