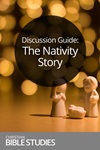 Discussion Guide: The Nativity Story
A cinematic journey into the heart of history's greatest story.
Single Session Bible Study
Overview
The Nativity Story showcases the powerful story of Jesus' birth in a sweeping yet intimate film. Beautifully rendered by director Catherine Hardwicke from a screenplay written by Mike Rich, the film offers contrasting pictures of those who trust in God and those who don't, presents various images of the journey of faith, and reveals God's faithfulness in keeping his promises to his people, even in highly unexpected ways.
This discussion guide will help you connect with the nativity story by reflecting on the miraculous events of God's incarnation and the powerful models of faith for us today.
Discussion Guide
• Movie Summary
• Discussing the Scenes
—Belief vs. Unbelief
(Luke 1:5–22, 26–45)
—The Journey of Faith
(Psalm 56:3–4; 121:1–8; Proverbs 14:12, 31; 19:21; Hebrews 11:1)
—God's Faithfulness
(1 Kings 19:1–13; Luke 1:46–55)
• As the Credits Roll
Based On
The Nativity Story (New Line Cinema, 2006), rated PG.
Photo © Copyright New Line Cinema
Total number of pages—
Discussion Guide: The Nativity Story