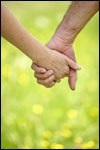 The Gospel of Love
We need to challenge the self-centered life with renewed commitment to the greatness of God's love for humankind.
Single Session Bible Study
Overview
We face great challenges today, including economic woes, shaky marriages, stress, and health problems. But the fundamental issue Christians face, according to Bradley Nasif, is the poverty of love-love of God and love for one another. As a result, our gospel has become too small and self-centered. Nasif brings an Orthodox perspective to the spiritual crisis we face today.
As Nasif says, "We need to aim not at love in the abstract but at love in the practical. Each individual needs to ask herself, 'What is it that keeps me from love?'" That question is central to the spiritual poverty of love that we face in our lives, and leads us to find biblical guidance to develop a deeper sense of love in our lives and in the life of the church.
Table of Contents
SCRIPTURE: Isaiah 49:1-6; Ezekiel 36:26-27; Mark 12:28-31; 1 John 4:13-21
LEADER'S GUIDE
• Identify the Current Issue
• Discover the Eternal Principles
—Teaching point one: The greatest commandment is to love God-and others.
—Teaching point two: A sanctified human nature transparently reflects God's love.
—Teaching point three: The church is to be a loving community with a global mission.
• Apply Your Findings
• Recommended Resources
ARTICLE FROM CHRISTIANITY TODAY
• "The Poverty of Love" by Bradley Nasif
You may also purchase this study as a part of our six-session course Is Our Gospel Too Small?.
Total number of pages—
The Gospel of Love