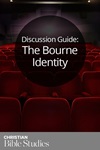 The Bourne Identity
An action-thriller about one man's search for identity and purpose.
Single Session Bible Study
Overview
Bold adventures of the lone hero are a story form as old as Gilgamesh. The hero must discover meaning, purpose, love, and fellowship, often against immeasurable odds. Doug Liman's The Bourne Identity updates this tale for the 21st century, following the voyage of discovery for one man and showing his encounters with charity and sacrifice in unexpected places. Bourne clings to faint hope and solace in a cold, decadent world.
Discussion Guide
• Movie Summary
• Discussing the Scenes *Bonus Material: DVD Scenes to Watch*
—The Old Life: Behavioral Software
(Acts 9:20–23; 2 Corinthians 5:17–19; Ephesians 4:17–24)
—The Transforming Power of Charity
(James 2:14–17)
—Milestones of Change
(2 Corinthians 3:17–18; 1 Samuel 20:12–17; Psalm 16:11; Romans 12:2)
• As the Credits Roll
Based On
The Bourne Identity (Universal, 2002), directed by Doug Liman, rated PG-13 for violence and language.
Photo © Copyright Universal
Total number of pages—
The Bourne Identity