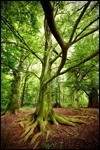 Service Rooted in Grace
We cannot change the world without changed hearts.
Single Session Bible Study
Overview
Evangelical Christianity has long been a faith for activists. From William Wilberforce to Chuck Colson, Bible-believing Christians have sought to change the world for Christ through works of evangelism, ministry to the poor, and cultural engagement. However, there is an unavoidable downside to all this activism: Sometimes we have become so caught up in changing others that we neglect our own hearts, as Chris Rice attests to in his article "Born Again … Again."
Table of Contents
SCRIPTURE: Psalm 46:1–11; 51:1–6; Luke 10:38–42; James 1:19–27
LEADER'S GUIDE
• Identify the Current Issue
• Discover the Eternal Principles
—Teaching point one: God gives us strength and courage amid every storm of life.
—Teaching point two: We progress in the Christian life when we see our sin as first and foremost against a holy God.
—Teaching point three: Sitting at the feet of Jesus is better than anxious service.
—Teaching point four: Hearing the Word and doing it go together.
• Apply Your Findings
• Additional Resources
ARTICLE FROM CHRISTIANITY TODAY
• "Born Again … Again", by Chris Rice (2010)
Total number of pages—
Service Rooted in Grace