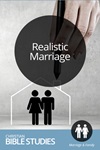 Realistic Marriage
Expectations can make or break a marriage.
Single Session Bible Study
Overview
All of us have expectations about marriage. These can be based on books we've read, movies we've watched, people we've known, or what our parents modeled for us. Most couples go into marriage with some sort of list. Little by little, day by day, the things on our lists are either confirmed or crossed off. So what do we do when our expectations are shattered?
Table of Contents
SCRIPTURE: Matthew 6:25–34; Luke 22:42; John 15:13; Romans 12:10; 1 Peter 5:7; 1 John 4:16–21
LEADER'S GUIDE
• Identify the Current Issue
• Discover the Eternal Principles
—Teaching point one: We need to learn what love is.
—Teaching point two: We need to learn what love isn't.
—Teaching point three: We need to learn how to honor our mates.
—Teaching point four: We need to let God be in control.
• Apply Your Findings
• Additional Resources
ARTICLE FROM MARRIAGE PARTNERSHIP
• Great Expectations, by Tim Gardner
Total number of pages—13
Realistic Marriage