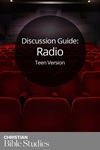 Radio—Teen Version
"A story about how one young man changed a town."
Single Session Bible Study
Overview
Radio is based on the true story of a high school football coach (Ed Harris) and his relationship with a developmentally challenged young man named Radio (Cuba Gooding Jr.). This movie dramatically demonstrates the power of one life, even a life that is not considered valuable by some.
Use this discussion guide to explore the spiritual themes of the movie. What lessons can we learn about forgiveness and making amends? What does generosity look like? How can we better understand kindness?
Discussion Guide
• Movie Summary
• Discussing the Scenes
—Forgiveness
(Ephesians 4:32; Romans 12:21; Matthew 18:21–35)
—Kindness
(2 Samuel 9:1–13; Colossians 3:12–13)
—Generosity
(Matthew 26:6–13; Luke 6:38; Romans 8:32)
—Making Amends
(Luke 19:1–9; James 1:22–25)
• As the Credits Roll
Based On
Radio (Columbia Pictures, 2003), directed by Michael Tollin, rated PG.
This Bible study is not an endorsement of the movie by Christianity Today International. Before watching this film, please get advice and guidance from your parents or youth pastor.
Photo © Copyright Columbia Pictures
Total number of pages –
Radio—Teen Version