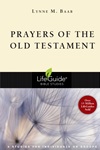 Prayers of the Old Testament
Bring all of who you are to God.
8 Session Bible Study
Overview
These eight studies from Lynne M. Baab, based on prayers from seven Old Testament books, invite you to meet our mighty, loving God in fresh ways, bringing all of who you are to him.
Introduction
Getting the Most Out of Prayers of the Old Testament
This section introduces the topic, explains the structure followed in each study and offers tips for those approaching the study on their own as well as those participating in a group.
Part 1: Discovery
Session One
A Prayer of Moses: Praising God for Doing Wonders
Moses calls the Lord "my strength," "my song" and "my salvation." What do you think Moses means by each name? Which of these characteristics of God have you experienced most strongly?
Exodus 15:1-18
Session Two
A Prayer of Hannah: Turning Things Upside Down
Hannah is praying in the midst of a deeply personal family drama, yet her prayer expresses concern for the larger world; she mentions warriors, princes, the powerful, the poor, the hungry. How closely do your prayers and your faith in God's power and care model hers?
1 Samuel 2:1-10
Session Three
A Prayer of Samuel: Learning to Listen
Why do you think Samuel has difficulty recognizing that it is God who is speaking to him? What do you think are the difficulties for people today in hearing God speak to them?
1 Samuel 3:1-14
Session Four
A Prayer of Solomon: Interceding for the Nations
The question of where God dwells comes up several times in Solomon's prayer. Where do you believe he dwells? How do you think your belief about where he dwells affects your relationship with him?
1 Kings 8:22-53
Session Five
A Prayer of Isaiah: Confessing and Commissioning
Isaiah says, "I am a man of unclean lips, and I live among a people of unclean lips." What do you think is the significance of lips?
Isaiah 6
Session Six
A Prayer of Jeremiah: Bringing Every Emotion to God
This passage records a twenty-four-hour period in Jeremiah's life when he is imprisoned in stocks, speaks out about the person who imprisoned him and then prays about the incident. Imagine being wrongly punished or imprisoned. What range of emotions might you experience?
Jeremiah 20
Session Seven
A Prayer of Jonah: Praying in Desperate Situations
In the belly of a fish, Jonah's struggling ceases and he acknowledges that God is his salvation. What has helped you come to that place of changed perspective and deeper faith when you've faced overwhelming circumstances?
Jonah 2
Session Eight
A Prayer of Habakkuk: Trusting God in Spite of Circumstances
In describing what he saw of God, Habakkuk uses the words "glory" and "splendor" but also "rage" and "wrath." Explain how you think these can fit together and coexist.
Habakkuk 3
Total number of pages—63 pages
R. Lynne M. Baab (Ph.D., University of Washington) is a Presbyterian minister, currently serving as a lecturer in pastoral theology at the University of Otago (Dunedin, New Zealand). She is the author of several books and Bible studies, including A Renewed Spirituality, Sabbath Keeping, Personality Type in Congregations, Beating Burnout in Congregations and the LifeGuide® Bible Studies Sabbath and Prayers of the Old Testament.
Prayers of the Old Testament