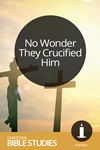 No Wonder They Crucified Him
Discover why Jesus was a dangerous man.
6 Session Bible Study
Of all the people admired in the world today, Jesus of Nazareth continually ranks at the top of the list. Even those who don't call themselves Christians regard Jesus as one of the wisest teachers and most loving leaders the world has ever known. He is still making the covers of magazines and being talked about in coffee shops with a popularity like no other person who has walked this earth. So why did his contemporaries kill him?
This six-session study examines Jesus as not simply meek and mild, but as a dangerous man because he was and is the God who is dangerously good. Take a fresh look at Jesus' call to action.
Session One
Get Off the Fence
Jesus won't accept neutrality.
Matthew 12:22–32
We have to buck life in a fence-walking world. Ground yourself on God's side of the fence through spiritual disciplines.
Session Two
Complete the Circle of Grace and Works
Sometimes Jesus sets conditions on grace.
Luke 6:37–42
As Christians, we know that we get to spend eternity in heaven, not because we're such great people, but because Jesus is. Yet, what does that mean as we respond to the remarkable grace God has shown us in Christ?
Session Three
Patrol Your Pleasures
What does Jesus think of fun?
Matthew 5:27–30
When asked to give an adjective that describes Jesus of Nazareth, what comes to mind? How many of you instantly thought of the word fun? Not too many, and that's too bad.
Session Four
Check Your Bags
What are you dragging around with you?
Matthew 19:16–30
All of us carry loads that are often of our own making. Lent is a great time to look at those loads and see what needs to be repacked and what needs to be tossed.
Session Five
Come Die with Me
Sometimes Jesus is really scary.
Matthew 16:21–28
There are few words Jesus ever spoke that are scarier: "If anyone would come after me, he must deny himself and take up his cross and follow me. For whoever wants to save his life will lose it, but whoever loses his life for me will find it."
Session Six
Follow Me
Jesus invites us to breakfast and beyond.
John 21:1–25
Jesus conquered death and rose from the dead! It's the most joyous news ever announced. After his resurrection, he stayed around to have breakfast with his most faithful followers.
Total number of pages—58 pages
No Wonder They Crucified Him