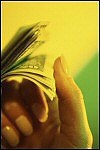 Money Matters 101
To be truly free from the power of money, we must surrender it to God.
12 Session Bible Study
Few things are so dangerous to our spiritual lives than the insidious pull of earthly riches. How many of us hunger and thirst for righteousness as we do for comfort, power, and control? This is a complicated subject because the pull of money is so subtle. This 12-session course will help you, your small group, or your Sunday school class begin to face the hold that money has on us and find joy in amassing heavenly wealth instead.
Session One
The Secret of Satisfaction
We are blessed when our actions display a hunger and thirst for righteousness.
Matthew 5:6

The Bible never encourages us to seek happiness as an end in itself. According to Jesus, happiness is a byproduct of seeking God's kingdom way of life. The first spiritual discipline is living for the only thing that will satisfy.
Session Two
Money Belongs to God
Only by recognizing where money comes from can we be free of its power.
Psalm 24:1; Mark 4:14–21; 10:17–31; 1 Corinthians 4:7

God wants to help us get rid of the word mine when it comes to money. We need to think of our money not as ours, but rather as what it truly is: his.
Session Three
Finding Financial Freedom
An exit strategy for those who don't want to want more anymore.
Proverbs 11:24; 13:6–16; 17:16; 22:26–27

The purpose of this Bible study is to provide biblical steps to financial freedom. If you want your life to count, you have to master your money.
Session Four
The Money Trap
Instead of satisfying, money makes us hungrier.
Mark 10:17–22; Colossians 1:9–13; Hebrews 13:5

The strange thing about accumulating money is that it makes us want more. Only God can reorient this natural tendency.
Session Five
Robbing God
Are you robbing God?
Malachi 3:7–12

The purpose of this study is to awaken a desire for obedience and generosity in our hearts. To have a life that counts, we must stop robbing God and start giving generously.
Session Six
Money Isn't Power
Money isn't just money; it is power, but its power can go either way.
Proverbs 30:8; Luke 16:1–15; 1 Timothy 6:17–19; Ecclesiastes 5:10–15

Money has the power to hurt and corrupt, or the power to heal and help. One of our basic ideas about what's in our wallet is that money can make us safe, secure, and protected. But can it?
Session Seven
Treasure in Heaven
Three steps for Christians who want to use their talents for eternity.
1 Peter 4:7–11

The purpose of this study is to help us use our God-given talents for maximum impact. To do that, Christians must focus on their strengths, use their gifts with excellence, and live with intensity.
Session Eight
Money Isn't Happiness
True pleasure comes from contentment rather than from wanting more.
Matthew 6:25–34; Philippians 4:10–13; 1 Timothy 6:6–10

Even if we don't admit it to ourselves, we think that money can bring us happiness. But money rarely brings us long-lasting pleasure. Only contentment can do that.
Session Nine
Give It All to Jesus
This is the most important ingredient for living a life that counts.
Mark 10:17–31

Jesus offers us a life that counts, now and forever; all we have to do is let go of what we want and put our resources in his hands.
Session Ten
Money Isn't Prestige
Real prestige can only come from God.
Luke 12:16–21; 21:1–4; James 2:1–5

For many of us, how much we make, how much we have saved, or the kinds of things we own are indicators of what we're worth. However, God infuses us with real prestige when we invest our money compassionately.
Session Eleven
Use Money for Eternal Purposes
Open your mind to the possibilities of using your money for God's glory.
Isaiah 55:1–9; Acts 4:32–35; 1 Timothy 6:10–12

Money brings all sorts of impossibilities to our minds. But when we look in our wallets, God wants us to see possibilities: for making a difference, for contentment, and for freedom that we've never known before.
Session Twelve
Give Sacrificially
Our trust grows when we give to God in ways that make us dependent on him.
1 Kings 17

Few things affect our relationship with God as radically as our attitude toward money. This study will examine how we can become sacrificial givers.
Total number of pages—86
Money Matters 101