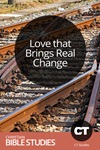 Love that Brings Real Change
Loving others means meeting real needs.
Single Session Bible Study
Overview
Throughout the New Testament we read that Jesus asks his followers to love one another, to help one another, and to carry one another's burdens. Love is an action, not just a proclamation. Yet too often we reduce this simply to doing nice things for others, especially those things that are convenient and easy for us to do. But truly loving others requires that we meet real needs, not just what we think others need.
Table of Contents
SCRIPTURE: Matthew 7:24–29; 25:31–40; 1 John 4:7–21
LEADER'S GUIDE
• Identify the Current Issue
• Discover the Eternal Principles
—Teaching point one: Christians are called to love others.
—Teaching point two: Loving others requires that we meet real needs.
—Teaching point three: Christians should work to impact societal change.
• Apply Your Findings
• Additional Resources
ARTICLE FROM CHRISTIANITY TODAY
• "Why We're Losing the War on Poverty," January/February 2014
Love that Brings Real Change