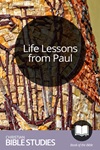 Life Lessons from Paul
Study Galatians, Ephesians, and Philippians with this pack that covers 13 sessions.
13 Session Bible Study
The apostle Paul wrote much of the New Testament, including the letters to the Galatians, Ephesians, and Philippians. Though these books are relatively short, they contain a wealth of wisdom for living as Christ-followers in a fallen world. Read through these three books in a row, though, and you'll gain even more as you see a bigger picture emerge. Paul exhorts and encourages the early believers while clarifying central beliefs and practices. His words still resonate today.
In this special pack, you'll receive three studies that cover a total of 13 sessions:
Galatians: The Essence of Being a Christian (3-session study)
As Christians, we believe we are saved by faith alone. But we often live as though God accepts and loves us based on our actions. This 3-session study explores Galatians, where Paul teaches the rich joys and freedom of living under the grace of Christ.
Ephesians: You Are God's Masterpiece (6-session study)
Sometimes it's difficult to understand our identity as God's masterpiece through the confusion of sin, fear, or doubt. We wonder if his promises might be too good to be true. In Ephesians, Paul describes a God who loves us too much to let us stay as we are.
This 6-session study will challenge you to accept your identity as a member of God's family, and allow him to mold you into the masterpiece he designed. When we accept God's refining work in us, as Paul did, we will receive the power and faith to complete God's kingdom work.
Philippians: Finding Joy (4-session study)
We live in a world that constantly offers ways for us to achieve happiness by improving our circumstances. Unfortunately, such happiness is always fleeting. In contrast, the apostle Paul retained his joy in the midst of difficult circumstances, because he understood that true joy comes from gospel-first relationships, goals, desires, and conduct. This 4-session study emphasizes that joy comes from pursuing God wholeheartedly, giving ourselves away, and learning to dwell on the good.
Total number of pages—123
Life Lessons from Paul