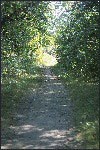 Lessons from the Wilderness
We need to welcome change as from God's hand and by his grace.
Single Session Bible Study
Overview
Change comes in many forms. Sometimes we ourselves seek the change. Moving into a retirement center or selecting a smaller house that is easier to care for are examples of willed changes. Moving in with grown children, using a walker or hearing aid, or no longer driving may all be examples of unwilled change.
Whether willed or unwilled, change challenges our physical energy, deep emotions, and spiritual stability. Making changes in the grace of God means looking for unexpected benefits in the most unlikely places—blessings straight from the hand of God.
Table of Contents
SCRIPTURE: Exodus 16; 18; Numbers 13:1–2, 26–33; 14:20–24
LEADER'S GUIDE
• Identify the Current Issue
• Discover the Eternal Principles
—Teaching point one: During periods of change God provides for our needs, but often in new and unusual ways. Clinging to the old risks the blessings of the new.
—Teaching point two: Change means training and delegating others to share the load.
—Teaching point three: New lands require us to see the good God is offering us rather than the giants that await.
• Apply Your Findings
• Recommended Resources
Total number of pages—12
Lessons from the Wilderness