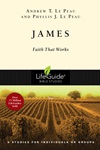 James: Faith That Works
9 Session Bible Study
Overview
In this 9-session study, you will examine the entire Book of James, considering how the practical guidance and theological insights in this epistle spoke to its original recipients and how it addresses crucial issues in our lives today.
Introduction
Getting the Most Out of James: Faith that Works
This section introduces the topic, explains the structure followed in each study, and offers tips for those approaching the study on their own as well as those participating in a group.
Session One
Dependable or Double-Minded
This session looks at the importance of perseverance when we face trials and temptations.
James 1:1–18
Session Two
Words, Words, Words
This study gives us practical help on listening to others and to the Word as well as help on how to put the Word into practice.
James 1:19–27
Session Three
Who's the Judge?
In this part of his Epistle, James addresses favoritism and judgment within the Christian community.
James 2:1–13
Session Four
Just Works
In this session, James helps us to see how what we believe needs to be matched by the way we live.
James 2:14–26
Session Five
On Preventing Forest Fires
In this passage James teaches us how our words can bring healing rather than harm.
James 3:1–12
Session Six
Makers & Breakers of Peace
In this study, James helps us to understand the sources of quarrels and the sources of peace.
James 3:13—4:10
Session Seven
Getting Perspective
In this session, James will help us to identify our attitude toward God, others and the future and to learn how to make them what they should be.
James 4:11–17
Session Eight
What Awaits
James encourages us in this passage to wait for God, to be patient, and warns us against wanting it all now.
James 5:1–11
Session Nine
Becoming Whole
In this study James gives us very practical suggestions for becoming whole people and helping others to do the same.
James 5:12–20
Total number of pages: 69
Andrew T. Le Peau is a writer and editor living in the Chicago area. He was the longtime associate publisher for editorial at InterVarsity Press where he worked from 1975 to 2016. Phyllis J. Le Peau worked with InterVarsity Christian Fellowship for over two decades in St. Louis and the Chicago metro area. She is also the author of several Bible study guides published by InterVarsity Press and Zondervan. She and her husband Andy have four married children and thirteen grandchildren.
James: Faith That Works