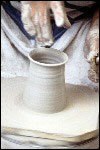 In the Potter's Hands
God uses people and experiences to shape us.
Single Session Bible Study
Overview
Aging requires that we look back and see what God has already done in our lives. We believe that God will answer our prayers, but seldom do we take the time to look back and assess how those prayers have been answered. How has God used our experiences with our parents, siblings, extended family, teachers, and friends? How has our church community shaped us? How have our emotional and physical experiences, good or bad, made us what we are? Each one of us is a unique child of God and to go forward requires an honest look at who we have become. Only then can we acknowledge and foster our unique place in God's kingdom.
Table of Contents
SCRIPTURE: Genesis 37:3–4; 1 Samuel 1:21–28; 2:12–17; Psalm 139:13–16
LEADER'S GUIDE
• Identify the Current Issue
• Discover the Eternal Principles
—Teaching point one: God has formed you and sees a purpose for your life.
—Teaching point two: God uses our families to continue our formation.
—Teaching point three: God uses our experiences in life to shape us.
• Apply Your Findings
• Recommended Resources
Total number of pages—9
In the Potter's Hands