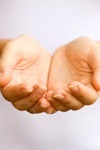 Give Sacrificially
Are we truly giving the way Jesus intended?
Single Session Bible Study
Overview
Who doesn't want more money? The pull is irresistible and can also be deadly for our Christian lives. As Craig L. Blomberg points out, we don't live under the Old Testament instruction to tithe, but he also insists that sacrificial giving is an essential part of good stewardship. What does that mean? This study seeks to help answer that question by digging into the Scriptures.
Table of Contents
SCRIPTURE: Mark 10:17–29; 2 Corinthians 8:1–15; James 2:14–26
LEADER'S GUIDE
• Identify the Current Issue
• Discover the Eternal Principles
—Teaching point one: How we view money directly affects our spiritual well-being.
—Teaching point two: Faith without deeds is dead.
—Teaching point three: As Christians, we are responsible for each other.
• Apply Your Findings
• Additional Resources
ARTICLE FROM CHRISTIANITY TODAY
• "Give Until It Hurts," December 2013
Give Sacrificially