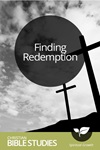 Finding Redemption
What can we learn from people who are down and out and find a way to bring themselves, or have someone deliver them, back to glory?
5 Session Bible Study
Each of the stories in this study shows how people who are down and out find a way back to glory--whether they do it themselves, or someone helps them. What can we learn from these powerful stories?
Session 1
Signs
This thriller depicts one man's journey as he questions his faith and the providence of God.
Session 2
The Shawshank Redemption
"Fear can hold you prisoner. Hope can set you free."
Session 3
Man on Fire
Is revenge the only way to find justice?
Session 4
E.T.
This movie offers a powerful portrait of how lives can be transformed under the impact of a supernaturally loving person.
Session 5
Millions
See the power that wealth can have over us.
Finding Redemption