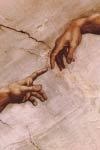 Fear and Friendship: Two Sides of Worship
How do we balance intimacy and awe?
Single Session Bible Study
Overview
Worship offers a great challenge: to live in fear of God while walking with him in friendship. How do we approach God with wonder while claiming the intimate friendship Christ offers (John 15:15)? Philip Yancey writes in an article for CHRISTIANITY TODAY that authentic worship requires profound awe—one of the toughest tasks for 21st-century people.
How does worship connect with our personal walk with God? How do we balance intimacy and awe? These are the questions we'll be asking and discussing in this study.
Table of Contents
SCRIPTURE: Psalm 95:1–7; Isaiah 6:1–8; John 9:35–41; Romans 12:1–3; Colossians 3:15–17; Revelation 7:9–17
LEADER'S GUIDE
• Identify the Current Issue
• Discover the Eternal Principles
—Teaching point one: Authentic worship of God results in a deeper fear of him.
—Teaching point two: Authentic worship of God stems from a deep sense of friendship with him.
—Teaching point three: The church has worshiped in many ways through many centuries and cultural expressions—but always with both awe and intimacy.
—Teaching point four: The contemporary challenge in worship is to return to a sense of awe, reverence, and fear—and love, intimacy, and grace.
• Apply Your Findings
• Recommended Resources
ARTICLE FROM CHRISTIANITY TODAY
• A Bow and a Kiss, by Philip Yancey (May 2005, 11 printed pages)
Total number of pages—
Fear and Friendship: Two Sides of Worship