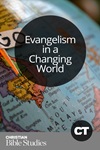 Evangelism in a Changing World
What we can learn from the global church about reaching people for Christ.
3 Session Bible Study
God's vision for the church has always comprised a global body of believers proclaiming the gospel on every continent and in every corner of the world. We have the great privilege of living in a time when that vision is becoming a beautiful reality.
In this study, we'll focus specifically on the church in Asia. We'll cover the history of the church there, consider what we can learn from our Asian brothers and sisters about issues like contextualization and holistic mission, and finally, we'll discuss how we can apply what we've learned to our own churches and communities. By learning about—and learning from—the global church, we can advance God's kingdom vision in our own contexts even more effectively.
Scripture: 1 Corinthians 9:19–23; Luke 4:16–21; Luke 11:37–44
Session One
The History of the Church in Asia
God's movement from the beginning of church history.
The church in Asia has a long and rich history, dating as far back as the first century, and it includes periods of both blessing and hardship. In many places, the growing influence of other major world religions like Hinduism, Buddhism, and Islam has threatened to crowd out the proclamation of the gospel. While Western missionaries have played a significant role in growing the Asian Church, it is now local pastors and church leaders who are spearheading ministry with a fresh vision for the future of the church in Asia.
Session Two
Holistic Mission
What we can learn from the Asian church about balancing evangelism and social justice.
In our first session, we learned about the history of the Asian church and addressed the issue of contextualization: the way churches tailor their presentation of the gospel so it can resonate deeply within their specific cultural contexts. In this session, we will examine the topic of biblical missions more deeply and consider how the Asian church has contextualized their approach in this particular area.
Session Three
Holistic Mission in Your Community
Applying the lessons we've learned from the Asian church to our local context.
So far in this study, we've learned about the history of the Asian church, discussed contextualization, and considered some of the unique ways Asian church leaders are presenting the gospel so that it will be received within their own cultural context. We've talked about how God's mission—and therefore the church's mission—involves not only preaching the gospel but also
meeting the practical needs of people in difficult situations. We also saw how the Asian church approaches missions in this more holistic way because of their context.

Based on what we've covered so far, in this final session, we'll consider specific ways we can adopt a more holistic approach to missions in our own churches and communities.
This study includes both Leader and Participant guides for each session, as well as two Christianity Today articles to generate conversation.
Total number of pages - 40
Evangelism in a Changing World