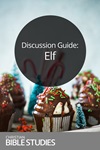 Discussion Guide: Elf
A feel-good holiday movie about identity, belief, and talent.
Single Session Bible Study
Overview
Elf is the story of Buddy, a human raised by Christmas elves, who discovers that he is, indeed, human, and has a father in New York City. As Buddy embarks on a journey to discover his birth family, he wrestles with issues of identity, faith, and where his unique talents fit into the scheme of things.
This study will help you discuss the deeper themes of the movie. How can we discover and establish our true identities? What does it mean to have faith in things unseen? How does Buddy struggle with and ultimately embrace his uniqueness? What does the joy of Christmas look like?
Discussion Guide
• Movie Summary
• Discussing the Scenes *Bonus Material: DVD Scenes to Watch*
—Establishing Identity
(Genesis 1:27; Jeremiah 1:5; 1 Corinthians 12:12–27; Galatians 2:20)
—Discovering Personal Gifts
(Romans 12:6; 1 Corinthians 12:1–11; 13:1–3)
—Having Belief in Things Unseen
(2 Corinthians 4:18; 2 Corinthians 5:7; Hebrews 11:1)
—Embracing the Joy of Christmas
(Isaiah 9:6; Luke 2:1–20; John 3:16)
• As the Credits Roll
Based On
Elf (New Line Cinema, 2003), rated PG.
Photo © Copyright New Line Cinema
Total number of pages—9
Discussion Guide: Elf