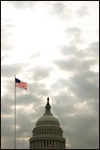 Dual Citizenship: A Christian Perspective on Government
What does it mean to be a Christian and have earthly citizenship?
10 Session Bible Study
This 10-session study will help you and your group think about important and hotly debated issues that are of specific interest to Christians. The study will consider such issues as: What does it mean to be a Christian in our society? How can we best impact our culture? What should our role be in politics? Should Christians have power?
Study 1
Christians in Civil Society
How can we labor for God's kingdom during our time here on earth?
Study 2
Culture: Love it, Leave it, or Transform it
Richard Niebuhr's Christ and Culture still has something wise to say to evangelicals.
Study 3
Defining Our Role in Politics
How should Christians view their relationship with the state?
Study 4
Should Christians Have Power?
Increasing power in politics and popular culture holds great possibilities—and also dangers.
Study 5
Christian Influence in America
Has the nation finally abandoned its Judeo-Christian heritage, or are we making great strides for Christ?
Study 6
God and Government
How should the kingdom of God affect the kingdoms of this world?
Study 7
Church and State: Keep them Separate
We must keep church and state separate—for the sake of the church.
Study 8
Personal and National Integrity
What can we do to turn the tide?
Study 9
Justice: Restoration or Retribution
What biblical principles can guide us in dealing with those who break the law?
Study 10
Christians and the Pledge of Allegiance
What can we learn from the Bible about how we should respond to this pledge?
Total number of pages: 89
Dual Citizenship: A Christian Perspective on Government