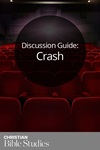 Crash
A drama depicting a community's true-to-life struggle with racism, alienation, and rage.
Single Session Bible Study
Overview
Crash takes viewers into modern-day Los Angeles, dramatizing the intersections of several characters' lives over three days. In doing so, it reminds us of how racism, anger, and the struggle to achieve security in life can taint our interactions with one another.
Use this discussion guide to explore the themes of this movie. What does the film say about heroes and villains and our capacity to be either or both? How does our desire to protect and be protected cause us to react to perceived threats? What are some ways to begin a conversation about racism, and how can we learn to use our power for justice?
Discussion Guide
• Movie Summary
• Discussing the Scenes
–Heroic Villains
(Jeremiah 17:9–10; 2 Samuel 11–12:15; Judges 16; Matthew 26:31–35, 69–75)
–Seeking Protection
(Psalm 3; 91; Proverbs 31:8)
–Thinking about Racism
(Acts 10:23–46; 6:1–7; Galatians 2:11–13)
–Using Power Wisely
(Leviticus 19:15; Deuteronomy 16:20; Psalm 9:16; 112:5; Isaiah 1:17)
• As the Credits Roll
Based On
Crash (Lions Gate Films, 2005), rated R.
Photo © Copyright Lions Gate Films
Crash