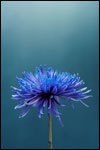 Bloom Where You Are Planted
Like plants in a garden, Christians too need to grow.
Single Session Bible Study
Overview
The old saying "knee high by the fourth of July" referred to the height of corn and expressed a desired benchmark for the corn's growth rate. The hope was that the various factors needed for growth would be present and effective to the degree that by that time in the season the corn would demonstrate healthy growth, indicated by its being knee high.
As the "branches" of Christ (John 15:5), Christians, too, are expected to grow; indeed, we are commanded to do so. This lesson will examine some of the factors involved in our spiritual growth.
Table of Contents
SCRIPTURE: Deuteronomy 6:4–12; Psalm 19:7–11; Matthew 26:36–43; Luke 4:14–21; 11:1–13; 18:1; Acts 2:42–47; 2 Timothy 3:16; 1 Peter 2:2–3
LEADER'S GUIDE
• Identify the Current Issue
• Discover the Eternal Principles
–Teaching point one: Spiritual growth is impossible without the Bible.
–Teaching point two: Prayer is vital to our spiritual growth.
–Teaching point three: Our involvement in the church is important to our spiritual growth.
• Apply Your Findings
• Recommended Resources
Total number of pages – 12
You have permission to make up to 1,000 copies of this resource for use in your local church.
Bloom Where You Are Planted